'Fall Guys' Update 1.09 Adds Season 2 Content - Patch Notes
Season 2 of Fall Guys Ultimate Knockout is here and the folks over at Mediatonic have pushed out its latest update to bring all the costumes, stages and medieval craziness that is to come with the new season.
Version 1.09 is available now for PS4 and PC and brings not just Season 2 content, but some new features and bug fixes.
The official Fall Guys Twitter account went through some of the new features coming in Season 2, but they bear repeating here. First off, banners and nameplates will get more customization options. Players will be able to add a nickname and a logo to their nameplate to really stand out online.
While picking an outfit for your bean, the option to randomly generate your gear is now available. And finally, there are now time-limited shows that give players new ways to enjoy round types. This allows for players to select which show they want to play.
There's a lot included in Fall Guys Season 2 and it all begins Thursday. So if you're hankering for some medieval goodness, be sure to update your game and read the official patch notes for Fall Guys version 1.09 below courtesy of the official Fall Guys Reddit.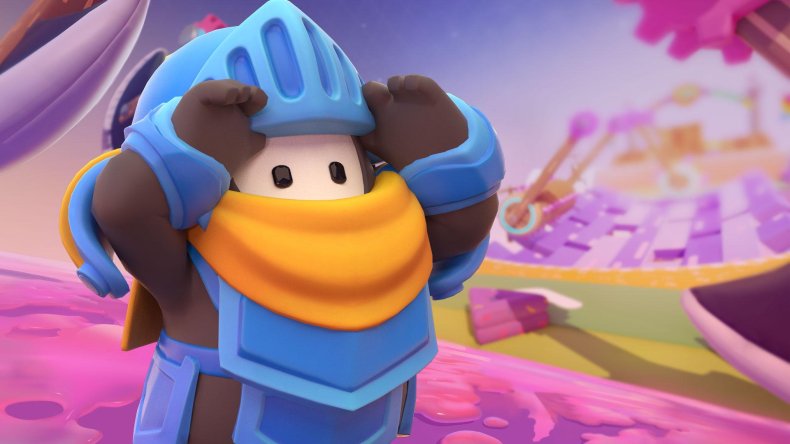 FALL GUYS VERSION 1.09 PATCH NOTES
New Features
The Show Selector: There are now time-limited shows that give players new ways to enjoy their favorite round types by selecting which show they want to play!
Banners & Nameplates: Mix and match customizable banners and nameplates to compliment your Fall Guy's attire!
Random Outfit Generator: Randomize your outfit and get a combination you like!
New Levels
Knight Fever: The hardest gauntlet level yet!
Wall Guys: Cooperate with other players to traverse castle walls!
Egg Siege: A brand new Egg Scramble map with moving drawbridges!
Hoopsie Legends: A solo Hoopsie round with movable blocks!
Improvements
You can now see your party members fall alongside you while waiting for a match to be found.
Fall Guys now have more responsive mantling up ledges.
Many levels had visual updates applied to them.
Other
Base PS4 FPS should now be much better – 60 rather than 30.
Various crashing issues have been resolved.
Many bug fixes and optimizations have been applied.
Fall Guys: Ultimate Knockout is available now for PS4 and PC.
Are you excited about the second season of Fall Guys? Let us know in the comments section.