'Fall Guys' Season 3: Start Time and Everything You Need to Know
The latest season of Mediatonic and Devolver Digital's Fall Guys is almost here, and it promises to bring a winter wonderland filled with new costumes, stages and much more.
Season 3 of Fall Guys was first revealed during last week's The Game Awards. Viewers got a first look at what players can expect from the multi-round game show elimination title. Mediatonic confirmed that players can experience Fall Guys Season 3 starting on Tuesday, December 15.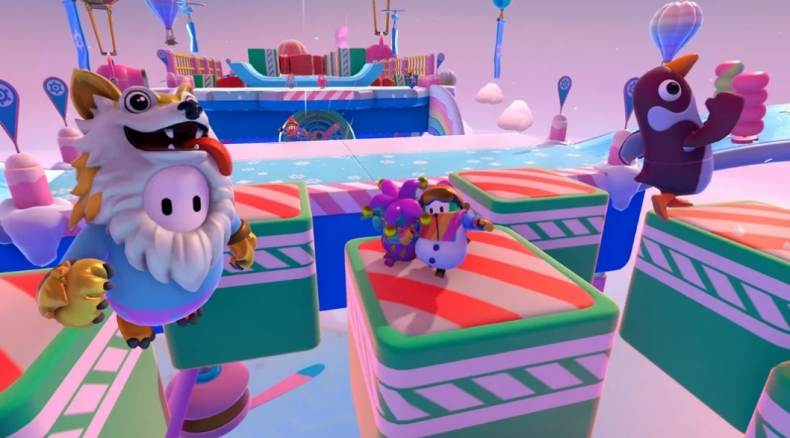 FALL GUYS SEASON 3 START TIME
Fall Guys Season 3 will begin Tuesday, December 15, but the exact timing has not been confirmed by Mediatonic. However, Season 2 began around 8 a.m. EDT, so players can expect the next season to start around the same time.
We'll update this section if a specific time is confirmed for Fall Guys Season 3.
FALL GUYS SEASON 3 CONTENT
We'll get to the new costumes and stages in a bit, but Fall Guys fans should look out for crown ranks in Season 3. This new ranking system rewards players who have continuously captured Crowns during their play sessions.
The more Crowns players earn, the higher their Crown Rank rises. As the Crown Rank rises, players will unlock new rewards, including exclusive Colors and Patterns. Mediatonic confirms that the new Crown Ranks will count previous victories, will be available for PC and PS4, and that the rewards won't change from season to season.
Crown Ranks will also reward players with gold versions of their favorite costumes. Be a gold hot dog or a gold werewolf, it's up to you—and it'll show other players just how good you are.
Speaking of costumes, the Season 3 trailer gave us a look at what new duds the beans can rock in Fall Guys. There are 30+ new costumes to collect, and in the trailer we see the following costumes:
Skier
Ice Princess
Reindeer
Snowman
Penguin
There are others that we see, too, like a Krampus and Wooden Soldier costume.
As for stages, Mediatonic confirms that there are seven new levels to compete in. The first is Tundra Run which is exactly what the name implies. Players will try to outrun the others as they make their way to the finish line at the top of a massive structure. Players will have to avoid some new obstacles such as fans, flippers, boxing gloves and giant snowballs to make it to the top.
IGN has an exclusive look at the new level, which you can watch below.
We then have Ski Fall, which has the beans go down a slide and try to make it to the bottom first.
And finally, we know of Thin Ice. It's similar to the hexagon stage, and will have players trying to be the last one to fall to the icy water below. The longer you stand on the icy hexagons, the faster they'll break. They'll be slippery to run on, too, so be careful.
Are you excited for Fall Guys Season 3? Let us know in the comments section.