'Fall Guys' Twitch Rivals Week 2 - Start Time, Standings and How to Watch
Fall Guys: Ultimate Knockout has another round of Twitch Rivals action in the works, and we want to make sure you don't miss a single crown of today's matchup. Watch as 80 popular streamers team up for their share of a $50,000 prize pool in their quest for the crown. Below, we outline all you need to know about Fall Guys Twitch Rivals Week 2, including its start time, standings, rules and more.
What time does the Fall Guys Twitch Rivals tournament start?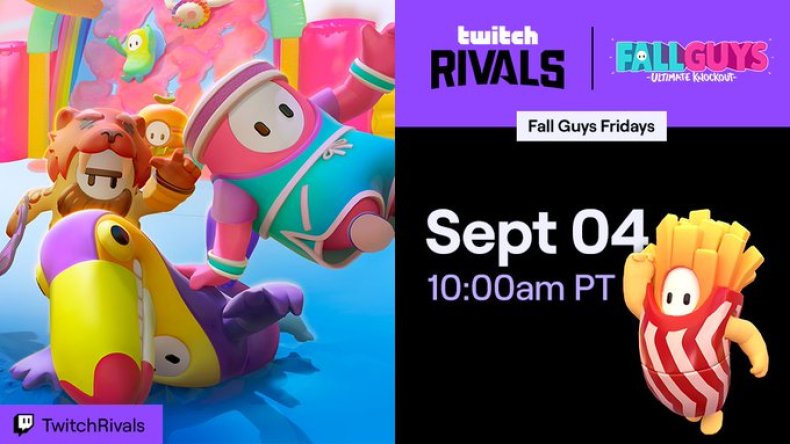 The second week of Fall Guys Twitch Rivals action is set to take place at 1 p.m. EDT September 4, with all participants expected to check in around 12 p.m. EDT. The tournament is estimated to last four or five hours, so block off some time into the early evening hours if you want to see the end results as they unfold.
Where to watch the Twitch Rivals Fall Guys Week 2 tournament
As is the case in all Twitch Rivals tournaments, the best place to watch the action is on the Twitch Rivals Twitch channel. There, shoutcasters will be on hand to recount the best moments of the competition from all 20 squads.
Participating players will also be streaming individual matches on their Twitch channels, too. At the very least, then, the Twitch Rivals hub channel offers a solid indicator of who to watch more closely.
Fall Guys Twitch Rivals Week 2 teams
At the time of publication, an official team list for the next round of Fall Guys Twitch Rivals has not been announced, but we do know the pool of participants includes 80 popular EU streamers split into 20 four-person squads. So, if you were hoping for some NA thrills from DrLupo this afternoon, you may have to wait another week for that.
Week 2 Teams 1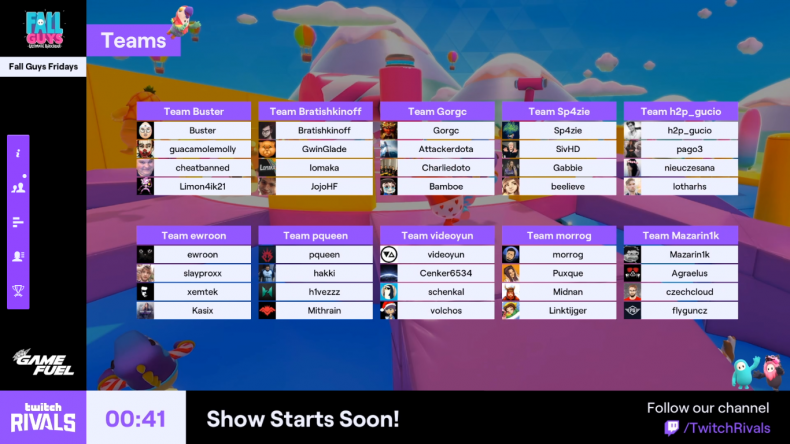 Week 2 Teams 2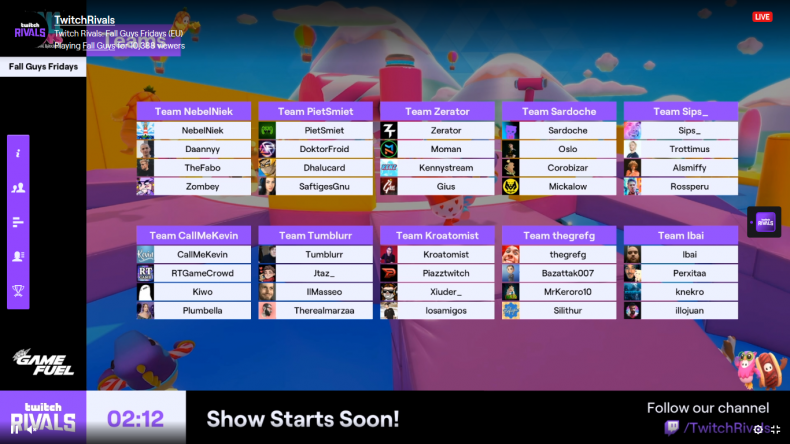 Fall Guys Twitch Rivals Week 2 standings, leaderboard, rules & prizing
Just like in the NA tournament last week, these 80 participants will be divided into 20 four-person squads to play in up to 10 games of Fall Guys. Each team will then be scored based on the number of players who qualify for each individual game. An extra point is added for each team member who qualifies for the Final Show, while five points are awarded for getting a final crown.
Four of the 10 games are Knockout Games, which means half of the competitive pool gets eliminated each time. By the end of the fourth Knockout Game, one team is left victorious.
Here's how prizing works for the duration of the tournament:
First: $7,000
Second: $4,000
Third-fifth: $3,000
Sixth-10th: $2,500
11th-15th: $2,000
16th-20th: $1,500
As you can see, a small cash prize is awarded to all participants, likely in an effort to compensate for the element of randomness that can occur in any given match. As for standings and leaderboards, we'll do our best to keep you up to date on those once the event begins.
It's worth noting that standings may also be posted at certain intervals on the event's official Twitch Rivals page as well.
Fall Guys: Ultimate Knockout is available now on PS4 and PC.
Will you be watching the Fall Guys Twitch Rivals EU tournament today? Which squad would you like to see come out on top? Tell us in the comments section!