'Fall Guys' Update Adds 'Big Yeetus' and Anti-Cheating System - Patch Notes
The latest update for Mediatonic's Fall Guys: Ultimate Knockout is live and adds new stage variations and the debut of "Big Yeetus."
If you're wondering what "Big Yeetus" is, you haven't been following the official Fall Guys Twitter account (which we highly recommend). But, it refers to a giant hammer that will appear in certain levels that players can use to launch themselves.
There's more to the "Big Yeetus" in the official patch notes, but this mid season update also brings new stage variations ahead of Season 2. Familiar fan-favorite stages will have dozens of new obstacles added to them so if you've figured out which door to go through in Gate Crash or how the turntables turn in Fall Ball, you'll be in for a surprise.
There will also be a more random rotation of stages, so don't try and figure out the pattern, and much more.
However, one of the biggest additions in the new Fall Guys update is the new anti-cheating system that the team is implementing for PS4 and PC. The team called up Epic Games, the creators of Fortnite, to help with their cheating problem and now Fall Guys will use the same anti-cheat system that Epic uses.
This new add-on will help eliminate Fall Guys cheaters who have plagued games on PC using modifiers that boost speed, jumping prowess and more.
Fall Guys Version 1.07 is now live to download for PS4 and the developers say this is the biggest update of the game to date, ahead of season 2, of course. Below are the official patch notes for the midseason update of Fall Guys.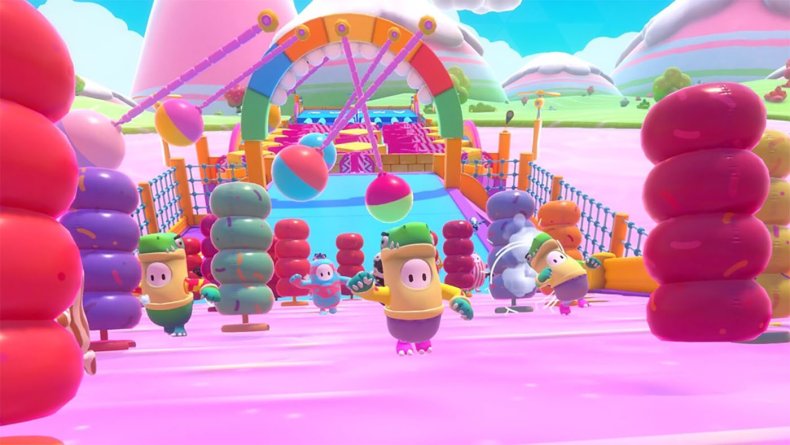 FALL GUYS MIDSEASON UPDATE PATCH NOTES
[PC] Our new anti-cheating system for PC is now in!
[PC] Added ability to bind game actions to mouse buttons
[PS4] Improved stability when creating parties on PS4
Objects in certain rounds will now have dynamic variations from one playthrough to the next, including new objects entirely. We plan to expand this system in the future to more rounds. - Big Yeetus
Improved stability when progressing from one round to another, there should be less disconnections in the qualification screen and round loading now.
Bug fixes in levels, spectator mode and improved resilience when network errors occur.
Fall Ball timer down to 120 seconds from 150
Lowered Min Player Counts for some levels to increase round variety
Fall Guys: Ultimate Knockout is available now for PS4 and PC.
What do you think of the latest Fall Guys update? How many crowns have you won so far? Let us know in the comments section.