Fall Out Boy Announces New Album 'M A N I A' And Twitter Is Freaking Out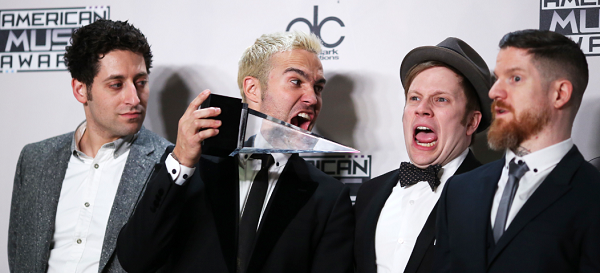 Fall Out Boy set Twitter ablaze when the rock band announced its forthcoming album, M A N I A. The band hasn't released any new music since their 2015 album Make America Psycho Again and the emo-youths of America quickly took to social media to rejoice.
M A N I A won't officially release until September, however, fans have the pleasure of rocking out to the first single from the album, "Young and Menace," which Fall Out Boy released Thursday with an accompanying music video.
The song and video release sparked a ton of excitement on Twitter with many fans hailing the return of the rock stars.
Of course, there were some who weren't all that pleased with the new song, including a few former fans who apparently would have preferred for the band to call it quits after their last album.
In a statement, bassist and lyricist Pete Wentz touched on the complexity of the track, which plays on Britney Spears' "Oops I Did it Again" lyrics and subtly builds up to Fall Out Boy's signature heavy-ripping guitar chords infused with a splash of electronica.
"It's hard to rationalize rage—it's hard to quantify anxiety... this song does neither, it embraces the wave," he said.
The video follows a young girl being raised by giant beasts after she discovers a magazine with a human family on the cover, which sparks her curiosity about the human world. Unpleased with the child's discovery, her beastly parents take the magazine, which results in the little girl running away into woods smothered in dense purple smoke and eventually turning up again in a human world. She later ends up fighting through the mosh pit of a Fall Out Boy concert, before waking up and realizing it was all just a dream.
"The concept is the idea of a movie like Elf, where he realizes maybe he isn't an elf after all, but ours has less comedic elements and more real world implication," Wentz said of the video. "She realizes that maybe she is human after all. But maybe the line between us and monsters is blurrier than we think."
Once M A N I A officially drops, Fall Out Boy will head out on a North American tour.
Check out the "Young and Menace" video and a few Twitter reactions below: