Pop rock band Fall Out Boy have earned the wrath of "Swifties"—hardcore Taylor Swift fans—for a reference they made to her and Kanye West during the MTV Video Music Awards.
The band performed at Tuesday's VMAs for the first time since 2007 after reforming this year. They hit the stage to perform a 21st century version of Billy Joel's vintage song, "We Didn't Start the Fire," which references history defining moments.
Fall Out Boy updated the lyrics to cover everything from former President Donald Trump's multiple impeachments, the Arab Spring revolution and even Harry Potter.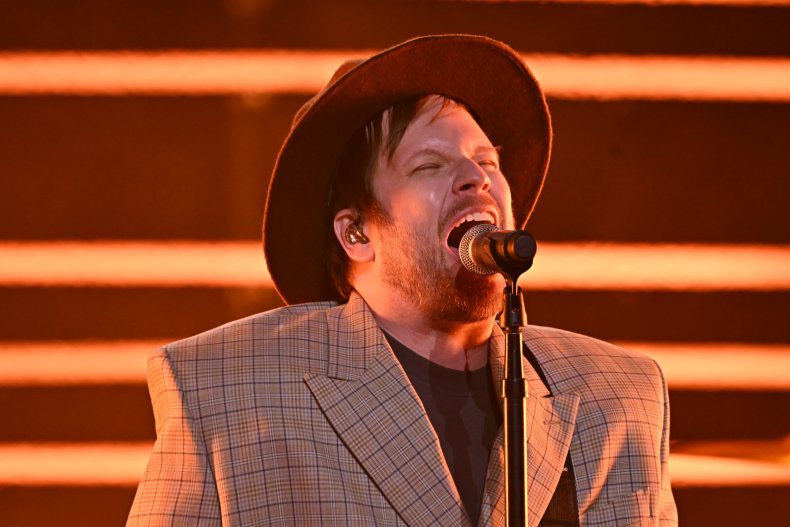 But it was naming Swift and West, who now goes by Ye, back-to-back that raised eyebrows.
"Black Parade, Michael Phelps, Y2K, Boris Johnson, Brexit, Kanye West and Taylor Swift/Stranger Things, Tiger King, Ever Given, Suez," sung lead vocalist Patrick Stump.
Placing Ye and Swift side by side in the song was a controversial choice because of the ongoing feud between the pair, but even more so to perform it at the VMAs. Ye infamously stormed the VMAs stage in 2009 after Swift had just won the award for Video the Year, to proclaim that Beyoncé should have won instead.
Ye would later go on to name check Swift in a song called "Famous," where he referred to her in a sexual manner. The video for that song also featured a mannequin resembling Swift in bed with Ye. The rapper claimed Swift gave him the green light to reference her in the song, something she has always denied.
Fans watching the awards at home were shocked to see the two enemies mentioned in the song, especially because Swift was in the audience at the Prudential Center in New Jersey.
"DID THAT MAN JUST MENTION KANYE WEST AND TAYLOR SWIFT OH ITS OVER FOR THAT FLOP ELECTRIC TOUCH MAN F****** UUUUUUUU," complained one person on X, formerly known as Twitter.
Another added: "think about taylor swift watching her most recent collaborator singing 'kanye west and taylor swift' on the vma stage thirteen years later ON THE DAY@falloutboy. what is this.."
And a third wrote: "Why did fall out boy sing 'kanye west and taylor swift' #$@!?%"
But one person pointed out the song has been out since the band released their latest album in March and then as a single in June.
"everyone is so shocked at fall out boy name dropping kanye and taylor but this song has been out with those lyrics since before speak now tv," they wrote on X.
Swift would go on to have the last laugh, sweeping up awards in the major categories.
She won Video of the Year and Best Pop Video for her song "Anti-Hero," the song with the viral lyrics: "It's me, hi, I'm the problem, it's me."
"Anti-Hero" also took out the awards for Song of the Year and Best Direction, while Midnights won Best Album.
Swift beat out stiff competition in Beyoncé and Nicki Minaj to be named Artist of the Year, which for the first time was made up entirely of female nominees.