A Fallen Cop's Daughter Delivers a Eulogy for the Ages
The Wednesday before last, Shelby Houston was getting ready to preach at her church for the first time. She was as nervous as any sensible 18-year-old would be about such a thing. Her father Richard Houston, a 21-year veteran of Mesquite, Texas' police department, did what good fathers do: He sent her a reassuring text.
"Sometimes it feels overwhelming, but everything will be OK," he wrote. "Remember that no matter what, me and your mom got your back. Always and forever. Have fun tonight and speak from the heart and don't look back. You will do great, no doubt. I love you."
Not long after that text was sent, Shelby's dad responded to a domestic disturbance call in a parking lot outside an Albertson's grocery store. When he arrived, a married couple were fighting over an alleged affair. When Houston tried to calm the situation—as he'd done many times before—the married man shot him in the chest and then shot himself in the head. Houston died; his assailant survived.
Americans don't know Houston's name, but they should. His life was a testimony to the hundreds of thousands of men and women in blue who protect us from harm.
At the December 9 memorial service at Lakepointe Church in Rockwall, Shelby, Houston's oldest daughter, was one of three people to speak at her father's funeral. She was preceded by Mesquite Chief of Police David Gill and Assistant Chief Doug Yates.
Gill described Houston as an officer who was committed to his job, to his family and to his God. "He was an all-in kind of person," Gill said. "Richard always wanted to be a police officer, but most important, Richard always wanted to be a Mesquite police officer."
Gill continued, "His father was a Mesquite police officer, and he told me he never wanted to be a police officer anywhere else. There was no other place, no other backup plan."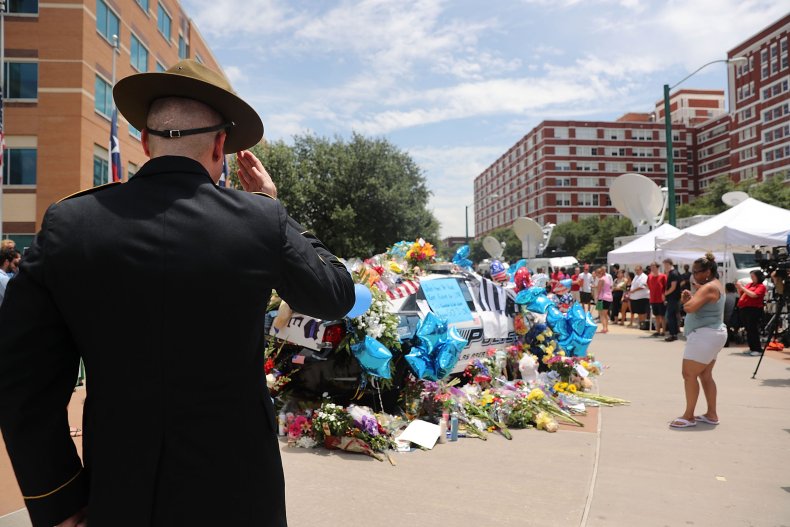 Yates told some amusing stories about Houston, including his love of the outdoors. Yates then told a story about his deceased friend spending an entire shift praying after one of his colleagues died of cancer. While clearing out his pal's squad car after his death, Yates told the gathering, he found Houston's Bible. "Richard didn't just go to church—he walked with God each day," Yates said. "God was with him last Friday, and Richard is with God."
After Yates was finished, Shelby stepped up. "There's so much I want to say about my dad, but I would have to stand up here forever to do that," she began. Thus started her beautiful eulogy, one for the ages.
I know many of you knew my father as an officer. You may have seen him in his uniform with a badge and squad car, but I saw my dad in a different fashion, always in his plaid pajama pants, book in hand in his silver Ford F-150. Home has felt lonely without him here.
She then described the night she learned her father had been taken from her family, and the nights after.
I keep waiting for him to come home and pull up in the driveway and come inside and tell us about some crazy car chase he got into, or maybe even how terrible the 7-11 taquitos were for lunch [laughs]. You never knew what surprise he'd gotten into that day. But there was no heavier surprise than to receive the call that your dad had been shot and killed. It will be a day I never forget.
Shelby then shared some personal stories. Stories that reflected her dad's nature and character, as a man and as a dad.
There are plenty of stories of his time spent as an officer, but there was another side of him I had the privilege of knowing as my dad. He was goofy, incredibly sarcastic. There was always a joke up his sleeve. There was never a volleyball, baseball or football game he was going to miss, never a band competition he'd miss either, not for me or my siblings. He was our biggest fan on and off the court and field. He encouraged me and pushed me and supported every decision I made.
What happened next, and what Shelby shared with friends, family, neighbors and members of her church congregation, was a remarkable testimony to her faith, which she'd learned from her father. Like her father's example, her words were a reflection of God's grace and mercy here on earth.
I remember having conversations with my dad about him losing friends and officers in the line of duty. I've heard all the stories you can think of, but I always had such a hard time with how the suspect was dealt with. Not that I didn't think there should be justice served, but my heart always ached for those who don't know Jesus, their actions being a reflection of that. I was always told I would feel differently if it happened to me, but as it happened to my own father, I think I still feel the same. There has been anger, grief, sadness and confusion, and a part of me just wishes I could despise the man who did this to my father. But I can't give any part of my heart to hate him.
Shelby, at life's darkest hour, was thinking not about the soul of her father but of the soul of the man who took his life. She wasn't finished.
My prayer is that someday down the road, I get time to spend with the man who shot my father. Not to scream at him, not to yell at him, not to scold him, but simply to tell him about Jesus.
Shelby, valiantly holding back tears, brought things back to the man she so loved. And who so loved her.
I would do anything in the world to see you again. To laugh with you again, to watch your terrible dance moves, to listen to another joke, to practice volleyball with you, to watch birds with you again, to catch one more fish, to wrestle one more time, to hug you again, to hear your voice at last. There was still a lot of life I was looking forward to spending with you. Eighteen years with you, Daddy, was just not enough time. You were faithful, steadfast, selfless, kind and hardworking. On December 3rd, you were silenced, but you will forever live on in my heart today and all the days to come.
She closed out her remarkable eulogy with these final words.
In my deepest wound, I saw the glory of Jesus, and it has astounded me. You're my hero, Daddy, and I'm so proud to call you my father. I love you most, and I will see you someday soon.
Houston received many commendations in his 21 years on the job, serving and protecting his community; 48 to be exact. He also had two "lifesaving" awards in his career. There were also multiple incidents where he was able to talk down suspects, including a man attempting suicide.
But Houston's greatest work, his most important work, he saved for his family. And his God. His daughter's eulogy was the fruit—the proof—of a life well lived. A life of faith beautifully walked.