The Falling Star: The Many Lies and Mysteries of USC's Josh Shaw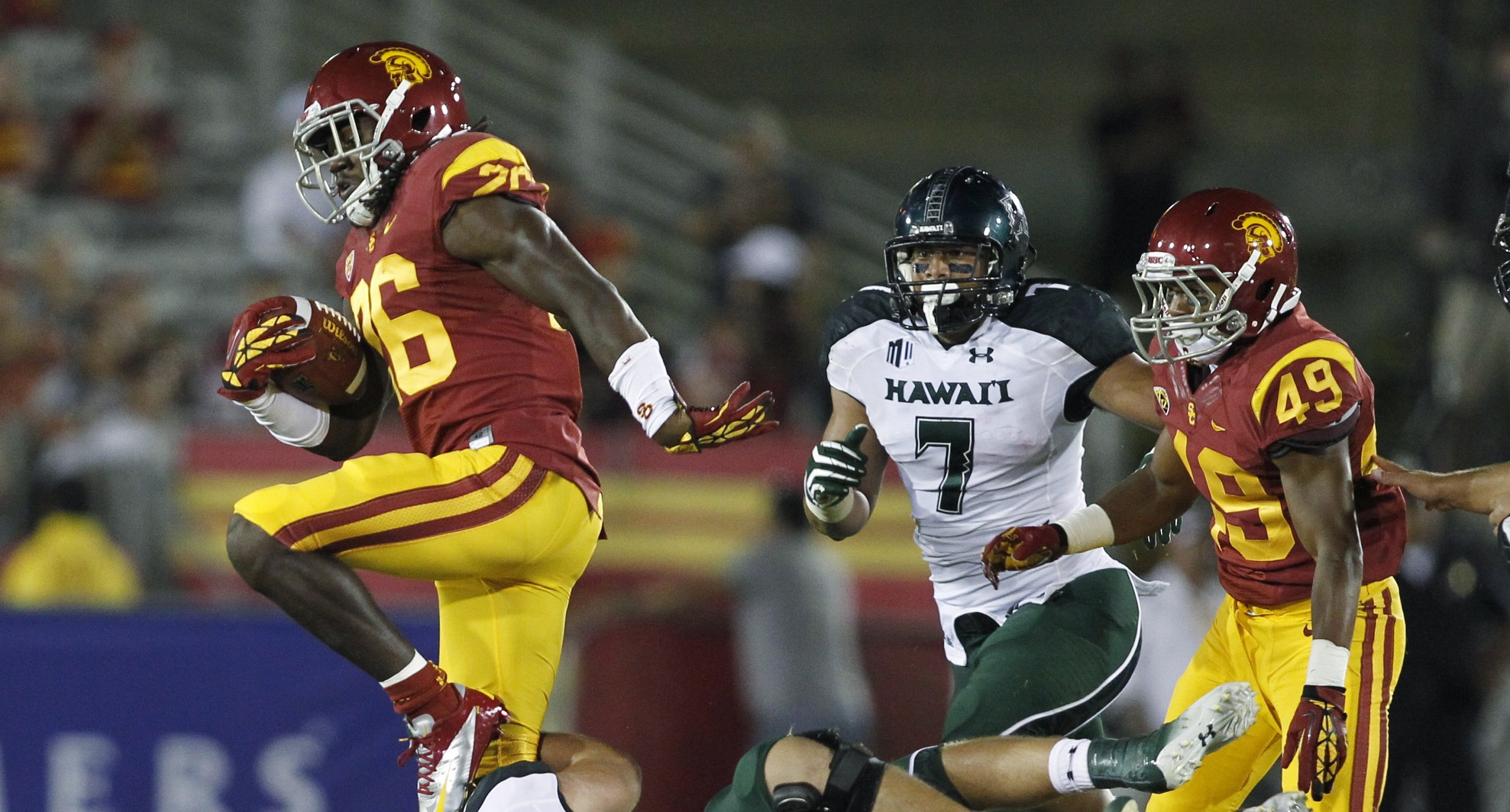 Josh Shaw is the man who fell to earth. From a second- or third-story balcony, not in Palmdale, Calif., but near downtown Los Angeles, onto an unforgiving surface. From team captain for the University of Southern California (USC) football team to indefinitely suspended player. From hero to fabulist.
At some point between last Saturday evening and Monday afternoon Shaw, a fifth-year senior and starting cornerback for the Trojans, found his way into the training room in the John McKay Center on USC's campus. The Palmdale, Ca. native required treatment after suffering high-ankle sprains in both legs. And at some point before entering the McKay Center, Shaw concocted a lie – an elaborate and heroic tale– to explain how those injuries had been sustained.
Shaw's story, not unlike its author, eventually landed with a mighty thud. "I made up a story about this fall that was untrue," Shaw said Wednesday in a statement released through his recently hired attorney, Donald Etra. "I was wrong not to tell the truth."
That Shaw, whose exploits both on and off the gridiron were up until this week highly laudable, would fib about his injury is one thing. That he would craft such an elaborate script in Tinseltown – and hire an attorney though he has not been charged with any crime – raises the intriguing question, What is Shaw hiding?
On Monday afternoon, USC's athletic department released, on its website, the incredible story Shaw spun for them (that web page no longer exists). A tale of how on Saturday evening, just hours after being voted a Trojan team captain, Shaw had been attending a family function in Palmdale, about an hour north of Los Angeles. How, from his vantage point on a second-floor balcony, he spotted his seven year-old nephew, Carter, who cannot swim, struggling in the pool. How, according to Shaw, he then leaped from the balcony to rescue him.
"I would do it again for whatever kid it was, it did not have to be my nephew," said Shaw, who so badly sprained his ankles in the alleged rescue that he had to hoist himself out of the pool using just his arms.
"That was a heroic act by Josh, putting his personal safety aside," said first-year USC coach Steve Sarkisian. "But that's the kind of person he is."
Or is it? Within hours of USC's gushing news release, Heritage Hall, the home base of USC athletics, was fielding calls from people who said Shaw's story did not hold water. There were reports of an incident at the Orsini Apartment Complex near USC's campus around 10 p.m. on Saturday night and of police responding to a complaint. By Wednesday afternoon, USC was issuing another statement, this one declaring that Shaw's story was "a complete fabrication" and that the school was suspending him from football activities indefinitely.
Why would Shaw behave so (apparently) out of character? A Southern California native who originally signed with the University of Florida, Shaw spent the first two seasons of his college career in Gainesville. He left the Gators and transferred to a school closer to home only after his grandfather's health declined and his own father was in need of reconstructive knee surgery while working two jobs to support the family.
"(My dad's) helping out with my grandparents' house and his own house, so if he can't work, it really affects the family," Shaw told Rivals.com in 2012. "It means we could end up losing our house. So I had to come home and help out with the family business in the meantime."
Since returning home, Shaw had been a godsend not only to his family but also to a Trojan roster thinned by NCAA sanctions. Due to penalties dating back to an investigation involving Heisman Trophy winner Reggie Bush, USC had to forfeit 30 scholarships over a three-year period, 2012-2014. Shaw has been a two-year starter in the defensive secondary, amassing six interceptions and drawing notice from NFL scouts.
He also spent five days on a humanitarian mission to Haiti, helping to build houses. Last May, Shaw, upon earning his undergraduate degree, delivered a speech at USC's student-athlete commencement. Athletic director Pat Haden, a former Trojan quarterback and Rhodes Scholar, referred to him as a "wonderful, wonderful kid."
He seemed to be just that. Until last weekend.
Shaw's attorney has confirmed that his client did "fall off a balcony" at the Orsini Apartments, located a 10-minute drive northeast of the USC campus, but has divulged no further details. Etra also insisted that "nothing criminal happened," even though police were called to the apartments last Saturday night to investigate a report of a woman screaming.
As for that police report, when police arrived shortly after 10:30 p.m. they were directed to an apartment, but found no one home. The police made entry, where they noticed a back window had been pried open. Witnesses described a black man with dreadlocks exiting the apartment via the balcony. When police later made contact with the resident of the apartment and described the possible intruder, she replied, "That sounds like my boyfriend, Josh Shaw."
For now, there are only questions. Why would Shaw create such a ludicrous tale (his older sister, Asia, the mother of his nephew, even corroborated it)? Is there anything more to the fact that police investigated an incident at the Orsini apartments and we now know Shaw was there on Saturday night? Was it Shaw's girlfriend who screamed and if so, why? And what will Sarkisian, who in the past three days has had his team captain lie to his face and another player, Anthony Brown, quit the team while denouncing him as a "racist," do with Shaw?
Heroes and villains abound in college football. Rarely, though, does one person so embody both roles in so short a time-span.