'Fallout 76' Beta Dates and Times Announced By Bethesda: When Can You Start Exploring 'Fallout' With Friends?
The Fallout 76 beta times have been announced for the coming week. While the beta is only available during small windows of time, it will be open almost every day at some point. The full schedule for the Fallout 76 beta is as follows: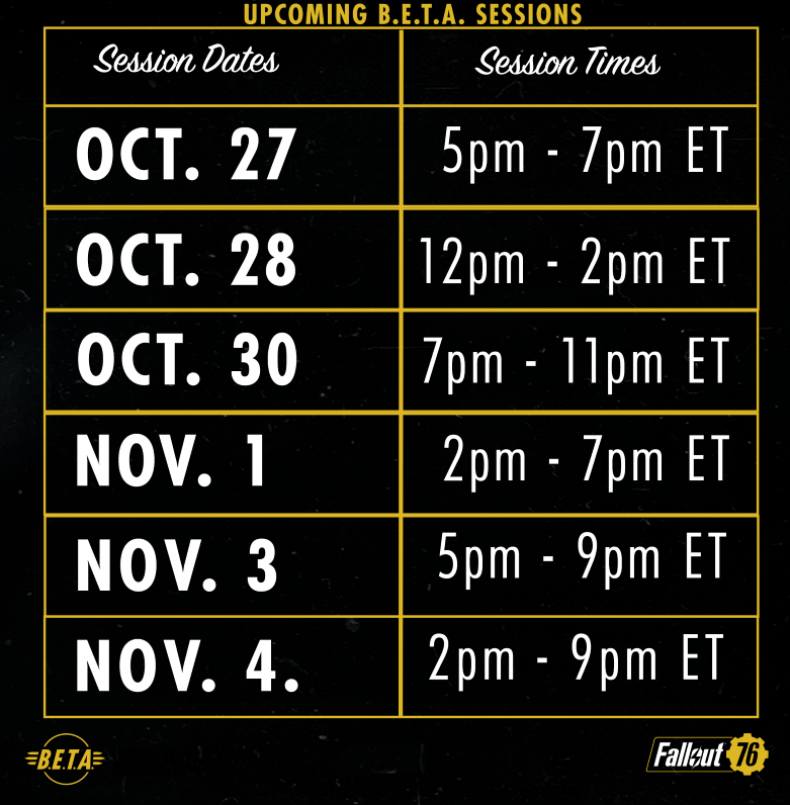 The beta starts slow, only offering two-hour play sessions on Oct. 27 and 28. Both of these dates are Xbox-only dates as well. Everything after Oct. 28 is open for all platforms. The Fallout 76 beta will be live the longest on Nov. 4, when it will be up for seven hours straight.
Fallout 76 is available to preload on all platforms right now. This means you can download the beta before the testing periods begin, so you can long on right as the servers open up to maximize your play time. Bethesda has noted that this schedule could change due to unforseen technical issues or other circumstances, so be sure to follow the official @Fallout Twitter page for all the latest information.
If you find yourself stuck in between beta testing periods, be sure to check out our impressions of Fallout 76. So far, we think the transition from traditional RPG to online RPG is pretty smooth, and things feel like a Fallout game should. That said, there are some concerns with combat and how easily new players to the Fallout universe will fit in.
So what do you think? Are you interested in trying out the Fallout 76 beta for yourself? Will you wait until after launch before deciding? Let us know your thoughts in the comments section below.