'Fallout 76' Fasnacht Day 2020 Guide - Mask List, Rarity, Rewards and More
Fallout 76 is holding its annual Fasnacht Day event through June 9, and we want to make sure you get all the best mask rewards through the span of the festivities. In this guide, we'll recap the basics of the Fasnacht Parade quest, outline its rewards and illustrate just how difficult it will be to get each one. Additional tips were provided by WickedyChickady on YouTube.
How to start the Fasnacht Parade quest
To get started on your Fasnacht Day journey, you need to head to Helvetia, as marked here on the map below. You'll probably see a special quest marker signposting the event for you, but this is where it takes place if you don't see one.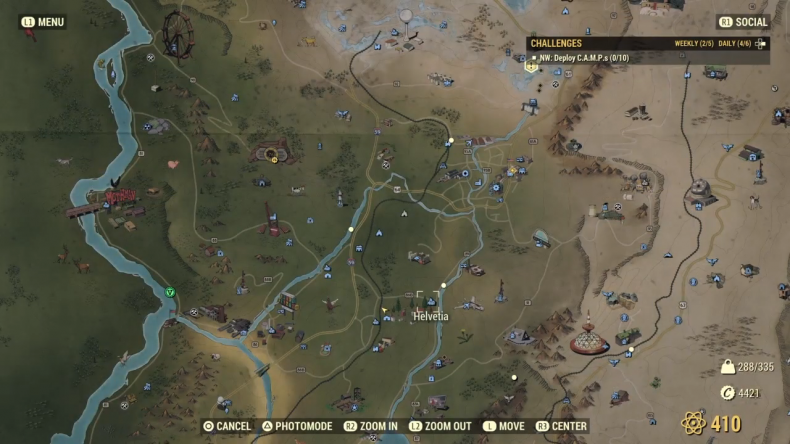 The Fasnacht Parade happens once every hour on the hour, which means it can't be server hopped like fans may have become used to in past years. Server hopping may help on a minute-to-minute basis if you happen to just miss the start of a parade on your server, but you won't be able to scum rewards that way.
At any rate, once you see the quest, it can be started by talking to the Master of Ceremonies. If you get there early, don't start the quest until you've got a solid crew behind you. If you want a shot at the most elusive masks, you're probably not going to be able to do it solo.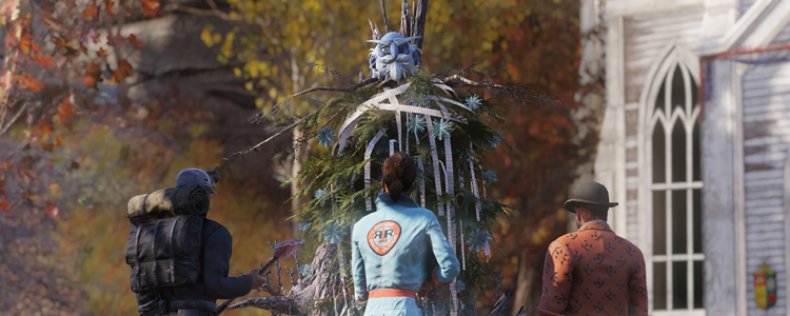 The goal is to get the robot marchers ready for the parade by completing subquests in their area.
Cheerful Beekeeper [found in Honey Haus]: Exterminate the honey beasts, which are attacking the Honey Haus.
Happy Candlemaker [found in the post office]: Donate 10 beeswax from the Honey Haus hives to the Candlemaker.
Gleeful Butcher [center building]: Donate 12 intestines from animals at the Butcher's Cooler. Kill the critters in the surrounding area, then deposit their intestines in the box near the butcher.
Jolly Baker: This bot needs 20 Radtoad Eggs. You'll find them in Egg Clusters along the nearby river or from the Radtoads that eventually spawn in. This is often a smart task to handle first.
Convivial Historian [in a back building]: Bring 12 old Fasnacht steins to the museum for analysis. Spawn around Helvetia in large numbers and can be saved between events.
Joyous Musician: Play some music at the stage area.
Jubilant Decorator: Decorate the barn.
Merry Woodsman: Add 50 wood to his bonfire.
As you can see, some of these tasks are very simple, while a couple take some time. For each run, you'll generally have a few simple ones and a couple time sinks.
Once you start the parade, it's basically a giant escort mission from one end of the route to the other. The goal is to keep all five robot marchers alive by protecting them from threats. If you do that, you'll have the best chance to get the rarest rewards. For a true Fallout 76 fan, a worthy Fasnacht Parade run keeps everyone alive. Here are some tips.
Radtoads spawn in as you approach the kitchen.
Super Mutants show up at the center square.
Using the Friendly Fire perk with a shishkebab can heal bots if they get hurt.
At the bonfire, beasts and a Mega Sloth show up. The wolves and Stingwings, though, should be your real focus.
After completing the last wave of enemies, your rewards will drop and you'll be asked by the Master of Ceremonies to light the effigy of Old Man Winter. If this is your first time completing the quest, you'll also get plans for the Beer Steins Display Case and Fasnacht Souvenir Beer Stein. These can't be earned again once you learn them, and they can't be traded either.
Fasnacht Parade Mask List & Drop Rates
For those who know the whole Fasnacht Day drill, you're probably only here to see the list of rewards and their drop rates. That was all datamined by Gilpo on the Fallout 76 subreddit, but we've got a condensed version of their findings below. Regardless, you'll find the current drop rates are far superior to 2019's catastrophe.
Common Masks [Drop 50 Percent if up to four robots survive and 23.75 percent if all five survive]
Each individual common mask drops at a 10 percent rate for 1-2 robots, 10 percent at 3-4 robots and 4.75 percent for five-robot runs.
Fasnacht Soldier Mask
Fasnacht Toothy Man Mask
Fasnacht Witch Mask
Fasnacht Giant Mask
Fasnacht Owl Mask
Uncommon Masks [Drop 50 percent if 3-4 survive, drop 71.25 percent if five survive]
Each individual uncommon mask drops at a 10 percent rate if 3-4 survive and 14.25% for a perfect run.
Fasnacht Jester Mask
Fasnacht Sun Mask
Fasnacht Skull Mask
Fasnacht Beret
Fasnacht Goblin Mask
Rare Masks [drop at a five percent rate only in perfect runs]
Each individual mask drops at a one percent rate on a perfect run.
Fasnacht Raven Mask
Fasnacht Deathclaw Mask
Fasnacht Winter Man Mask
Fasnacht Crazy Guy Mask
Father Winter Helmet
There are other rewards with varied drop rates beyond masks, of course, and those can be seen in the full spreadsheet linked above. That's all there is to know about Fasnacht Day 2020 in Fallout 76.
Fallout 76 is available on Xbox One, PS4 and PC.
What do you think of Fasnacht Day 2020 so far? Have you collected any of the rare mask rewards? Tell us in the comments section!
Correction: This story has been updated to show that additional tips were provided by WickedyChickady on YouTube.