'Fallout 76' Into the Fire Quest Guide: Fire Breathers Exam Answers & How to Join
Fallout 76 starts players off with a few main quests, and one of them is called "Into the Fire." Those who want to join the Fire Breathers must first pass a written, physical and final exam. Get everything done and you'll earn Fire Breather cosmetics and a unique gun.
Upon entering the Charleston Fire Department, which is southeast of the AVR Medical Center, the quest will trigger as you approach a terminal. The first objective is to "pass the Knowledge Exam." That can be accomplished by finding scraps of paper scattered around the area, using common sense or taking note of the answers we've listed below.
Fire Breathers Exam Answers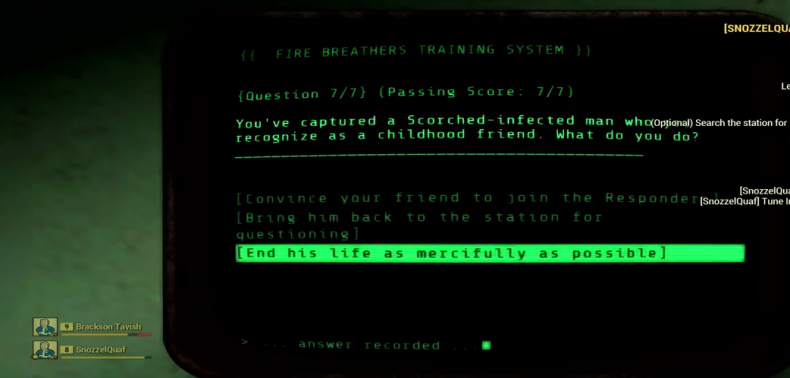 Evacuate as quickly as possible
A water-soaked rag
Gently bind the burn with clean bandages
Retreat immediately
1 pt Purified Water, 2 Ash Rose, 2 Blight and 2 Soot Flower
Fall back and engage from a distance with firearms
End his life as mercifully as possible
The next step of the quest contains a physical exam. Follow the map to the marked location, and interact with the terminal. We suggest taking a roundabout route to the objective because of how dangerous Charleston can be.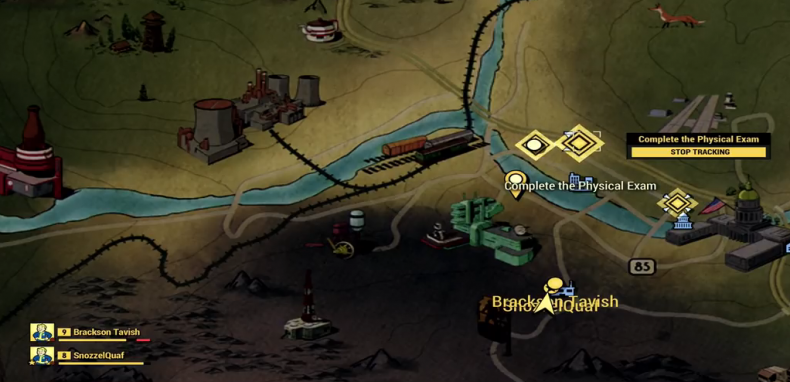 Once you reach the terminal, sprint your way to Checkpoint B as fast as possible then run back to Checkpoint A. There are Scorched along the way, but just follow the arrows, stay calm and you should be able to finish everything within the three-minute time limit. You'll end up back at the terminal where you started. At this point you'll be asked to initiate the Final Exam and receive a Holotape for your efforts.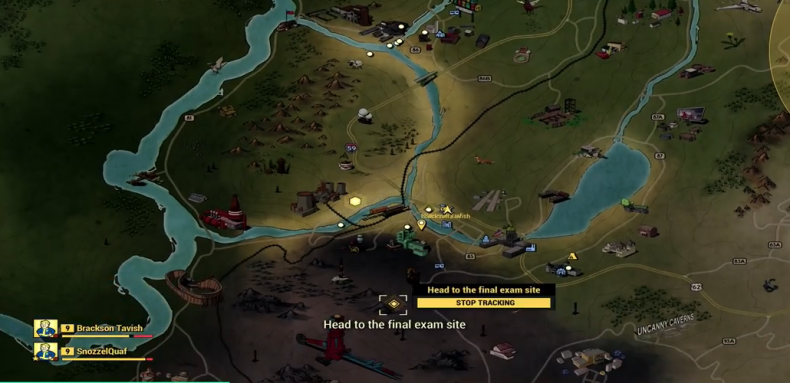 The next part of the quest takes you to Belching Betty, so listen to the Holotape as you head there. The instructions reveal what you must do once you reach your destination. The marker takes you to a robot named Bernie, and he gives you flame-resistant gear. Use the terminal to the right of the door to open access to the mine, and continue on either side of the forked road.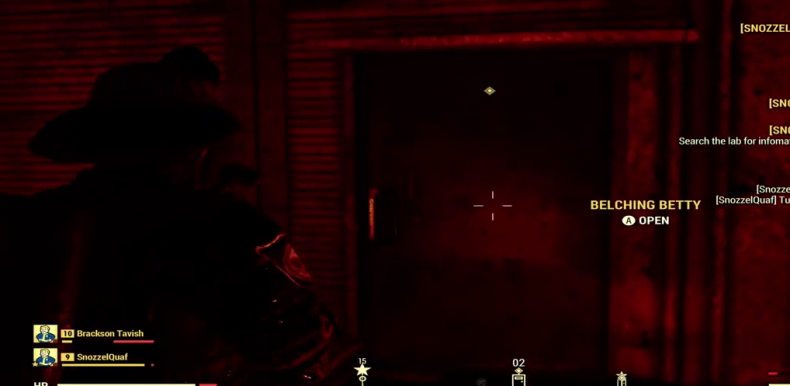 Once you activate the Emergency Beacon, you'll be beset by Scorched. Fight your way up to the surface, talk to Bernie and register in the Fire Breather's computer back at the Charleston Fire Department.
By the end of the quest you'll get:
Fire Breather's Uniform
Fire Breather's Helmet
Anti-Scorched Training Pistol
Anti-Scorched Weapon Mod Recipes
Ammo
An item
That's all you need to know to finish the "Into the Fire" quest for Fallout 76. Be sure to check out our survival and combat guides as well.
Fallout 76 is available on Xbox One, PS4 and PC.
What are your thoughts on Fallout 76 so far? Did you like the Fire Breather quest? Tell us in the comments section!
'Fallout 76' Into the Fire Quest Guide: Fire Breathers Exam Answers & How to Join | Gaming