'Fallout 76' Maintenance Update Finally Fixes Vending Machine Dupe Glitch
Fallout 76 players can finally place and use Vending Machines and Display Cases following the game's June 2 maintenance window. A small update has been pushed to resolve a dupe glitch that had plagued the title since May 15. The full details arrive courtesy of an official Bethesda forum post.
In the post, which was shared on Monday afternoon, Bethesda community management announced that the Fallout 76 servers would be taken offline around 10 a.m. EDT June 2. Following about 90 minutes of downtime, fans may be wondering what updates the offline period provided. According to the source, Wastelanders can now enjoy "a fix for the dupe issue that was affecting Vending Machines and Display Cases."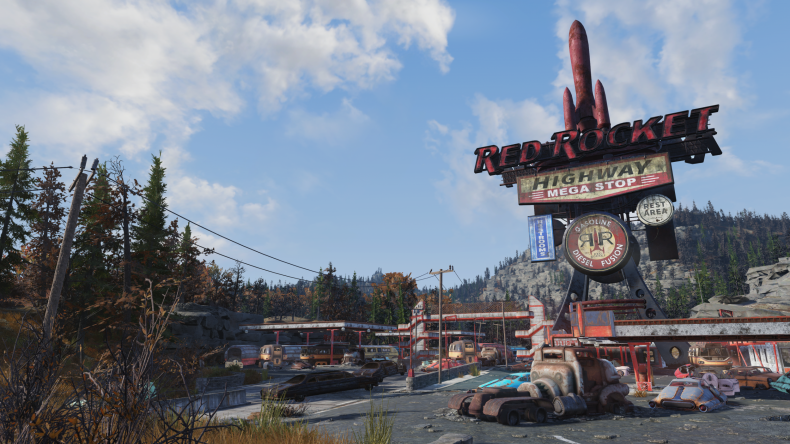 For fans who've been following Fallout 76 closely over the past three weeks, you've likely seen the "player vending disabled" message appear while using or trying to fill Display Cases or Vending Vending Machines around your CAMP. This shortcoming was due to the discovery of a dupe glitch in which players could essentially place their CAMP in a popular location and then hop to another server where that spot would likely be filled. Once that happened, a flaw in the Stash Box mechanic could be exploited to yield duplicate Vault Steel Scrap, Legendary Modules, ammo, healing items, Junk and more.
At the time, development representatives said they were working "actively to get a fix out so that we can re-enable Display Cases and Vending Machines as soon as possible," but many players didn't anticipate just how long the patch would take. While similar circumstances had been resolved over a single weekend in the past, this flaw took more than half a month to figure out. Luckily, however, the fix is here today. Fallout 76 may still have plenty of other bugs, but there aren't any vending issues to speak of right now.
Of course, more so than any other type of flaw, there is a whole community of players currently hunting for a new dupe glitch to use. Sometimes glitches aren't as front-facing as a Player Vending bug, but it generally doesn't take long for alternate methods to be found and subsequently spread.
With the Display Case and Vending Machine debacle finally behind them, Fallout 76 fans can look forward to the game's newly revealed roadmap that begins this summer with the Legendary Race event and culminates toward a Brotherhood of Steel expansion in the coming winter. Given the new Wastelanders update as well, it's clear Fallout 76 has big plans for the future despite its questionable reputation.
Fallout 76 is available now on Xbox One, PS4 and PC.
What are your thoughts on the recent maintenance update for Fallout 76? Are your Display Cases working again? Tell us in the comments section!