'Fallout 76' Roadmap: Inside the Vault Details 'Wild Appalachia' Update, New Game Mode And Three DLC Seasons
On Friday, Bethesda released a roadmap with new details on the Wild Appalachia update coming to Fallout 76 on March 12, as well as plans for future DLC. Spring's season-long event includes new quests, craftables and a new PvP game mode.
But that's just the beginning, because Bethesda the 2019 roadmap includes three full seasons of updates. After Wild Appalachia comes Nuclear Winter and then Wastelanders, all of which will radically change and improve Fallout 76 over the course of the year.
Fallout 76 'Wild Appalachia' Update Season Timeline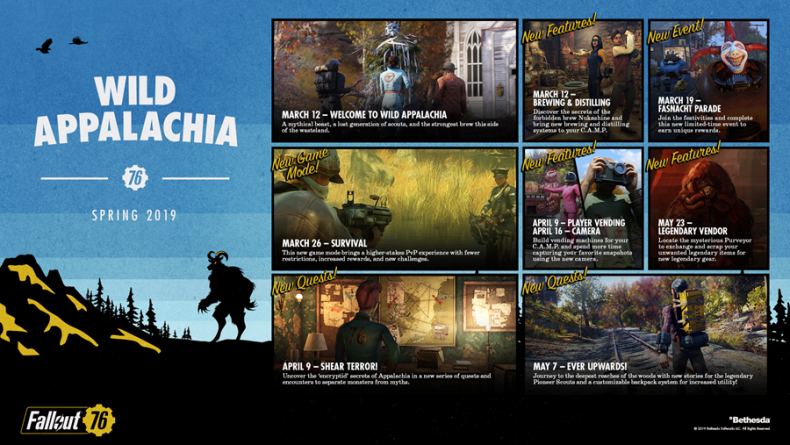 Wild Appalachia promises "a mythical beast, a lost generation of scouts, and the strongest brew this side of the wasteland." The Wild Appalachia details released by Bethesda seems to depict a Jersey Devil-style beast—not a cryptid, but an "encryptid"—and you can bet you're going to sip some strong moonshine before taking it down. But it looks like you'll be dealing with more than just one folkloric monster, as Bethesda will be adding a series of new quests to "separate monsters from myth." Mothman, anyone?
The Wild Appalachia update timeline begins March 12, starting with new brewing and distilling options at your C.A.M.P., including a secret brew called "Nukashine." Here's the full Wild Appalachia release timeline:
March 12 - Brewing and Distilling
March 19 - Fasnacht Parade, a limited-time event with unique rewards
March 26 - New PvP game mode "Survival" with "fewer restrictions, increased rewards, and new challenges"
April 9 - "Encryptids" quest series, plus player craftable vending machines
April 12 - A new in-game camera
May 7 - New Pioneer Scouts stories and a customizable backpack system
May 23 - A new legendary vendor
Fallout 76 2019 Three Season Roadmap
Bethesda also announced plans for additional updates beyond the Wild Appalachia season update.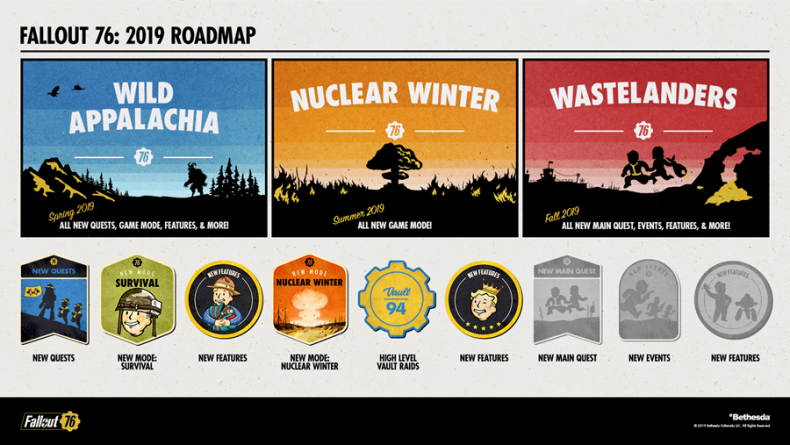 The update after Wild Appalachia is called Nuclear Winter and will include a new game mode, called, appropriately enough, "Nuclear Winter." That update will also come with high-level Vault raids and other new features. Nuclear Winter releases Summer 2019.
After Nuclear Winter comes Wastelanders in Fall 2019. Wastelanders will add a new main quest and new events.
There's a lot happening in the wasteland of Fallout 76 in 2019.