Conservative columnist Meghan McCain has urged "unethical" Sarah Palin to quit politics after she was spotted dining in public shortly after testing positive for COVID-19.
Palin, the former GOP presidential campaign running mate of McCain's late father Senator John McCain, was spotted dining at a popular New York City restaurant on Tuesday. Palin was in the city for her defamation trial against The New York Times, which was delayed due to her positive COVID-19 test on Monday. McCain deemed Palin "reckless, stupid and arrogant" for her behavior in an interview published by The Daily Mail on Thursday.
"Is she crazy? Day two?" McCain told the outlet. "I haven't seen her or talked to her for many years, aside from some short emails when my father passed, so I can't imagine what she is thinking but this is highly irresponsible."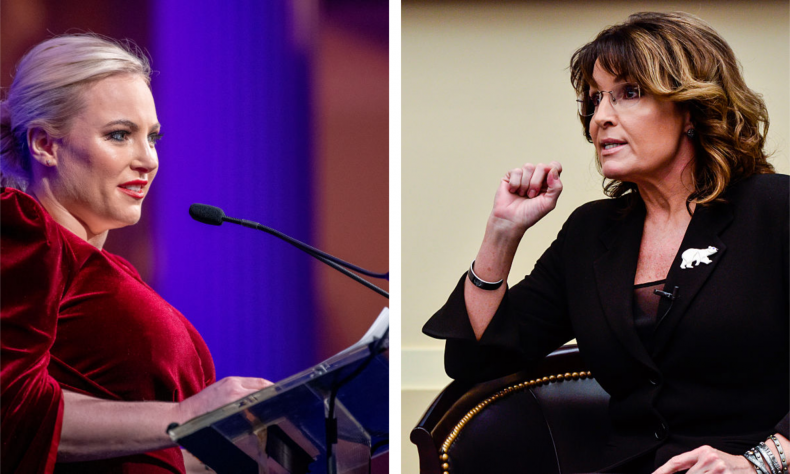 "This was selfish, reckless and stupid. Just because it's not illegal doesn't mean it is not unethical," she added. "This is why she shouldn't be in politics anymore. You have to lead by example. I'm embarrassed to have once known her."
While Palin has not held public office since stepping down as Alaska governor in 2009, she has remained politically active by making conservative media appearances and personal appearances at conservative events.
During an interview at a conservative conference last month, the unvaccinated Palin insisted that she would only get vaccinated against COVID-19 over her "dead body" and touted the benefits of her "natural immunity" from a previous infection.
Palin received her first COVID-19 diagnosis last spring. However, any immunity she may have gained after last year's infection did not prevent her from becoming infected with the virus again this month.
Palin was spotted dining outdoors on Tuesday. The New York Times reported that she dined indoors at the same restaurant on Saturday, despite New York City's requirement that those who dine indoors provide proof of COVID-19 vaccination.
McCain also recently recovered from what she called a "horrible" bout of COVID-19. She described herself as "fully vaccinated" in a Daily Mail column. It was not clear whether she had received the recommended booster dose.
Although Palin said that she felt "totally fine" despite her second infection during a Fox News interview on Monday, McCain blasted her for putting those who may be more vulnerable to the ravages of the virus at risk.
"Even if you're not sick you are infectious and you could infect someone with comorbidities," McCain said. "This virus is like a Russian roulette...You could die or you could be fine. I too am over COVID, trust me, but the reality is that it is still happening."
Newsweek reached out to Palin for comment.