Great White Shark Returns to South Africa's False Bay Almost Two Years After Killer Whales Chased Them Out
A great white shark has been spotted in South Africa's False Bay over 18 months after disappearing from the popular feeding ground. It was thought the predators left the area after killer whales arrived and started hunting them.
Shark-eating killer whales turned up in the Bay in 2015. Researchers started finding the carcasses of sevengill sharks that appeared to have been killed by orca. Two years later, five dead great whites were found with similar wound patterns. Examinations showed how they had been bitten in the area between their pectoral fins. Their livers were also missing.
Since then, great whites have been largely absent from False Bay, off Cape Town.
A similar phenomenon was previously recorded off the coast of San Francisco. When killer whales arrived at the Greater Farallones National Marine Sanctuary, the great white sharks would leave the feeding ground and not return for up to a year.
The last great white shark sightings in False Bay were in the spring and summer of 2018.
On Monday, however, the City of Cape Town told the shark safety program Shark Spotters that a 13-foot great white shark had been spotted at Seal Island in False Bay. The sighting was made by Apex Sharks Expeditions, a commercial company offering shark cage diving.
"We are on high alert for any white shark sightings on the inshore and will update the public immediately should we see one," Shark Spotters said in a tweet.
In a video posted to Facebook, an Apex Sharks instructor said the great was spotted about five minutes after dropping anchor during an expedition. "I thought it was a joke," the instructor, named Talishia, said. "I looked over the side and ... there was a great white shark. The first great white we've had in a year and a half."
Normally, hundreds of great whites are seen in and around False Bay every year. According to South African news website Independent Online, between 2010 and 2016, there were an average of 205 great white sightings over spring and summer every year. However, in 2018, this fell to just 50.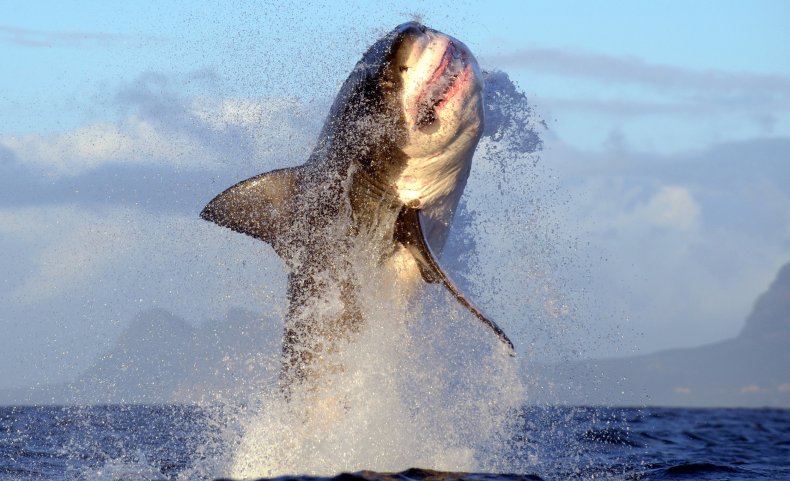 It is thought the arrival of killer whales was behind the disappearance. Killer whales are still present in the waters off South Africa, and the last sighting in False Bay was November 2019. That same month, footage from South Africa's Mossel Bay, around 200 miles east of False Bay, showed killer whales chasing a great white shark.
Alison Kock, a marine biologist at South African National Parks, who serves on the executive committee of Shark Spotters, told Newsweek that killer whales move up and down the entire coast and their appearances in the region are unpredictable.
"News of the sighting at Seal Island yesterday is a welcome and encouraging sign, but it doesn't signal a return of the sharks until we get more consistent sightings in the Bay and of more than one shark," she said.
Kock said the disappearance of great whites is of concern because of the role they play in the ecosystem. "White sharks are important predators that have an impact on numerous other species in False Bay and thus influence the structure and function of the False Bay ecosystem. White sharks predate on numerous species, such as fish, other sharks, seal and dolphins, and influence these species directly by reducing their numbers, and removing the weak and sick, but they also do so indirectly by influencing the prey's behaviour. For example, Cape fur seals are bolder when white sharks aren't around, which in turn also has knock-on effects in the ecosystem, altering the way it looks and works."
Kock said there is good evidence to suggest killer whales are influencing the presence of great whites in South Africa and elsewhere in the world. However, other factors, such as environmental conditions and food availability, also plays a role.
Kock and other researchers now plan to monitor and record shark sightings in the area. Whether or not shark sightings will start to increase is unknown.
"In the past, the months of January to March have traditionally seen less sharks in False Bay compared to other months, but there are lots of environmental changes happening at the moment, shifts in prey availability and occurrence and the increase in orca presence, which has added lots of uncertainty in predicting white shark occurrence in False Bay," she said.