Far-Right Trump Supporters Claim 'False Flag' After Obama, CNN, Clinton Explosive Device Threats
Some of President Donald Trump's far-right conspiracy theorist supporters immediately ridiculed reports of potential explosive devices sent to the Obamas, Clintons, CNN's New York Office and George Soros as "false flag" operations by the Democratic Party.
Cries of "false flag" littered "The Donald" subreddit, Twitter and other social media outlets as news reports emerged Wednesday about explosive devices addressed to former President Barack Obama and the Westchester County home of Bill and Hillary Clinton. Much of the vitriolic and fact-free commentary suspiciously pointed at the attempted bomb attacks on the Democrats as a campaign ploy just weeks ahead of the November midterm elections.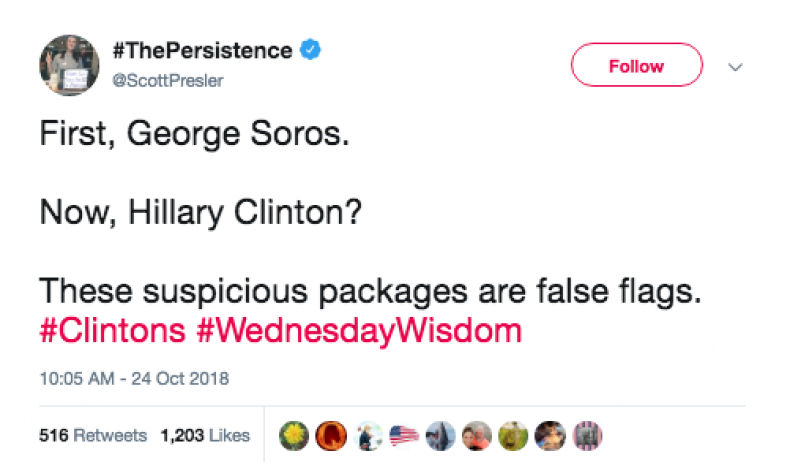 "False flag" and "straight out of the Democrat playbook" were some of the top trends on Twitter early Wednesday.
The U.S. Secret Service announced it is still investigating the explosive devices addressed to the Democratic figures Wednesday. But as many far-right conspiracy theorists noted, the reports come just days after an explosive device was discovered at the suburban New York residence of one of Republicans' favorite targets: billionaire George Soros.
Newsmax's John Cardillo tweeted, "Just too coincidental that two weeks before Election Day, as the 'blue wave' has turned into a ripple, and the left is losing ground because of incivility and violent rhetoric, explosive devices show up in the mailboxes of Soros, Clinton, and Obama."
The massively popular "The Donald" subreddit immediately blasted news of the attempted bombings. One thread used a photo of former First Lady Michelle Obama with male genitals. Reports also surfaced Wednesday that CNN evacuated its New York City headquarters in the wake of another threat.
"Phew, it's a good thing explosives were only sent to Soros, the Clintons, and Obama. Could have been bad if the person had decided to send a bomb to anyone that doesn't have professional security teams that check all of their mail _," wrote one commenter.
"False flag 100%. It smells like black churches burning when a Clinton is running for president," reads another Trump supporter comment.
As the U.S. Secret Service continues to investigate the attempted bombings, many far-right figures claim this is all a distraction to help the "blue wave" Democrats.
"Clearly a false flag to attract sympathy voters. The wheels are falling off the Democrat campaign," one tweet reads Wednesday. All of the threats were directed against figures who are frequently targeted by President Trump's criticism.