Famed Chef José Andrés Promises Doctors and Nurses Will Eat Free at His Restaurants for a Year
Celebrity chef José Andrés has promised that active doctors and nurses will dine free for the rest of the year at his restaurants after the COVID-19 pandemic is over.
Andrés took to Twitter to make the offer, noting that his parents and other members of his family had been health care workers. The chef announced on March 15 that the pandemic had forced his more than 30 restaurants to shut down, although he said some would "transform into Community Kitchens to offer to-go lunches for those who need a meal."
"This is my promise! My mom and dad, and uncle, and godmother were nurses, doctors, pharmacist! When I reopen my restaurants, I hope I will, every active Doctor and Nurse will eat for free for the rest of the year! Thankful #HeroesOfCovid19," Andrés tweeted late Thursday night.
It is not clear whether Andrés was referring to the remainder of 2020, or whichever year the pandemic ends. Medical experts have predicted the pandemic could last 18 months, extending well into 2021.
Newsweek reached out to Think Food Group, the restaurant company owned by Andrés, for additional details but did not receive a response in time for publication.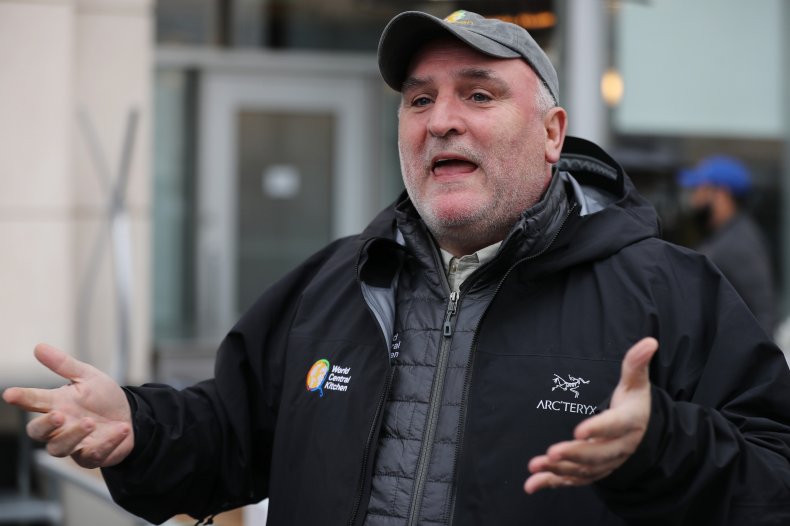 Andrés formed nonprofit World Central Kitchen in 2010 to provide humanitarian food aid in response to Haiti's devastating earthquake. The organization has also provided relief during several other natural disasters and is currently providing meals during the COVID-19 pandemic.
"This is going to be beyond Sept. 11, beyond Katrina," Andrés said of the pandemic in a March 26 Time magazine article. "Maybe this is why World Central Kitchen was created."
At least five of his restaurants in the Washington, D.C. area and a facility in New York City have been converted to prepare meals for communities feeling the impact of the virus.
The chef has been regularly providing meals to-go in the New York City area through World Central Kitchen. The organization has also been supplying three daily meals for Project Roomkey, a program to house California's homeless population using hotels and motels during the pandemic.
Andrés recently joined forces with celebrities including Oprah Winfrey and Leonardo DiCaprio to help launch America's Food Fund, a charity that aims to raise funds for humanitarian food efforts.
In addition, he has donated much-needed medical supplies like N95 respirator masks to health care workers during the crisis. A Friday tweet by George Washington Hospital indicated the chef had recently donated a number of medical masks and face shield.
"Thank you again to our wonderful community partner, @chefjoseandres, for donating masks and face shields to our staff at GW Hospital. We are grateful for you and your team's generosity and compassion in supporting our community. We're in this together!" the hospital wrote.
Andrés emigrated to the U.S. from his native Spain in 1990, becoming one of the country's most successful chefs. He has been credited with popularizing the small plates, or tapas, style of dining for the American market.