Families Begin Identifying 13 U.S. Service Members in Deadly Kabul Attack
The Pentagon announced on Thursday that 13 U.S. service members were among those killed in Thursday's bombing attacks outside the airport in Kabul, Afghanistan.
While the Department of Defense has not identified the victims of the attack, local reports, citing families of the deceased, have emerged.
Among those that have been named are Maxton William Soviak, David Lee Espinoza, Rylee McCollum, Kareem Nikoui, Jared Schmitz, Taylor Hoover, Degan William-Tyeler Page, Hunter Lopez and Ryan Knauss.
Soviak's mother confirmed her son's death to Cleveland-based news station WKYC on Friday. She said Soviak was from northern Ohio and served as a medic with U.S. Navy
The Navy has not publicly identified Soviak but released a statement on Friday saying that one of their sailors was killed outside the airport.
Espinoza, a 20-year-old Marine from Laredo, Texas, is another reported victim of the attack.
The Laredo Police Department posted a statement on their Facebook page naming Espinoza, writing, "Our thoughts and prayers will remain with the family of United States Fallen Marine, David L. Espinoza, as well as to his friends and fellow Marines. Semper Fi. Thank you for your service."
His family has also confirmed his death to KGNS.
McCollum's sister identified him to Wyoming-based the Casper Star Tribune on Friday.
She said her brother was sent to Afghanistan on his first deployment when the American evacuation began and that McCollum was reportedly manning a checkpoint at the airport when the bomb went off.
"He wanted to be a Marine his whole life and carried around his rifle in his diapers and cowboy boots," McCollum's sister said. "He was determined to be in infantry.… Rylee wanted to be a history teacher and a wrestling coach when he finished serving his country. He's a tough, kind, loving kid who made an impact on everyone he met. His joke and wit brought so much joy."
Governor Mark Gordon also confirmed that McCollum was among the service members killed.
"I'm devastated to learn Wyoming lost one of our own in yesterday's terrorist attack in Kabul," Gordon tweeted. "Our thoughts and prayers are with the family and friends of Rylee McCollum of Bondurant. Jennie and I, along with all of Wyoming and the entire country thank Rylee for his service."
The father of Kareem Nikoui confirmed to the Daily Beast that their family was notified of Nikoui's death in the attack by a group of Marines who came to deliver the news Thursday night.
He said some of the Marines were "more choked up than me," adding that Nikoui "really loved that [Marine Corps] family. He was devoted—he was going to make a career out of this, and he wanted to go. No hesitation for him to be called to duty."
Jared Schmitz's father told KMOX that the Marines notified him early on Friday morning that the 20-year-old from St. Louis was one of the men killed in Kabul. Schmitz was part of the group that had been sent back to Afghanistan to assist with evacuation efforts.
"This was something he always wanted to do and I never seen a young man train as hard as he did to be the best soldier he could be," his father said.
The 13 American service members are the first to be killed in Afghanistan since two were shot dead during an operation in February 2020, when the Trump administration and the Taliban signed an agreement in Doha, Qatar, on withdrawing U.S. troops.
Hoover's father Darin Hoover told the Associated Press that his sun had served as a staff sergeant in the Marines for 11 years.
"He is a hero. He gave his life protecting those that can't protect themselves, doing what he loved serving his country," said Darin Hoover said.
Page was a member of the 2nd Battalion, 1st Marine Regiment based out of Camp Pendleton in California. His family told the AP that he planned to go to trade school, potentially to become a lineman once he left the military.
"Daegan will always be remembered for his tough outer shell and giant heart," the family said in a statement. "Our hearts are broken, but we are thankful for the friends and family who are surrounding us during this time. Our thoughts and prayers are also with the other Marine and Navy families whose loved ones died alongside Daegan."
Prior to joining the Marines, Lopez was a sheriff's explorer in Riverside County, California. Sheriff Chad Bianco told the AP that Lopez wanted to become a Riverside County Sheriff's Deputy after returning to the United States.
Knauss, an Army staff sergeant from Tennessee planned to move to Washington D.C. when his tour of duty ended, his family told WATE-TV.
"He was a super-smart hilarious young man," his stepmother Linnae Knauss said.
Another 15 service members were critically wounded, according to the Pentagon.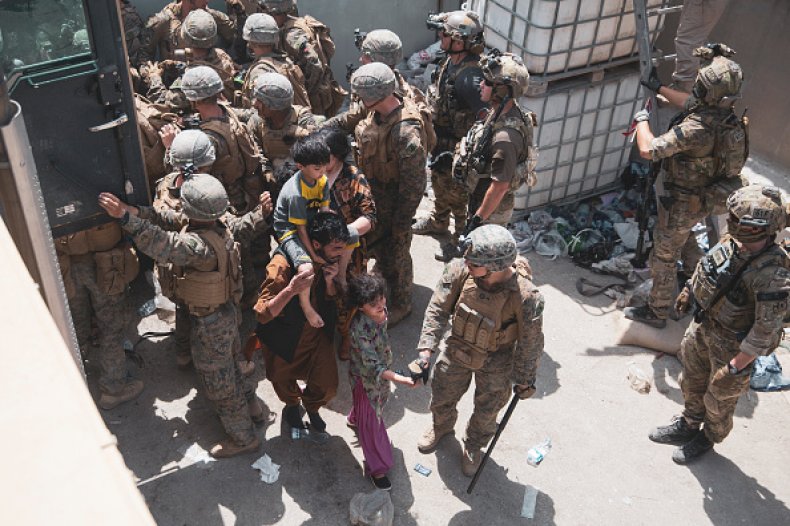 The two explosions on Thursday erupted near a dense crowd in the capital city, leaving scores dead or injured. Afghan health officials have estimated that 170 people died in the attacks, while at least 200 others remain wounded.
Kabul's airport has been a chaotic scene in the past couple of weeks since the Taliban's swift takeover of Afghanistan and the subsequent hasty evacuations of U.S. troops. Thousands of people have gathered at the airport gates in a desperate attempt to be airlifted out of the country.
An affiliate of the Islamic State militant group, ISIS-K, has claimed responsibility for the attacks. A U.S. official initially told the Associated Press it was "definitely believed" that ISIS had carried them out.
Taliban spokesman Zabihullah Mujahid condemned the attacks shortly after the explosions.
Senior U.S. officials and Western governments had urged people to leave the area the night before the attacks, saying there was a "specific" and "credible" threat at the airport by an affiliate of ISIS.
The U.S. Embassy warned citizens to avoid traveling to the airport and also to avoid airport gates or leave the gates immediately.
Officials said the Marines guarding the airport's main entryway, Abbey Gate, had been briefed on a potential suicide bomber striking near their position.
Evacuations are still underway despite the attacks. "We will not be dissuaded from the task at hand. To do anything less, especially now, would dishonor the purpose and sacrifice these men and women have rendered our country and the people of Afghanistan," Defense Secretary Lloyd Austin said at a Thursday press briefing.
In his first remarks during the attack, President Joe Biden vowed on Thursday to strike back after the deaths of the service members.
"Know this," Biden said to the attackers. "We will not forgive. We will not forget. We will hunt you down and make you pay."
He added, "The lives we lost today were lives given in the service of liberty, the service of security, the service of others, in the service of America," the president said from the White House.
This is a developing story and will be updated as more information becomes available.
Update (8/27/21, 4:16 p.m.): This story was updated with information about Nikoui.
Update (8/27/21, 5:08 p.m.): This story was updated with information about Schmitz.
Update (8/27/21, 10:00 p.m.):This story was updated with information about Hoover, Page, Lopez and Knauss.