Families Given Fruit and Vegetable Pieces to Feed Hungry Children for Week
The parents of children in some of England's poorest areas have shared pictures of sparse food parcels meant to stop them from going hungry while they are forced to stay home due to COVID lockdown.
The parcels, described by opposition politicians as "woefully inadequate", are being handed to the parents of children eligible for the U.K. government's Free School Meal scheme. Normally these children would be provided with a hot meal during the school day, but due to COVID rules banning children from attending school unless in exceptional circumstances, school leaders are being asked to provide the parcels to families instead.
These food packages, put together by schools or the private catering companies they normally use, replaced vouchers given to parents to spend in supermarkets as schools closed during the summer holidays. The government says it provides £15 per child per week, but one parcel posted to Twitter was valued at just £5.22. It contained two potatoes, a tin of beans, eight single cheese slices, a loaf of bread, two carrots, three apples, two malt loaf bars, three yogurt packets, some pasta, and one tomato, and was expected to last 10 days.
The mother wrote alongside the image: "Issued instead of £30 vouchers. I could do more with £30 to be honest." She added: "The private company who have the free school meals contract made a good profit here."
Premier League footballer Marcus Rashford, who forced the U.K. government into a U-turn in June over the provision of meals for children through the summer, said the parcel was "unacceptable". He shared several pictures of other food parcels parents had sent him, including one that contained three small fruit cartons, four apples, a tin of baked beans, raisins, and snacks. The mother who received the package said it was supposed to provide three days' worth of food for her eight-year-old child. British food writer Jack Monroe, who became a bestselling author after documenting their own experience of cooking for their child while surviving on government benefits, has also tweeted extensively about the parcels.
They posted messages from parents, as well as from staff allegedly working for the catering companies providing the parcels, who described the portion sizes as "disgusting". "Have we had enough examples yet that they can't say this is an isolated incident or do I need to keep going?!" Monroe said.
Some of the parcels shared online were supplied by private catering company Chartwells, which is part of the FTSE 100 foodservice company Compass Group. The group's chairman, Paul Walsh, is a Conservative Party donor and was a member of former British Prime Minister David Cameron's business advisory group.
A spokesperson for Chartwells said the image posted to Twitter "falls short of our hamper specification and we are keen to investigate with the relevant school". They said: "We take our responsibility to provide children with access to nutritious food very seriously. We have worked hard to produce food hampers at incredibly short notice during these challenging times. Our hampers follow the Department for Education (DfE) specifications and contain a variety of ingredients to support families in providing meals throughout the week. In the majority of instances, we have received positive feedback."
A DfE spokesperson tells Newsweek that schools have been given funding that amounts to £15 per week for each individual child eligible for Free School Meals to provide food during the lockdown. In the first instance, the government recommends schools provide food hampers put together by their existing caterers, or to issue parents with local vouchers if they are unable to provide food hampers.
The National Voucher Scheme, which initially ran over the summer holiday after Rashford's campaign, is due to be launched again "within the week" the spokesperson said, and will be in place for as long as schools are closed due to lockdown measures.
It will be up to schools to decide which method of food provision works best for the parents of eligible pupils, the spokesperson said. Prime Minister Boris Johnson has said he will be reviewing the lockdown rules in mid-February when schools in England are on their half-term break.
In government guidance for Free School Meals provision during COVID, schools can apply for an additional £3.50 per pupil to provide for children learning at home. The guidelines state that food packages should contain food items "which parents can use to prepare healthy lunches for their child or children across the week" as opposed to pre-prepared meals. It adds that the hampers should not rely on parents having additional ingredients at home and should cater for pupils of all diets.
Opposition Labour leader Sir Keir Starmer called the images of parcels posted online "a disgrace". "Where is the money going? This needs sorting immediately so families don't go hungry through lockdown," he wrote in a tweet.
Katie Barry, the headteacher at St George's primary school in Lincolnshire, East Midlands, is now providing food parcels to all her pupils - regardless of whether or not they are eligible for free school meals.
This week her staff handed out more than 200 parcels paid for from within the school budget, which taking into account staff overheads, gives a budget of less than £1 per pupil to spend. This was all organized within days, with schools only being told last week that they should close under new restrictions.
"The government voucher scheme may have allowed £15 per child per week but that's not what we have to spend," Barry tells Newsweek. "We are in a fortunate position in that we have a school kitchen, so we have autonomy on what we can provide, but other schools and parents are at the mercy of what private catering companies give them."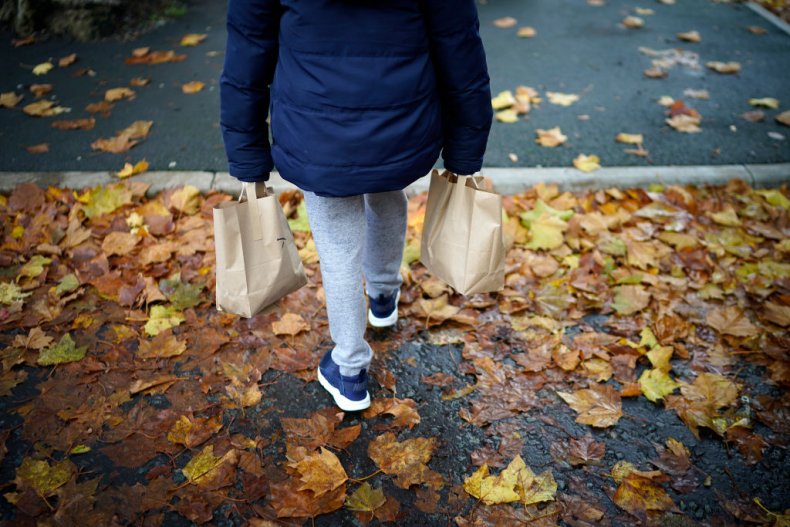 The school also runs a food bank, with parents able to pick up essentials every Friday. More than 150 people now queue up outside the school every week, Barry says. "We know there are hungry children, whose parents are at home with empty cupboards and empty fridges. Hungry children can't learn," Barry said.
"But we also know that we have hungry parents. We decided early on in the pandemic that providing food would be part of our core provisions as a school. We are meant to teach first and foremost, but now making sure people have enough to eat is one of our fundamental principles as well."
She hopes schools will be given more notice from the government to be able to make arrangements for children, should the lockdown rules be extended further. "We can turn tides, we will do it, but we need to be given more notice so we can plan ahead, otherwise some children will go without."