Families of Surfside Victims Defiant Against Judge on Memorial Site; 'We're Not Going Away'
The families of Surfside victims are remaining defiant against those who want to build over the site of the collapse, including judicial officials who have made it clear plans for a memorial would run up against financial realities the plot faces.
"We don't listen to [the judge]. We listen to what we think is the right thing to do. We're the families, we are the moral high ground here. We're the ones who suffered the horrific loss. We're the ones standing here suffering," Monica Iken, the founder of September's Mission, said at a Thursday press conference. "The judge might be compassionate, but we're the ones suffering. We are the ones who have to deal with this nightmare everyday."
"We're not going away. You see this?" she said gesturing to family members who lost their loved ones in the June 24 collapse. "These families are not going away."
Iken, who lost her husband in the 9/11 attacks and advocated for the 9/11 memorial site, is helping spearhead the effort alongside Surfside families, who are pushing for a memorial be built on the 1.88-acre plot of land where 98 people died three months ago.
Since the building's collapse, a debate has ensued over what will become of the plot of land.
No local government can afford to buy the waterfront property, and keeping a portion of the land for a memorial site would require persuading some condo owners to accept a smaller payout.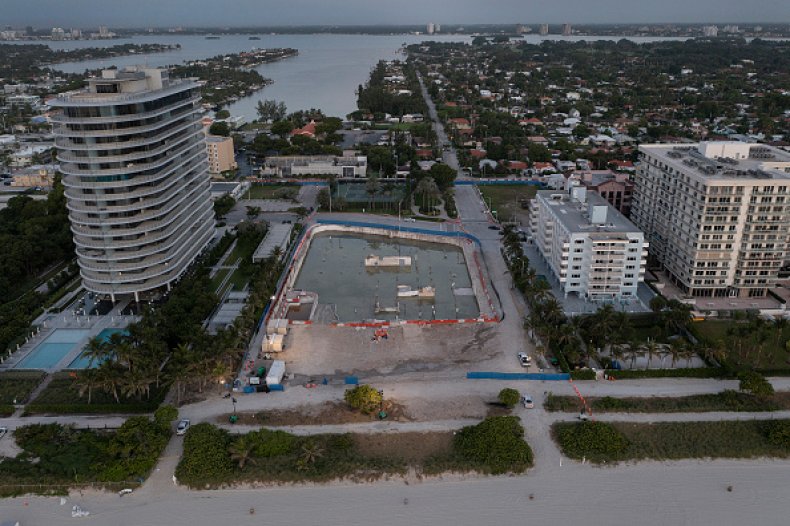 On Thursday, families of victims gathered to demand that a memorial be placed where the Champlain Towers South once stood, repeatedly saying, "We do not build over dead bodies."
"This spot is sacred," Ronita Felszer, who lost her 21-year-old son, said, "It is unacceptable that the last place my son was alive to be anything but a memorial."
City officials have offered to build a memorial for the Surfside tragedy in nearby parks, but victims' families have made it clear they would not settle for a memorial away from the site of the building collapse.
"We ask for a memorial to be made on this site, and not one inch away," Martin Langesfeld, who lost his sister and brother-in-law in the collapse, told reporters on Thursday. "Here, because we do not build over dead bodies. Three months after the collapse, remains of our loved ones have yet to be found and this land will forever be the resting place."
He continued, "Our hope is that the leaders of this community, the leaders of our city, the leaders of our state and the leaders of our government support, respect and aid our efforts to build a memorial where 98 people died."
The 11th Judicial Court of Florida declined Newsweek's request for comment, citing that "the judicial ethics canons prohibit Judge Hanzman from commenting on a pending case."
Update: 4:10 p.m. 9/23/2021: This story has been updated to include further clarification from the 11th Judicial Court of Florida.