Family Accused of 'Deliberately' Vandalizing Ancient Wall Paintings
A Reddit user claimed in a post shared to the forum "Mildly Infuriating" to have witnessed a family purposefully defacing ancient wall paintings.
"This man and his Kids Deliberately Scratched up 1000 year old Indigenous Wall Paintings with walking sticks in a Canmore Alberta canyon hike," read the caption of u/whitecloud197's post, which amassed more than 30,000 votes since it was posted on Tuesday.
The Reddit user included photos, and in the comments section, noted that they've looked into different ways to report the incident by reaching out to different agencies, including the town, Parks Canada and the police.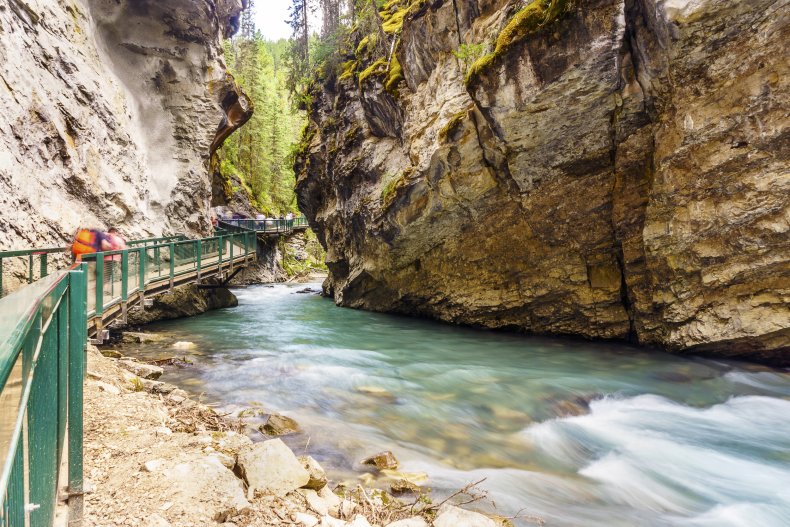 Alberta Parks published a list of regulations park-goers should abide by, which include properly disposing of waste, how to appropriately view plants and fossils and what they can do to ensure the spaces are safe.
"It is illegal to remove, deface, injure or destroy plants, fossils and rocks," the agency reported.
And, for those who have witnessed any vandalism, park-goers are encouraged to report it to a conservation officer or the police.
The first photo that u/whitecloud197 shared was taken from a distance, and it showed a group of people standing together as they walked along the trail.
The second photo showed an up-close look at the rock face. Numerous scratches are clearly seen etched through what was an illustration. A third picture showed an image of what the rock paintings once looked like before they were reportedly vandalized.
Redditor u/whitecloud197 wrote to Newsweek that they saw this take place while on a guided tour at Grotto Canyon.
They said the group approached the part of the trail that featured cave paintings when they noticed a man and his kids using walking sticks to scratch the paintings.
"Tour guide hollered at him and him and his s**tty entourage walked away quickly," u/whitecloud197 wrote in response to a commenter who asked if anyone said something to the man.
The Redditor said the tour guide pointed out the damage that was done to the paintings to the tour group.
Another Reddit user encouraged u/whitecloud197 to send the photos to the tour guide because they may be able to file a report to the appropriate authorities.
Redditor u/whitecloud197 said that after they shared it on social media, they were told that authorities will be investigating the matter.
Fellow Reddit users flocked to the comments section to express their own outrage after seeing the images.
"What did they think would happen? Why the hell would they do such a thing," a Redditor asked. "It hurts everyone, and is a slap [in] the face to natives and to the entire [province]."
"That's more than mildly infuriating," another comment read. "It's downright disrespectful. And illegal."
"It's not like it can be fixed either," one Reddit user wrote. "It's not some spray paint on a building. Humans shouldn't be allowed near anything historic unfortunately."
"This brazen destruction of history and cultural artifacts is absolutely disgusting," wrote a commenter. "I despise people like this."
Many other posts shared on the "Mildly Infuriating" forum have previously gone viral.
A photo of a job posting for a restaurant went viral and attracted angry comments after it boasted a $2.13 hourly wage, while one of the benefits listed included tips.
Another photo went viral when it showed a lengthy list of rules for customers to follow at a cafe, while one post featured an image of a community library that was completely trashed with chili and cat food.
Updated 07/27/2022, 11:48 p.m. ET: This story has been updated with comments from u/whitecloud197.