Family Accuses NAACP Leader Rachel Dolezal of Falsely Portraying Herself as Black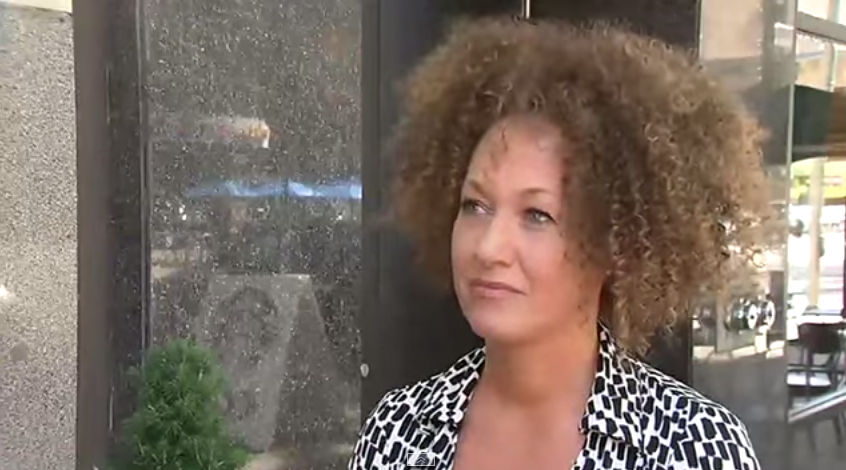 Updated | The race of Rachel Dolezal, an NAACP leader in Spokane, Washington, has come into question after Ruthanne Dolezal told the The Spokesman Review that her daughter, from whom she is estranged, has been trying to "disguise herself" as African-American. Ruthanne Dolezal claims the disguise began after the Dolezal family adopted four African-American children.
"It's very sad that Rachel has not just been herself," Ruthanne Dolezal told the Spokesman for the report published Thursday evening. "Her effectiveness in the causes of the African-American community would have been so much more viable, and she would have been more effective if she had just been honest with everybody."
The Dolezal ancestry is Czech, Swedish, German and a trace of Native American, Ruthanne Dolezal said. A birth certificate provided to the Spokesman by the Dolezal family lists Rachel's parents as Ruthann and Larry, both white. In January, Rachel Dolezal posted a photograph on the Spokane NAACP Facebook page identifying her father as an African-American man.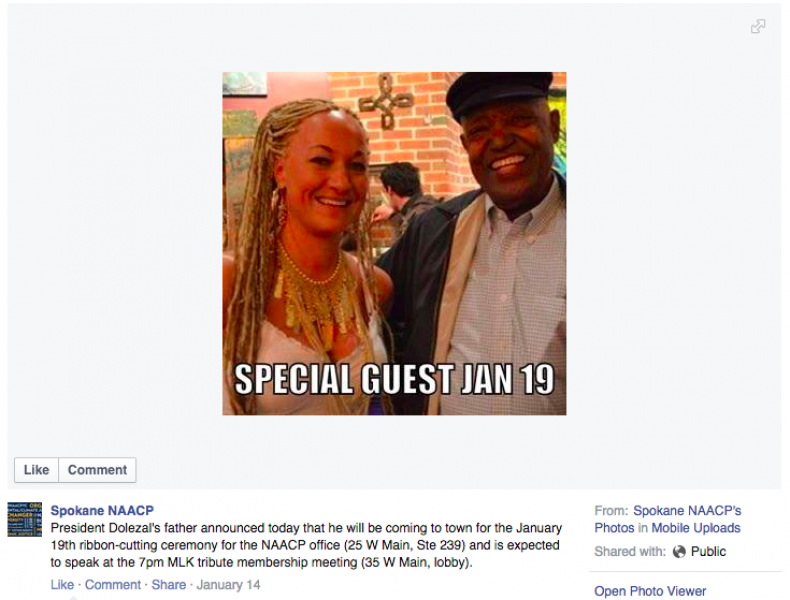 In addition to serving as an NAACP leader, Rachel Dolezal is an African studies professor at Eastern Washington University and works for the Office of Police Ombudsman Commission in Spokane. On her application for this role, she identified herself as white, black and American Indian.
"We are gathering facts to determine if any city policies related to volunteer boards and commissions have been violated," Mayor David Condon and Council President Ben Stuckart told the Spokesman in a statement. "That information will be reviewed by the City Council, which has oversight of city boards and commissions." The university did not comment on the matter.
Dolezal has filed reports to the local police department claiming she received hate mail that she implied were racially motivated, such as a noose being left on her porch. None of these numerous reports led to an arrest after they were investigated by local authorities Though Dolezal has never been accused directly of faking the mailings, she said she is "bothered by the subtle implication" that she did, adding: "What mother would terrorize her own children?"
When questioned directly about her race, Dolezal offered little reply and did not deny being white. She had the following interaction with KXLY, a local news channel, on Thursday:
"I was wondering if your dad really is an African American man."

"That's a very…I mean, I don't know what you're implying."

"Are you African American?"

"I don't understand the question…"

"Are your parents…are they white?"

[Dolezal left the interview and walked to a nearby shop, abandoning her purse and keys at the interview location.]
In a comment to the Spokesman, Dolezal did not offer much more clarity. "I feel like I owe my executive committee a conversation," she said, adding that it is a "multi-layered" issue. "The question is not as easy as it seems. There's a lot of complexities and I don't know that everyone would understand.…We're all from the African continent."
Just afternoon on Friday, the NAACP issued this statement on the matter:
For 106 years, the National Association for the Advancement of Colored People has held a long and proud tradition of receiving support from people of all faiths, races, colors and creeds. NAACP Spokane Washington Branch President Rachel Dolezal is enduring a legal issue with her family, and we respect her privacy in this matter. One's racial identity is not a qualifying criteria or disqualifying standard for NAACP leadership. The NAACP Alaska-Oregon-Washington State Conference stands behind Ms. Dolezal's advocacy record. In every corner of this country, the NAACP remains committed to securing political, educational, and economic justice for all people, and we encourage Americans of all stripes to become members and serve as leaders in our organization.

Hate language sent through mail and social media along with credible threats continue to be a serious issue for our units in the Pacific Northwest and across the nation. We take all threats seriously and encourage the FBI and the Department of Justice to fully investigate each occurrence.