Family of Another Black Man Found Hanging From a Tree in California Is Waiting for Answers
After the Los Angeles County Sheriff's Department announced its probe into the hanging death of Robert Fuller, authorities in the nearby San Bernardino County confirmed they were investigating the recent hanging death of another Black man.
In a statement to Newsweek, San Bernardino Sheriff's Department spokesperson Jodi Miller confirmed that the body of Malcolm Harsch, a 38-year-old African-American man, was discovered hanging from a tree near the Victorville city library and a homeless encampment on May 31. Deputies responded to the incident at 7:07 a.m. local time.
"There is an active death investigation being conducted," Miller said. "There were no indications at the scene that suggested foul play. The cause and manner of death are pending."
Miller told Newsweek on Sunday afternoon that the investigation is still ongoing. "Additional information will be released as it becomes available," she said.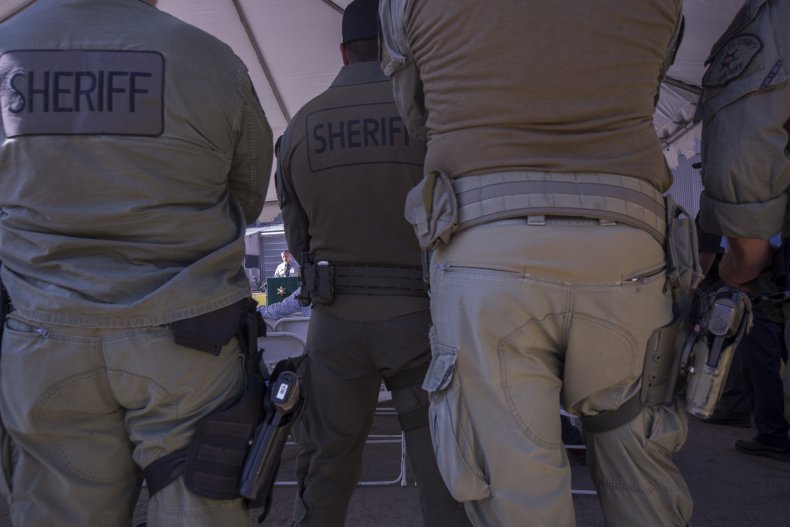 Two weeks after his death, Harsch's family released a statement on Saturday expressing their concerns about the lengthy investigation. They indicated their belief that his death was suspicious and foul play may have been involved, despite the sheriff's department's initial assessment.
"He didn't seem to be depressed to anyone who truly knew him," Harsch's family said. "Everyone who knew our brother was shocked to hear that he allegedly hung himself and don't believe it to be true as well as the people who were there when his body was discovered."
"The explanation of suicide does not seem plausible," they added. "We want justice, not comfortable excuses."
A USB cord was used in his death, according to Harsch's family, and "there was blood on his shirt."
"There didn't appear to be any physical implications at the scene to suggest that there was a struggle or any visible open wounds at that time," they said. "There are many ways to die but considering the current racial tension, a Black man hanging himself from a tree definitely doesn't sit well with us right now."
Harsch's body was found on the same day that saw dozens of Black Lives Matters protesters gathering at Victorville after the police-involved death of George Floyd on May 25. Floyd's death has sparked widespread protests across America against police brutality and systemic racism in recent weeks.
Meanwhile in Palmdale, police are still investigating the death of Fuller, a 24-year-old black man from Antelope Valley who was found hanging from a tree by a passerby around 3 a.m. local time on Wednesday. Initially, the city's coroner's office called the case an "alleged death by suicide," but officials quickly walked back the remark, saying on Friday that his cause of death will be deferred pending a full autopsy and probe.