Family Dog Finds Mountain Lion Under Decking in Colorado Home
A family's dog found a mountain lion under the decking of their home in Boulder, Colorado on Sunday.
Colorado Parks and Wildlife (CPW) and Boulder Police Department responded after a family alerted them to the big cat after their dog discovered it at around 7.30am local time on Sunday morning.
CPW and police found the mountain lion underneath the decking of the house in central Boulder. Images posted by the CPW to Twitter show the big cat wedged tightly underneath the decking, and officials rescuing the animal as they subdued it.
The CPW said that the mountain lion was a male weighing around 120 pounds, which is slightly underweight for male mountain lions.
The CPW estimates there are between 3,000 and 7,000 mountain lions in Colorado. Much of the state is described as prime country for the animals.
Encounters between mountain lions and humans are rare with the animals preferring to avoid people where possible. Attacks are even less common.
Josh Rosenau of the Mountain Lion Foundation told Newsweek previously: "Any sort of danger to people [from mountain lions] remains incredibly rare. Like, comparable to the odds of your being struck by lightning on your birthday."
However, there have been a significant number of mountain lion sightings in Boulder recently. The CPW told KDVR this was the 18th report of a mountain lion in the city since January 15.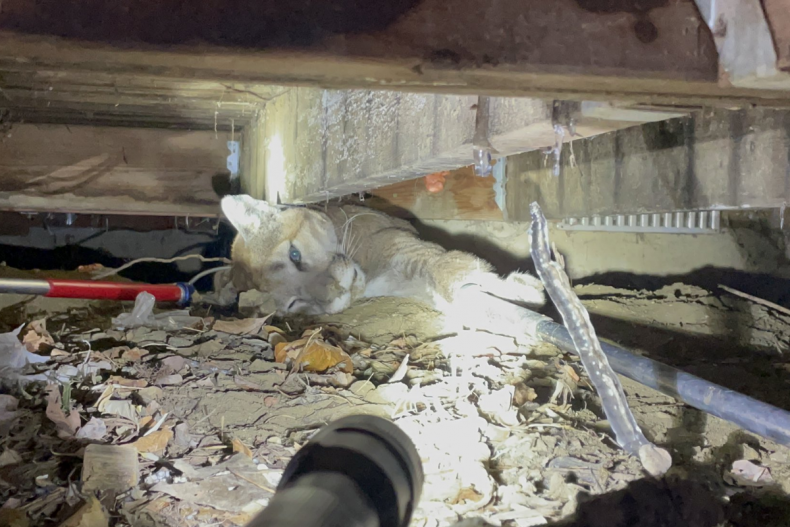 CPW wildlife officer Tyler Asnicar, who tranquilized the cat, told KDVR news: "They've been spotted a lot in north Boulder. This may or may not have been one of those cats, but increased winter activity is fairly typical as they follow their prey base down, and particularly the mule deer that move into lower elevations this time of year.
"The cat's concentration around the western edge of town and that leads to an increase in sightings and probably led to this cat being in town looking for something to eat."
Mountain lions hunt a variety of prey including large mammals like deer and elk and smaller ones such as rodents.
The big cats are found throughout the Americas and are vital to ecosystems in the hemisphere. Mountain lions act as key "ecological brokers" and are thought to interact with over 500 different species, thought to be more than any other carnivore.
The CPW said in a subsequent post that the animal had been transported for relocation in a remote spot far away from Boulder.
A second video posted by the CPW to Twitter, which can be found here, showed officials releasing the mountain lion from a cage in a remote snowy area. The mountain lion lashes out against the bars of a cage before sprinting off into the snow.