Family Dogsledding Trips for All Budgets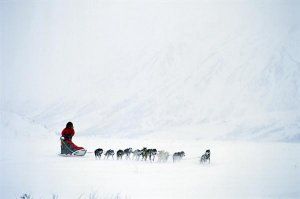 I knew that competitive dogsledding is not a leisurely weekend activity for the family, but I did not expect the white-knuckle adrenaline, the split-second decision making, or the bruising series of high-speed wipeouts. There was the face-first flop into the crusty snow after trying to take a corner too sharply, the bailout when I saw my sled was about to fly past my dog team, and the countless flips when my sled met a patch of ice (the dogsledding version of a banana peel).
Racing sled dogs isn't just painful on your body; it can also make quite a dent on your pocketbook. In recent years, winter-sports enthusiasts bored of skiing at St-Moritz or snowboarding at Vail are infiltrating the insular world of competitive dogsledding, albeit with wads of cash in hand. Once dominated by gnarly professional mushers from Alaska, Canada, and Scandinavia, the notoriously expensive sport is opening up to recreational daredevils with leased teams, racing schools, and long-distance expeditions in places as far-flung as Japan, New Zealand, and Argentina.
A growing number of entrants in the elite northerly races are desk jockeys like lawyers or business execs who squirrel away vacation days so they can train with their team during the winter season. Even casual spectators can get in on some of the action: for $15,000, you can pick a sled team to ride along with on the first stretch of the famed Iditarod Trail Sled Dog Race. "This sport has definitely grown recently thanks to several factors, including media coverage of the Iditarod, movies about sled dogs, and the growth of ecotourism," explains Tasha Stielstra, an instructor who runs Nature's Kennel in McMillan, Michigan.
I wanted to experience something between lounging on the back of a sled and racing the 1,600-kilometer Yukon Quest, the toughest race in the sport, with temperatures plunging to minus-50 degrees Celsius and winds reaching above 80kph. So, in early April, I embarked on a six-day dogsledding trip through the remote mountains in Norway's Arctic Circle organized by the luxury operator Abercrombie & Kent ($9,655 per person; akextremeadventures.com). My instructor, Per Thore Hansen, a grizzled former commando with the Norwegian Special Forces and expedition leader last year of the first team to dogsled to the North Pole and back, seemed overqualified for the job. But he wasn't too generous with his knowledge, at least initially. "These are the brakes," he said, pointing to the tire mat between the two skis of the sled and a hard metal plow meant to dig into the snow (because the dogs are so powerful, a hook is also needed as a sort of parking brake). "Use them. And don't fall."
Then, whoosh, Hansen disappeared, along with his 11 Alaskan huskies, through the alpine evergreens. My six dogs—Ronja, Sira, Turbo Tony, Ask, Baloo, and Nero—were eager to follow, barking and howling and jumping straight up against the gangline that connected them to the sled, telling me to let go of the brakes I'd just been told to use frequently. As soon as I did, they bolted off. We rapidly climbed Signaldalen Valley into the mountainous interior straddling Norway, Finland, and Sweden. With no border checks, or markers for that matter, I had a hard time remembering which country we were in.
Over the next week, Hansen taught me and three other amateurs the basics: banking into the turns by shifting your weight, navigating steep downhill slopes, and using voice commands (although the dogs rarely listen to strangers). Pretty soon, we were able to relax and soak in the alien white landscape, with sharp peaks propping up the sky and glacial lakes buried under the powder. That is, until we had to cross a half-frozen stream or maneuver through a twisting forest trail. Yet there was none of the din of a snowmobile engine to distract us, just the soft crunch of the virgin snow underfoot and the panting of six huskies.
This corner of Scandinavia happens to be one of the best training grounds for aspiring mushers, with its endless possibilities of trails, the lack of roads, and, perhaps most remarkable of all, an extensive system of public cabins (the one at Rostahytta was a brand-new three-bedroom villa with hardwood floors). There are also gap-year mushing schools here that teach mostly young outdoors types, like Hansen's assistant, 22-year-old Helle Flesjaa, how to operate a kennel, from vet care and feeding to survival skills if your sled team runs off. The graduates typically go on to apprentice for professional mushers, working long hours for little or no pay in exchange for learning the tricks of the sport.
But for those with deep pockets, it's possible to buy your way into this exclusive club. According to Jerry Sousa, a top-20 Iditarod musher and owner of the Talkeetna Sundog Kennel in Alaska, you can lease a team to compete in one of the big races for about $50,000. Even competing in the Iditarod with your own team still costs upwards of $20,000, including an entry fee of $4,000, $5,000 for a sled, and $5,000 in food drops (an elite dog team can eat 900 kilos of human-grade meat in one race). Still, as I found out on the trail, no amount of money can buy the bond that forms between a veteran musher like Hansen and his team. "A huge part of the expense is the time it takes from your day-to-day life," explains Arleigh Jorgenson, who runs a respected dogsledding school in Minnesota. "The secret is in the dog care."
At the end of the week, we descended Signaldalen Valley, the sled careering precipitously around the ridges. I crashed and burned twice, arriving at the bottom soaked in nervous sweat. It looked like I could still learn a thing or two from my floppy-eared teammates, who were already frolicking around in the snow.