'Family Feud Canada' Contestant's Viral Popeyes Chicken Answer Makes Internet Collectively Cringe
Twitter was in shock after a Family Feud Canada contestant guessed "chicken" in response to the question, "What is Popeye's favorite food?"
Contestant Eve Dubois rang in before host Gerry Dee could finish the question, which was referencing the popular cartoon "sailor-man" rather than the fast-food chain. While Dubois began celebrating and dancing as soon as she rang in and gave her answer, her competitor Logan Tomlin answered the question correctly with "spinach."
Dubois then clarified to Dee that she "thought [he] meant Popeyes chicken."
Dubois said a combination of nerves and the desire to hit the buzzer quickly contributed to her hilarious response. "I was just nervous, and I wasn't really listening, cause after I watched it, I realized that I didn't even let him finish the question," Dubois told Newsweek. "In my head, I thought he said, 'What's the most famous thing to eat at Popeyes?' I thought I had it in the bag. I thought I won."
Dubois said that her family was taken aback by her answer, but also thought her clip was funny. "They were in shock. They literally didn't even have words to say," she said of family's reaction to her answer. "I was so confused." In retrospect, Dubois said while her family would've liked to go the next round, "in the end, I think it was a good way to go."
Twitter users reacted to the clip, both enjoying Dubois' celebratory delivery and confidence. I Quit podcast host Mike Morrison called it "one of the most iconic game show moments." CNN's Leigh Munsil called Dubois' "pleased-with-herself-and-momentarily-blissfully-unaware face" a "MOOD." Another user wrote that she acted like she "hit a walk off game winner." ESPN Radio's Alan Hahn said that the clip is better than Jeopardy!
Others were shocked that only 54 people said that Popeye's favorite food is spinach. One user replied to the show's tweet saying the question could've been more specific. "To be fair... he could have said what is Popeye the sailor man's favorite food?" he wrote.
Dubois also told Newsweek that she does know the popular cartoon character. "Everyone thinks that I don't know who Popeye is, which is another sad part," she said.
Dubois has taken the clip going viral with good spirit. "I think it's hilarious," Dubois said. "I never thought that me just simply saying 'chicken' and doing a little dance would go this crazy. It's exciting. It's funny to see myself out there and see myself on TV. It's weird." The contestant also said that her family is "shocked" that she's gone viral and had been calling her all morning about it.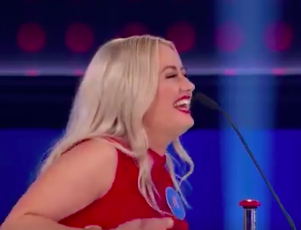 A clip of Eve Dubois went viral on Twitter, after she answered "Chicken" to a question about Popeye's favorite food.
Screenshot/Twitter