A family received quite the surprise when they discovered a stowaway roadrunner as they were unloading their moving truck after their cross-country trek from Las Vegas, Nevada to Westbrook, Maine.
The bird was found in a front storage area of the truck after Brian Pointer discovered some bird droppings.
Gary Pointer told ABC-affiliate station KTNV that Brian heard something and when he looked up, he found himself face to face with the roadrunner. The family decided to reach out to Aviation Haven for assistance.
Diane Winn, the co-founder of Aviation Haven, told Newsweek that although the roadrunner spent four days cooped up in a moving truck, he seemed "perfectly fine," and said he has been easy-going and patient.
The roadrunner may have been able to survive the journey thanks to a rainy drive.
Winn said she understood there may have been a leak somewhere in the truck.
"There was water dripping into the van and it collected on a piece of furniture, so there was a drinking area," she said.
And, because there were bird droppings, it is likely the roadrunner was able to find a source of food somewhere on the truck. Winn told Newsweek that the roadrunner was quite skinny when he was brought in for an evaluation but is confident that he will build his strength and hopes he can return to his natural habitat.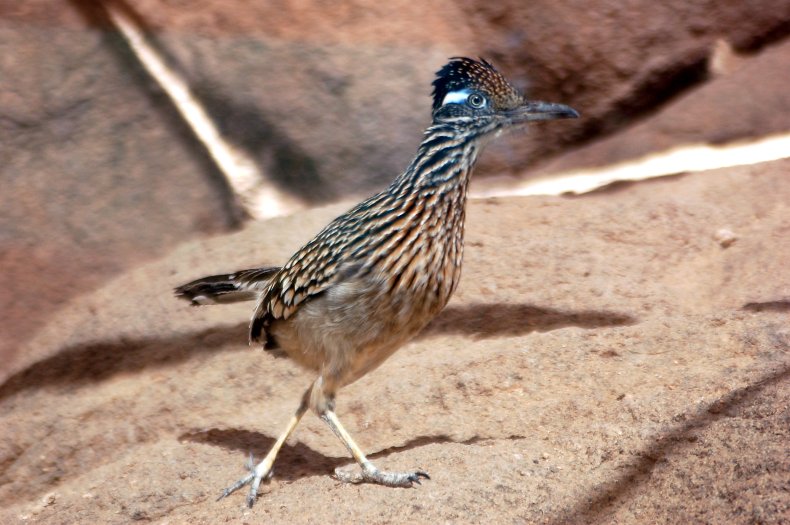 While no one will ever be able to fully understand how the roadrunner felt during the days traveling across the country or finding himself in a completely new environment, Winn said it is a sad story.
"He was inadvertently taken thousands of miles from his territory," she said. "I'm trying to see if from the bird's point of view and it can be scary."
According to All About Birds, roadrunners are primarily found in the arid grasslands and low deserts of the southeast. Their diets mainly consist of poisonous prey, like venomous lizards, scorpions and rattlesnakes.
Winn said Avian Haven set up an area comfortable for the roadrunner to stay while the organization works with the Nevada Department of Wildlife to get the bird back home.
Chelsey Gundlach, the rehabilitation manager with Aviation Haven, has prior knowledge of the type of habitat and meal plan the roadrunner needs. Although they are unable to provide his typical diet, Winn said he seems content eating mice for now.
"We gave him plenty of hiding places with artificial plants of different kinds," Winn said. "We know he's eating and doesn't seem to be freaking out in the habitat we created for him. We minimized the stress as much as possible."