Family of Gabby Petito Agree to Split Personal Effects With Brian Laundrie's Family
The families of Gabby Petito and Brian Laundrie have agreed to split the former couple's personal belongings four months after their deaths.
"An agreement in principle with respect to the distribution of property between the families has been reached," the Laundrie family's attorney, Steve Bertolino, told Tampa news station WFLA. Bertolino declined further comment.
Bertolino had been working with the Petito family's attorney, Rick Stafford, to create a written agreement on how the property will be distributed after it's released from law enforcement's custody, Fox News reported.
It's unclear what personal effects the families will split. However, one of the items will be a notebook that investigators found near Laundrie when his body was discovered.
Petito went missing in late August 2021. She and Laundrie began a cross-country journey together in July. Their destination was Grand Tetons National Park in Wyoming. The couple documented their trip on social media.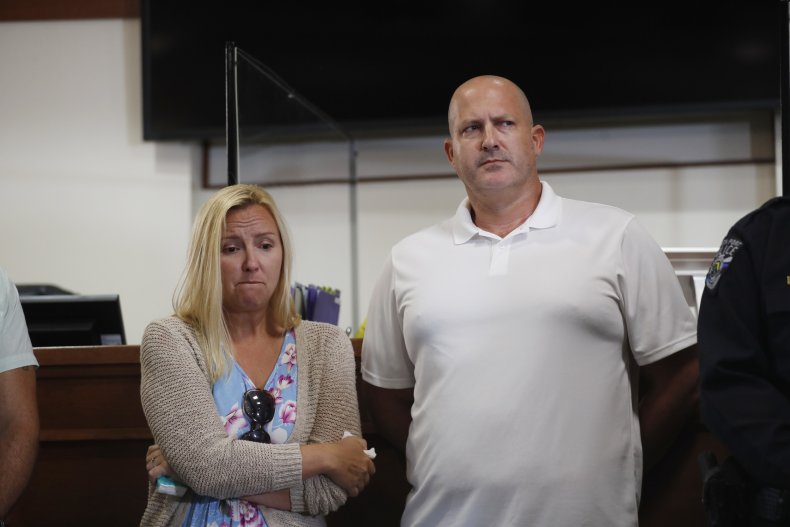 Laundrie returned home from the journey alone on September 1. Petito's family reported her as missing on September 11. At the time, Laundrie refused to talk to police, Bertolino said, because "intimate partners are often the first person law enforcement focuses their attention on in cases like this."
Laundrie was last seen alive on September 14. On that day, he told his family that he planned to go hiking in the 24,500-acre Carlton wildlife reserve near the family's home in Sarasota County, Florida.
Five days later, Petito's body was discovered in the Bridgerton National Forest in Wyoming. An autopsy ruled her death a homicide by strangulation. Investigators believed she died roughly three or four weeks before her body was discovered.
A major search then began for Laundrie as a "person of interest" in her death. While he hadn't been charged for Petito's death, the FBI had issued an arrest warrant for him based on his alleged unauthorized use of Petito's bank card days after her death.
Investigators found Laundrie's skeletal remains on October 20 in Florida's Myakkahatchee Creek Environmental Park. An autopsy revealed that he had died by suicide from a gunshot wound to the head. Dental records help verify his identity. His family cremated his remains with no funeral.
The FBI's investigation into Petito's murder remains ongoing. The federal agency hasn't released any information about its findings thus far. Stafford has said he believes "additional individuals" may be charged in relation to Petito's death.
A documentary about the case called The Murder of Gabby Petito: Truth, Lies and Social Media premiered in the U.S. on the streaming platform Peacock on December 17, 2021.
Eric Pratt, one of the Moab, Utah police officers who stopped Laundrie and Petito during their travels, has said he has been left traumatized by Petito's death.
An independent investigation stated that Moab officers made a mistake by not separating the couple despite evidence of mental distress during their traffic stop.
The report, released by the Price City Police Department, concluded that "it's very likely Gabby was a long-term victim of domestic violence, whether that be physically, mentally, and/or emotionally." The report didn't blame the officers' actions for Petito's death.