Body Found in Illinois River Identified as Graduate Student Missing Since August
The family of Jelani Day, a former graduate student at Illinois State University, is pleading for any information that can help them find out what happened to their deceased son.
On September 4, during an organized search for Day, police discovered a body floating close to a bank of the Illinois River, near Peru. On Thursday, the LaSalle County coroner's office confirmed the body was Day's. The cause of death is not yet known.
Day, 25, was last seen in Bloomington, Illinois, on August 24 on surveillance footage, and he was reported missing the following day, a report filed with the Bloomington police said. A few days later, Peru police officers located Day's white 2010 Chrysler in a heavily wooded area near the local YMCA.
Officers were then called to the scene to conduct drone, on-foot and K-9 searches in the area. When nothing was found, authorities asked the public for any information that might help them find Day.
"Jelani has been missing for several days in unexplained suspicious circumstances," a statement released by the Peru police read. "Jelani is described as a male black, 25 years of age, 6 feet, two inches tall, 180 pounds with short black hair, brown eyes, and some facial hair."
Before the body was identified, Day's mother, Carmen Bolden Day, said the search for her son slowed down after the remains were found.
Bolden Day told Newsy at the time that the family didn't have much information about her son's disappearance. Bolden Day, her family and Day's mentors, friends and fraternity brothers asked the public to share his story in hopes that people would come forward with more information. Many on the internet were using #FindJelaniDay to try to shed light on his disappearance.
The nonprofit Black and Missing Foundation estimates that over 200,000 people of color were reported missing and that over 140,000 were under 18. The organization works to spread information about the disparities in missing person cases between white victims and victims of color, including police responses and media coverage.
"The updates are very slim," Bolden Day told Newsy. She said some of her son's belongings were found scattered around near the river where the body was found.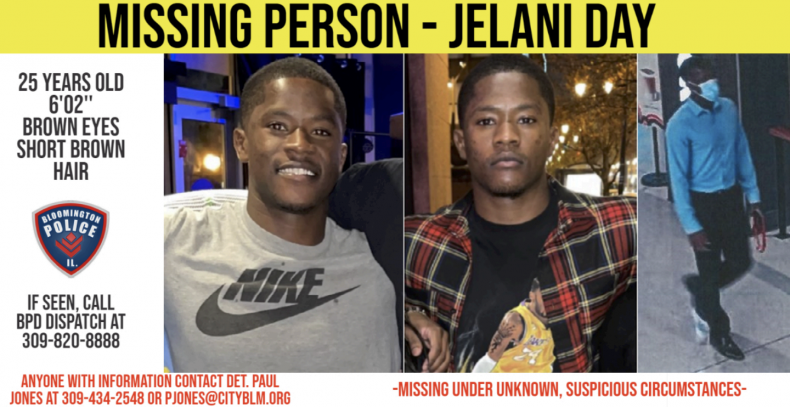 "I don't feel like I am getting the help that I need," she told Newsy. "I feel like since this body has been found, and as I said it is unidentified, I don't truly believe that it is my son. It appears that help has ceased so I'm imploring, pleading, and asking that the police still pay attention, still look for my son as vigilantly as they were prior to finding this unidentified body."
The last day Bolden Day talked to her son was August 23, two days before she reported him missing. She said that he called just to "hear her voice" and that he told her he would call her back later.
"Jelani is energetic, he's full of life, and he's goal-driven," Bolden Day told Newsy. "He knows what he wants and his goal was to be Doctor Jelani Day."
The family has asked for anyone with knowledge about Day's disappearance to contact the Bloomington police at 309-820-8888; Peru Police Detective Commander Dennis Hocking at 815-223-2151, extension 2804; or the family's private investigator at 618-223-0044.
Newsweek reached out to the Bloomington police for comment but did not hear back before for publication.
Updated (9/24/2021), 9:43 a.m.): This story has been updated since the LaSalle County coroner's office confirmed on September 23 that the body found in the Illinois River was Jelani Day's.