'Family Guy' Hints It Will No Longer Have White Actors in Non-White Roles
Family Guy has returned to Fox for Season 19, its first season since white voice actor Mike Henry announced he would no longer be playing the Black character of Cleveland Brown on the animated series—though the first episode "Stewie's First Word" featured Henry's voice. Questions have been raised about the show's future after fellow Fox cartoon The Simpsons said that its non-white characters will no longer be played by white actors.
On June 26, Henry, who has played Cleveland on Family Guy for 21 years (and four on spin-off The Cleveland Show), tweeted: "It's been an honor to play Cleveland on Family Guy for 20 years. I love this character, but persons of color should play characters of color. Therefore, I will be stepping down from the role."
At the time, however, Henry had already recorded a number of Season 19 episodes, which means that his replacement will not be voicing the character until later on in the episodes.
Henry has been replaced by Arif Zahir, who has been doing impressions of the character on his YouTube account for a number of years on his account, which has six million subscribers.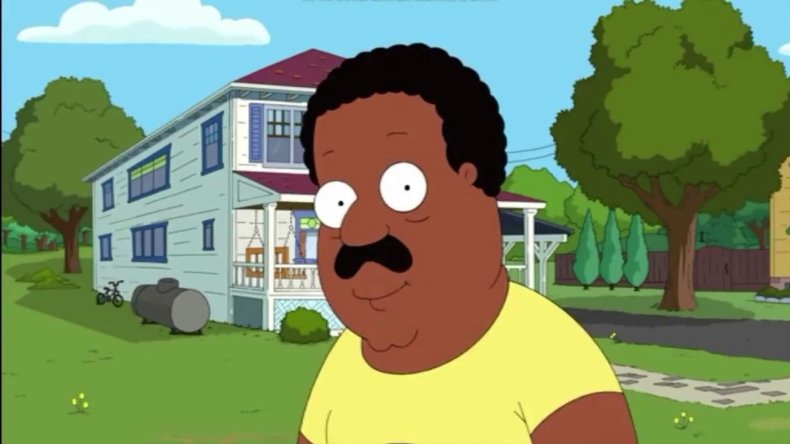 The social media star said in a statement: "I'm eternally grateful to have received this once in a lifetime opportunity. When I heard that Mike Henry was stepping down from the role of Cleveland Brown—my favorite cartoon character of all time—I was shocked and saddened, assuming we'd never see him again. When I learned I would get to take over the role? Overabundant gratitude."
Henry, meanwhile, said: "Arif's vocal talent is obvious, but his understanding of Cleveland and his respect for the character give me confidence that he is in the right hands."
However, Family Guy has not gone as far as The Simpsons, whose crew released a statement in June reading, "moving forward, The Simpsons will no longer have White actors voice non-White characters."
So far, for example, Henry has only said he is stepping down from Cleveland and has not said whether he will return as Latina maid Consuela—though his expressed belief that "persons of color should play characters of color" suggests he may too be done with that role.
Family Guy creator Seth MacFarlane, meanwhile, has not made his own statement about whether his show will stop using white voice actors for non-white roles. However, he did retweet Henry's statement, which hints that he may support the ideas that led to Henry stepping down.
However, Family Guy's race problems may run deeper than just its casting of white actors. The show has been fighting off accusations of racism ever since its first season in 1999, when an Entertainment Weekly critic called the show, "racist, anti-Semitic...the cartoon as vile swill."
In a 2012 New Yorker profile, meanwhile, MacFarlane defended jokes some have seen a racist by saying: "We are presenting the Archie Bunker point of view and making fun of the stereotypes—not making fun of the groups. But if I'm really being honest, then maybe there's a part of me that's stuck in high school and we're laughing because we're not supposed to. I don't know the psychology. At the core, I know none of us gives a s***."
Family Guy Season 19 airs Sundays at 9:30 ET / 8:30 CT on Fox.