'Family Guy' Trump Episode: Producers Defend Groping Scene—'Men Like Trump Attempt to Prey on Vulnerable People'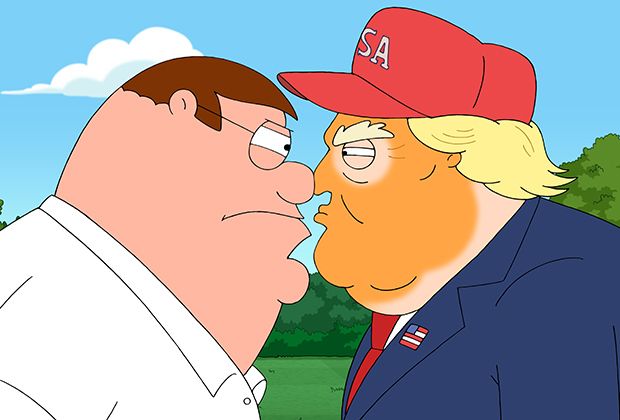 The producers of Family Guy have defended the latest episode in which Donald Trump appears to sexually assault one of the characters, stating that the long-running show has always "pointed out idiots and the dumb things they do."
In the second of a two-part episode heavily focused around Trump, the president appears to grope Meg Griffin, the eldest child of the show's star family, after being introduced to him by his daughter, Ivanka.
Read more: 'Family Guy' episode to show Donald Trump going after Meg Griffin
The episode mocks the president on several fronts, including the size of his hands, his fake tan, hairstyle, alleged payments he has made to women he has had affairs with, and inappropriate comments he has made about his daughter Ivanka.
During the episode, after Ivanka introduces her father to Meg Griffin, Trump replies: "Pleased to meet you, Meg," before adding: "You have a beautiful rack." Trump then adds: "I was talking about my daughter" after Meg thanks him for the dubious compliment.
Trump then appears to assault Meg by slowly reaching his hand underneath her dress in an apparent reference to the infamous Access Hollywood tape from 2005 in which Trump boasted about grabbing women "by the pussy."
Discussing why they decided to include the controversial scene, Rich Appel, one of the show's executive producers, explained to Entertainment Weekly: "Let's play a game. If I say the words Donald Trump to you, what's the first thing you think?
"The only point in using Meg was to show that men like Trump can attempt to prey on vulnerable people," Appel added. "It's clearly offensive and gross and not appropriate. But not only didn't we not want to show it, we don't want to be too explicit about exactly what happened."
In the show, Meg's parents Peter and Lois initially find it hard to believe her about the encounter. Later in the episode, Peter walks in on Trump, now made to look like a grotesque Jabba the Hut-style creature, again preying on Meg.
"What would your third wife, the soft-core girl-on-girl porn lady, think about this?" Peter asks Trump. "Or the actual porn star your lawyer paid hush money to?"
Alec Sulkin, another one of the show's producers, said it is only right that the president is mocked in such a way, adding that previous presidents and other leading political figures have faced similar scorn.
"We've made fun of the Clintons and Barack Obama," Sulkin told TV Line. "It's not like we would avoid anyone because we vote this way or that way. In any time that Family Guy has been on, we've pointed out idiots and the dumb things they do.
"This just happens to be our current person, and it would be no different if a Democrat were doing something idiotic, which they do."