Family of Last Hostage in Afghanistan Pleads with Biden to Pardon Drug Lord in Exchange
Frantic scenes this week at Kabul's international airport are a constant reminder of President Joe Biden's top priority now as he strives to complete a harrowing U.S. military exit from Afghanistan: extracting thousands of U.S. citizens and allied Afghan personnel from a capital already under Taliban control.
But the fate of one man unmentioned by Biden lies in the balance: Mark R. Frerichs, the last known U.S. hostage in Afghanistan.
On February 5, 2020, less than a month before former President Donald Trump completed his historic peace deal with the Taliban, Newsweek was first to report that Frerichs, then 57 and working as a contractor, was kidnapped days earlier by individuals believed to be members of the Haqqani network, a powerful and influential group aligned with the Taliban.
Now, as Biden completes the U.S. departure from Afghanistan, Frerichs' family is issuing a desperate appeal to the president to pull the necessary strings for the sake of the former Navy diver's release.
"I came to Washington to plead for President Biden to save my brother's life," Frerichs' sister, Charlene Cakora, said in a statement sent to Newsweek. "He has the power to approve the trade that will bring Mark home safely. We need the President's help to make that happen."
And she joins others familiar with the case and with whom Newsweek spoke in believing the answer to Frerichs' freedom lies half a world away in a federal prison in New Hampshire, where another man sits in captivity.
Bashir Noorzai is an influential Pashtun tribal leader with reportedly friendly ties in high places, from Pakistan's Inter-Intelligence Services (ISI) to Afghanistan's then-President Hamid Karzai and the Haqqani network that runs the badlands between the two countries. He's also been described as a close friend of late Taliban leader Mohammed Omar.
In 2005, as the U.S. war in Afghanistan entered a new, even more violent phase, Noorzai traveled to New York City on a self-styled diplomacy mission under assurances by men he believed to be U.S. federal agents that he would not be arrested.
Ten days after his arrival, he was.
Noorzai was charged with trying to smuggle more than $50 million worth of heroin into the United States and was sentenced to life imprisonment in a case overseen by Preet Bharara, who would go on to serve as United States Attorney for the Southern District of New York.
But the politics surrounding his arrest are murky, pitting the opinions of U.S. officials against one another at the time. Today, these divisions still exist.
One picture that has emerged in the years since, however, is one of two men who traveled to the other's country in the midst of war without any obvious intention of causing harm and were caught up in a wider geopolitical web that would imprison them indefinitely. And while they've almost certainly never met, their fates have become intertwined.
Now, many, including U.S. lawmakers and former U.S. officials are urging the Biden administration to take action. Frerichs' family remains at the forefront of the campaign.
"We don't like the idea of seeing a drug trafficker go free, but that is who the Taliban wants," Cakora said. "He's been in prison here for 16 years. If sending him home gets my brother back safely to us, I support it. If the Biden Administration is not prepared to support this trade, then they need to tell us what they are prepared to do instead."
"As far as I can tell, this is the only viable option," she added. "Everything else is just smoke."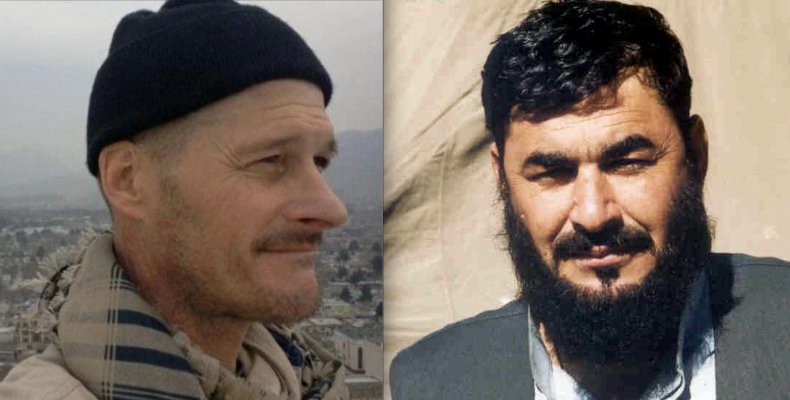 Noorzai's notorious reputation as a drug kingpin is disputed, as is his moniker as "the Pablo Escobar of the Middle East."
For one, few consider Afghanistan to be part of the Middle East. Most importantly, however, the country has for decades been a hotbed for opiate production, an industry with which many factions have ties, not just the Taliban or Haqqani network. Poppy cultivation for drugs has only blossomed over the course of two decades of U.S. military presence there.
As for Noorzai's involvement, one former senior U.S. official confirmed that Washington deemed him to be deeply involved with the drug trade between the borders of Afghanistan and Pakistan. But, the former senior official said Noorzai was less "Pablo Escobar," and more "Tony Soprano."
"He knew how to work with everybody, liked to work with everybody and didn't go out of his way to make waves," the former senior official told Newsweek.
"He basically would work with everybody and was as neutral as you could get," the official added.
In fact, Noorzai's long list of contacts extended to Washington, with whom he collaborated after the 2001 U.S.-led military invasion. So when he traveled to the U.S. in 2005, he believed he was covered, and the former senior official with whom Newsweek spoke said he even brought an ISI officer known to U.S. officials with him in hopes of securing some sort of peace deal for Afghanistan or at least providing a better understanding of the other side of the conflict.
The DEA, however, had other plans. His arrest was hailed as "a resounding victory for both Afghan and American citizens" by then-DEA Administrator Karen P. Tandy.
But this view was not unanimous.
"It was really like bringing over a head of state and imprisoning him afterwards, and it just had to look bizarre to the Taliban," the former senior U.S. official said. "Because here was a very powerful guy that was on our side of the fight. Why would we do that?"
For the Taliban, getting Noorzai back was strategic not simply for his centrality to the drug trade, which barely took a hit in his absence, but his prominent position as leader of the Noorzai tribe, whose support was needed to sustain the cohesiveness of the local political ecosystem.
The former senior U.S. official described Noorzai, with his high-demand among influential actors, as "the skeleton key" to the release of five foreign captives, four U.S. nationals and one Canadian.
Instead, a deal was made in 2014 to release just one, U.S. Army Sergeant Bowe Bergdahl, alone in exchange for five high-profile Taliban members, at least some of whom have gone on to play pivotal roles in the organization now effectively in running Afghanistan.
His name would not resurface until after Frerichs' kidnapping and the peace agreement. A second former senior U.S. official confirmed to Newsweek that Frerichs' name was never mentioned by U.S. officials to the Taliban between his abduction on January 31, 2020 and the signing of the peace accord in Qatar on February 29, 2020.
U.S. special representative for Afghanistan reconciliation Zalmay Khalilzad, who continues to serve in his Trump-era role under the Biden administration, said in an interview earlier this month during a virtual session of the Aspen Security Conference that, during the time between Frerichs' disappearance and the signing of the Doha with the Taliban, it was believed by U.S. officials "that a criminal group had acquired him."
In any case, the peace deal between the U.S. and the Taliban would be followed by the release of thousands of Taliban prisoners by the administration of Afghan President Ashraf Ghani, who fled the country earlier this week as the Taliban moved into Kabul. Ghani protested the release at the time, but was pressured by U.S. officials seeking to quickly advance peace.
This point has continued to frustrate lawmakers such as Representative Michael Waltz of Florida.
"Why did we press the Afghan government so hard to give up 5,000 prisoners, including some of the most senior Taliban commanders that have American blood on their hands?" Waltz asked. "We pressed the Afghan government to do that in exchange for the Taliban releasing prisoners and in that exchange we didn't get Mark Frerichs?"
"I really find that hard to believe," he added.
And today, as hopes for any sort of U.S. rescue effort dim, and with the impending threat of the Taliban taking more hostages that, technically, could be considered formally under arrest rather than kidnapped due to the group's rise to power, even those who saw the value in nabbing Noorzai have begun to warm to the idea of a swap for Frerichs.
"Given that he's served 15 years of his sentence and that we've given away all leverage," Waltz said, "I wouldn't be happy about it, because I just think it encourages more hostages to be taken in the future, but I wouldn't oppose it."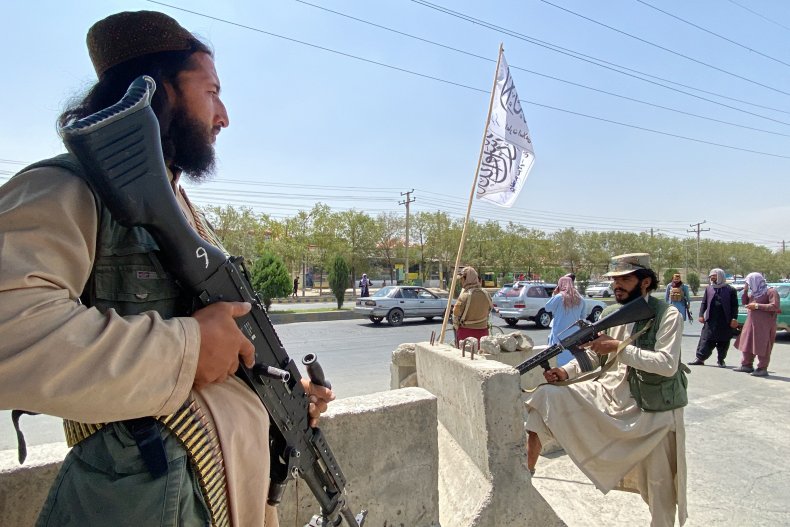 Other legislators have also spoken out in support of broadening the effort to bring Frerichs home.
"Securing the safe return of my constituent Mark Frerichs-a U.S. Navy Veteran who may be the only U.S. citizen still being held hostage in Afghanistan-demands a whole-of-government approach that demonstrates our nation's commitment to not leaving any Americans behind in Afghanistan," Senator Tammy Duckworth of Illinois said in a statement sent to Newsweek.
She advocated for the Biden administration to take measures to explore every option to do so.
"We should push on every reasonable lever to bring Mr. Frerichs safely back to his family in the United States as part of our withdrawal from Afghanistan," Duckworth said, "and convening an interagency meeting of the NSC Principals Committee would help ensure all relevant federal agencies appropriately participate in the development of a potential course of action to secure the safe release of Mr. Frerichs."
Even those affiliated with the DEA, the agency that oversaw Noorzai's arrest, see the potential for trading Noorzai's captivity for Frerichs' freedom.
"While Noorzai was an important U.S. national security target and part of a tremendous DEA case, in light of the developing situation in Afghanistan with a hostage like Mark and the concern that thousands of Americans may be trapped, the focus right now should be to save American lives and bring them home," Derek Maltz, former agent in charge of DEA's Special Operations Division, told Newsweek.
Ivan Fisher, the prominent criminal defense attorney who represented Noorzai also told Newsweek he "would support a swap," or at least parole for his prior client.
The urgency to secure Frerichs' release is especially pronounced now as the U.S. searches for closure after a government it spent two decades supporting with blood—mostly that of Afghans—and treasure collapsed essentially overnight.
In some ways Noorzai's capture and the ensuing saga encapsulate the conflict's many follies, long reported and only now increasingly acknowledged through documents such as reports by Special Inspector General for Afghanistan Reconstruction.
"Ignorance of prevailing social, cultural, and political contexts in Afghanistan has been a significant contributing factor to failures at the strategic, operational, and tactical levels," the congressionally mandated watchdog's latest report released on Tuesday read.
The U.S. Hostage Recovery Fusion Cell did not immediately respond to Newsweek's request for comment.
In a document shared with Newsweek that provided the White House's talking points on Afghanistan, neither Frerichs nor Noorzai is mentioned.