Family of Missouri Nurse Who Died of Coronavirus File Claim for Benefits, Say She Wasn't Given Adequate Protective Gear
The family of a nurse who died of coronavirus after caring for an infected patient without adequate personal protective equipment (PPE) have filed a claim for death benefits, their attorneys said.
Celia Yap-Banago, 69, died on April 21—a month after she cared for a patient with COVID-19, the disease caused by the novel coronavirus, at Research Medical Center (RMC) in Kansas City, Missouri.
Attorneys Brent and Kristie Welder, of The Welder Firm in Kansas City, said she contracted the virus after caring for the patient without the PPE that she and other healthcare workers had been requesting for days.
On Tuesday, they filed a claim for benefits under Missouri's workers' compensation laws on behalf of Yap-Banago's husband of 34 years Amado Banago and their two sons—Jhulan, 28 and Joshua, 26.
The family said they hope to set a nationwide precedent to guarantee workers' compensation benefits to healthcare workers who contract COVID-19 at work.
"My mom put everyone before herself, all the time," Jhulan Banago said in a statement to Newsweek. "If my mother's death can result in more protection for all nurses everywhere, that will be very meaningful to our family."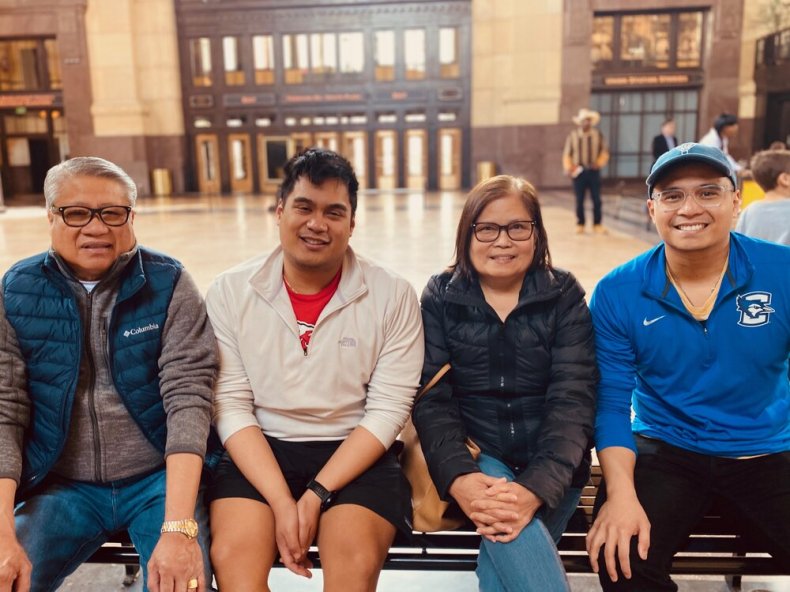 Yap-Banago, who had worked at RMC for almost 40 years, and another nurse had cared for the patient with COVID-19 on March 22 and 23, according to the Welders.
They said the hospital had removed PPE from their unit a few days prior. Both Yap-Banago and the other nurse had asked their supervisors for protective gear and raised concerns about the risk of exposure to everyone coming into contact with the patient.
Neither of the nurses were given the PPE they requested and the patient in question died a few days later, the attorneys said.
Yap-Banago then immediately began quarantining at home and developed coronavirus symptoms. She later tested positive for coronavirus, Brent Welder said.
The other nurse who cared for the patient in March also contracted coronavirus, but later recovered.
The Welders argue that since Yap-Banago's death was caused by her job, workers' compensation laws mandate that benefits are provided to her family.
"It's a terrifying time for healthcare workers," Kristie Welder said in a statement to Newsweek. "They are heroes, yet their families could be emotionally and financially ruined. I certainly hope that Celia's former employer, Research Medical Center, will do the right thing and honor the family by agreeing to a swift and just resolution of this case so the family can move on with their grieving process."
Brent Welder added: "Celia's death is devastating. Celia is a hero who went in to work every day to serve the public good. In response, she was refused life-saving PPE by her employer and contracted a fatal case of coronavirus."
He added: "Healthcare workers like her are sacrificing their lives, and Celia's family wants to ensure that our nation honors its responsibility to them and their families."
A spokesperson for HCA Midwest Health, which operates RMC, told Newsweek that they are looking forward to a "swift resolution" to the case.
"We are heartbroken by the passing of Celia Yap-Banago, a 40-year veteran nurse," the spokesperson said. "It is difficult to put into words what Celia meant to our hospital and to the countless number of patients she cared for. Her impact on the nursing profession and to those whom she worked with will be everlasting due to the mentorship, training, support and guidance she provided our colleagues."
They added: "We offer our deepest sympathies to her family and friends, and all whom she blessed along the way. We look forward to a swift resolution, working within the State of Missouri's workers' compensation system."
The day of Yap-Banago's death, the National Nurses Union held a protest outside the White House to "call attention to the tens of thousands of health care workers who have become infected with COVID-19" due to the lack of PPE. The union later held a candlelit vigil to honor Yap-Banago outside RMC.
This infographic, provided by Statista, shows the spread of COVID-19 across the U.S. as of May 13.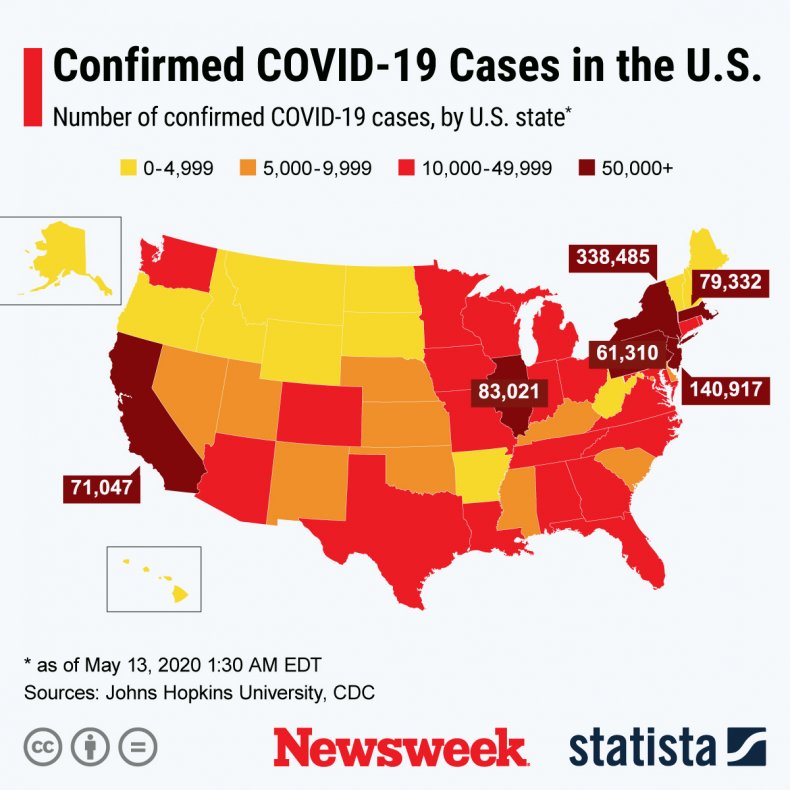 This article has been updated with a statement from HCA Midwest Health.