A family in India recently decided to name their child Sanitizer during the coronavirus pandemic.
According to the Deccan Herald in India, Omveer Singh, the father, said that the name would act as the family's "contribution" in the fight against the coronavirus, which causes the respiratory disease COVID-19. The baby was born in Uttar Pradesh, a state in North India.
"Everyone is fighting against the virus...from our prime minister to ordinary people. This [name] is our contribution," Singh told the newspaper.
Singh also explained that the name will be a way of remembering the pandemic. "Sanitizer is one of the best ways to protect oneself against contracting coronavirus infection," Singh said. "We will remember this period whenever we utter his name."
The new coronavirus, which originated in Wuhan, China, has infected over 2.4 million people worldwide and killed at least 171,652, according to a Johns Hopkins University tracker.
While it may seem unusual to name a child Sanitizer as a way to remember the outbreak, this is not the only baby named after the pandemic.
On April 9, a couple in the Sheopur District in Madhya Pradesh, a state in central India, decided to name their newborn child Lockdown, according to The Times of India. The decision came during country's 21-day lockdown, which was imposed to stop the virus's spread.
When the hospital staff asked the parents if they were sure they wanted to write the name on the child's birth certificate, Manju Mail, the mother, said, "Yes, he is Lockdown, as he was born during the lockdown period," according to the Times.
"My son and our family will remember this time of crisis throughout our life...it is a significant name," the father, Raghunath, told the Times. "We should not take Lockdown lightly."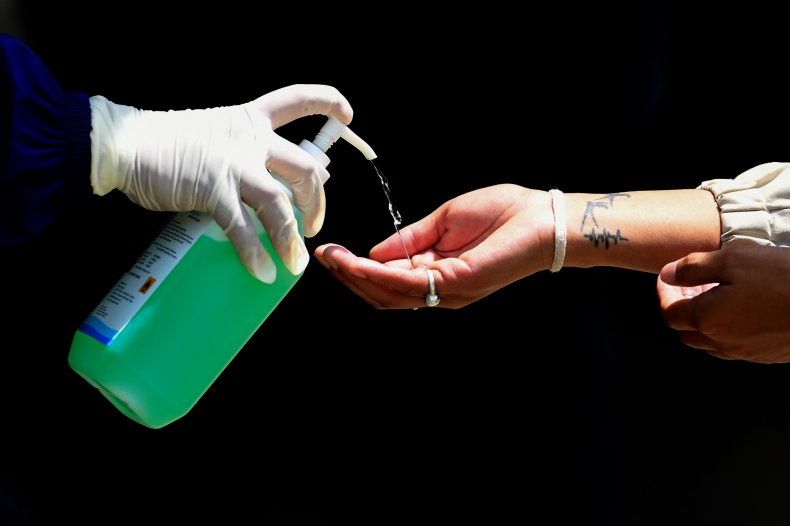 A couple in Chhattisgarh, a state in central India, named their newborn twins Corona and Covid as a way to remember the hardships they endured during the pandemic.
"I was blessed with the twins—a boy and a girl—in the early hours of March 27. We have named them Covid [the boy] and Corona [the girl] for now," Preeti Verma, the mother told the Press Trust of India, a news agency. "The delivery happened after facing several difficulties, and therefore my husband and I wanted to make the day memorable."