Family of Syrian Boy Who Became a Symbol of the Aleppo Siege Claim the Syrian Opposition Used Him for Propaganda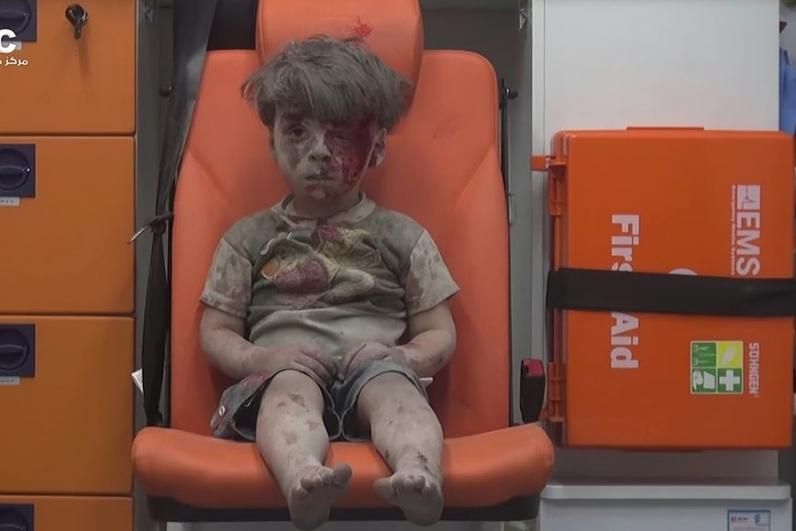 The family of Omran Daqneesh, the four-year-old Syrian boy who became an international symbol of Aleppo under siege, has said he was used by opposition activists for propaganda purposes.
Shocking images of the toddler — bloodied, covered in dust and sitting on an orange ambulance chair — galvanized public opinion across the world following the bombing of Daqneesh's family home in the rebel-held eastern part of the city last August.
The footage was released by Aleppo's Media Center to promote the work of the White Helmets, a group of volunteer emergency responders in Syria's second city.
But in a series of interviews on pro-Assad outlets broadcast in Syria, Russia, Iran and Lebanon, the boy's father, Mohamad Kheir Daqneesh, said the Aleppo Media Centre manipulated the strike on his house, and filmed his son without his consent, according to the New York Times.
"They took Omran, got him to the ambulance, where they filmed him," Daqneesh said in an interview on Iranian state TV. "It was against my will. I was still upstairs in the house."
In an interview with the Russian outlet Ruptly, Omran is smiling, his face is clean and fuller, but he is still clearly the same boy who appeared across screens one year earlier. The coordinated media appearances is apparently part of a public relations campaign by the Assad government in Damascus to refute the rebel narrative.
The elder Daqneesh, now living with his family in an area of Aleppo under regime control, criticized opposition to Assad. "[The rebels] are the ones who hurt us and our country and displaced the people," he said on Iran's Al-Alam News. He added that he refused offers of money to "talk against the Syrian regime and the state," explaining that he had been under considerable pressure from opposition activists.
According to reports from Syrian medics in 2016, Omran was one of five children injured in the air strike. Two men and a young woman were also injured, a doctor told the Associated Press on condition of anonymity.
The air strike Omran survived was reportedly carried out by Russian warplanes targeting the Qaterji neighborhood of Aleppo.
Daqneesh did not give any details about the strike, simply saying it was sudden and he heard no planes in the sky before his house was struck. It is not clear whether, in this instance, the family was under pressure from the Assad regime.
A prominent opposition activist, Abdelkafi al-Hamdo, told the New York Times that while the family had successfully resisted opposition requests for more media exposure, resisting the Syrian government, which now has full control of Aleppo, is much harder. "Can Omran's father say no to the regime?" Hamdo asked.