Family Prevented From Boarding American Airlines Flight Because Son With Autism Was Upset, Parents Said
Adam and Heather Halkuff knew it was going to be a challenge flying with their five sons, who are all under the age of 16, especially because two have autism. But they didn't expect that their entire family would be prevented from going on the trip.
Before the family's flight from Dallas to Kansas City, Missouri, Adam told KXAS that he had contacted American Airlines to see if there were any programs or help the airline could provide given that two of their five sons had autism.
American Airlines told Newsweek it spoke with the family before the flight and hosted a dress rehearsal of sorts on September 24 at the airport. This gave 5-year-old Milo and 2-year-old Ollie, who both have autism, a chance to experience going through security and boarding a plane before their flight.
But when the day of their flight came, it didn't go as smoothly as the run-through. Milo had a meltdown right before boarding the plane, which Heather told KXAS was handled very well by fellow passengers.
"All the passengers are walking by. They're very kind, they're like 'You got this, mom. Don't worry about it. Do you need any help?'" she explained.
When the family members reached the ticketing agent, Heather told KXAS that they were told they would not be allowed to board the flight.
"He can't get on the flight… He's going to bother the other passengers and then he'll still be upset during the flight and we'll have to turn around and escort you off the plane," Heather said the ticketing agent told them.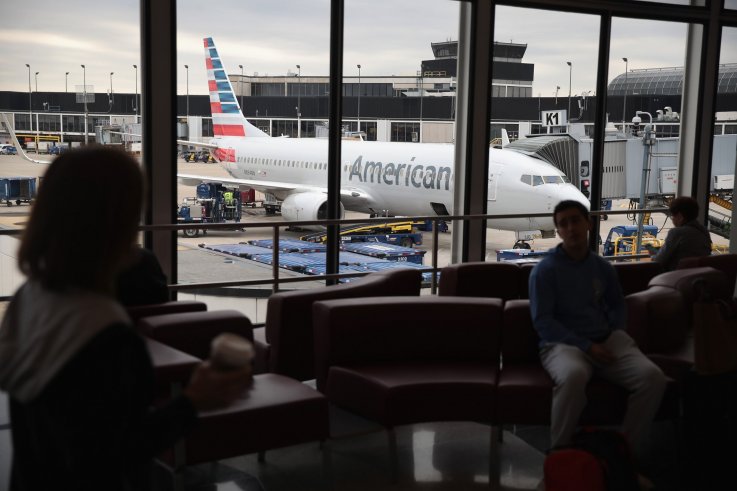 In an effort to ensure their older sons never become resentful of their younger brothers, the parents decided they would split up. As a compromise, Adam would take Milo home and Heather would get on the plane with the older kids and fly to Kansas City as planned.
Unfortunately, the Halkuffs said the offer to take Milo home and allow the rest of the family to continue on the flight was rejected, and all seven of them were escorted from the gate.
In a statement to Newsweek, American Airlines said the company is "concerned" about what transpired and that it had reached out to the family to better understand the situation.
"When it comes to autism, American is a strong advocate for children. Our team members work closely with various nonprofit groups to alleviate the stress these children and their families may experience while flying, including offering families the opportunity to take a test fight on the ground," the statement said. "This process—which includes role playing and realistic airport interactions—helps children grow accustomed to the experience of flight."
Four years ago, American Airlines implemented the "It's Cool to Fly" program, aimed at helping children with autism prepare for their flights, which can sometimes be overwhelming because of how new the experience is.
The test flight simulates every aspect of a real flight except for the time in the air. Participants arrive at the airport, check in, go through security and even wait in a crowded space. Then they board a plane and taxi around the tarmac to become accustomed to the "sensory experience of air travel."
Bruce Sickler, president of the airline's Abilities Employee Business Resource Group, explained that when parents first arrive, the worry over the "what-if" factor is visible on their faces.
"They worry how their child is going to react because they've seen their reaction before. But then you get on the plane and see that little bit of worry release," Sickler said. "Then you get off the plane, and they are excited; they know how much their child can do and that this program has helped make a difference."
The program is free and takes about three and a half hours from start to finish. It's not just for the benefit of the child with autism but is also to help American Airlines employees become aware of obstacles and learn how they can assist.
Family Prevented From Boarding American Airlines Flight Because Son With Autism Was Upset, Parents Said | U.S.