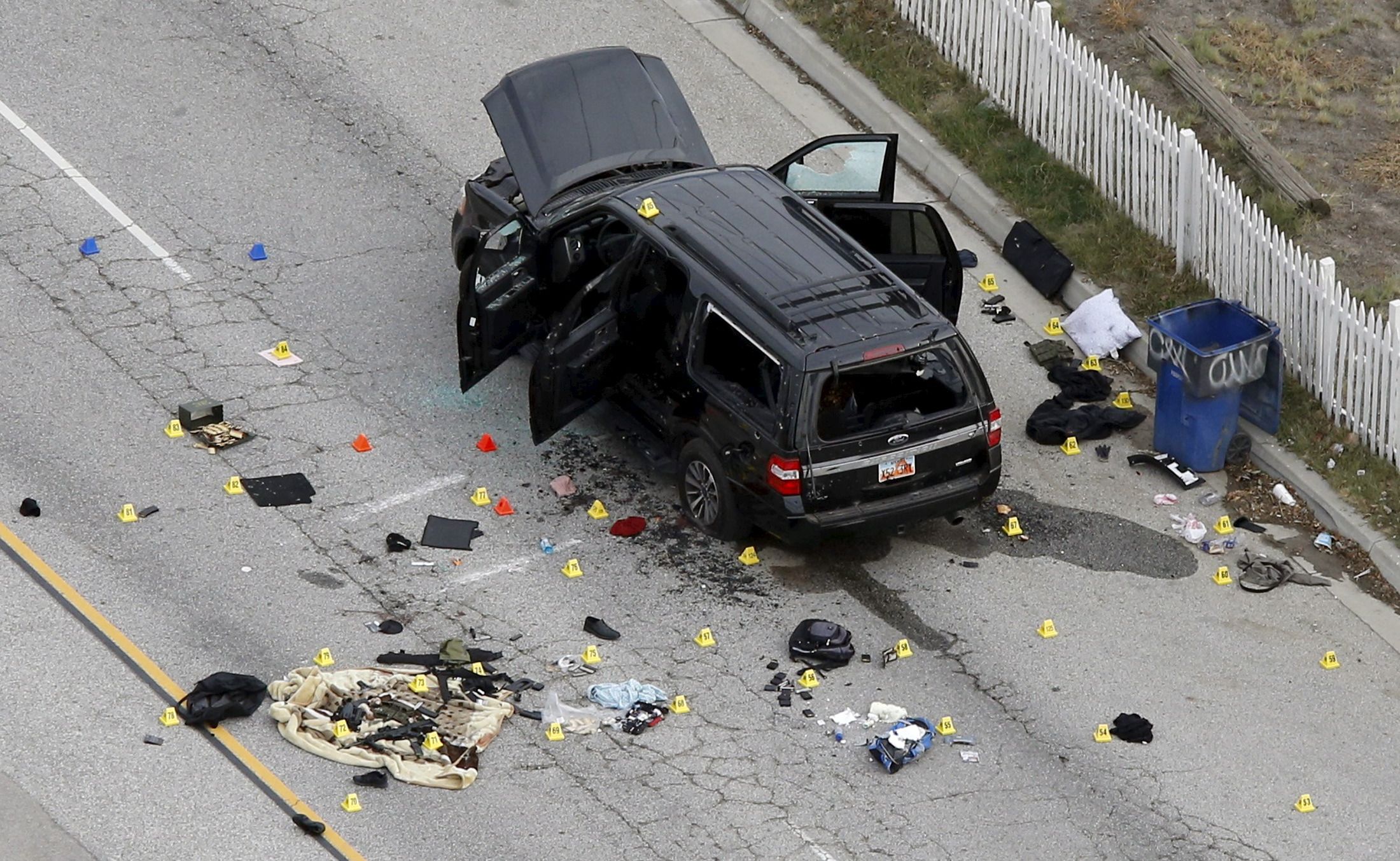 Updated | Family members of the San Bernardino gunman had no idea about the shooter having any extremist views or the couple's plans to attack a holiday party on Wednesday, their lawyers said at a press conference on Friday.
"None of the family knew of him as being extreme or aggressive," David Chesley, one of two attorneys representing relatives of gunman Syed Farook, told reporters. "None of the family members had any idea that this was going to take place. They were totally shocked."
Chesley said the family and lawyers have been in communication with the FBI. On Friday, the FBI's assistant director of its Los Angeles bureau David Bowdich said that based on new information, the bureau is "now investigating these horrific acts as an act of terrorism."
Farook, 28, and his 27-year-old wife, Tashfeen Malik, killed 14 people and wounded 21 at a holiday party hosted by his employer, the county's public health department, on Wednesday morning. Immediately after the attack, authorities were not sure if the mass shooting was an act of terrorism or workplace violence.
Chesley and fellow attorney Mohammad Abuershaid said authorities have yet to link Farook or Malik to a larger terrorist organization. "What we're saying is we still have to wait for the investigation to be done before we make any kind of determination," Abuershaid explained.
"Every headline doesn't have to say 'Muslim massacre,'" Chesley added. "We're just making sure we aren't overzealous in our characterization of these events one way or another."
On Saturday, though, the Islamic State (ISIS) claimed in an online radio broadcast that the married couple were followers of the militant group, Reuters reported.
Relatives of the gunmen have been threatened by phone and online, the attorneys said. Abuershaid said it was particularly damaging to Farook's brother, who was misidentified as the gunman in photographs in the aftermath of the attacks. Farook's mother lived with the couple, and was questioned for about seven hours by the FBI.
"She hates what happened, she's very mournful about all the victims," Chesley said.
Earlier on Friday, a Facebook executive said that Malik created an online posting praising ISIS as the deadly attacks were happening, the Associated Press reported.
The statement by the executive, who spoke to the AP on condition of anonymity, seems to confirm a similar announcement from authorities that Malik posted to Facebook pledging allegiance to ISIS leader Abu Bakr al-Baghdadi before carrying out the mass shooting with her husband.
The Facebook executive said that Malik created the post under an alias account at 11 a.m. Wednesday, which is just when 911 calls about the attacks began. The social media website says that it has taken down the alias account.
In an interview with NBC News, Farhan Khan, Farook's brother-in-law, said he has "no idea" what led to the shooting rampage. The couple, he added, led ordinary lives.
"[Farook was] a good religious person, just like normal anybody would be," Khan said. But he stressed that "he was not radical."
"Islam does not agree and does not support any kind of actions that occur like this. It does not support killing," Abuershaid said.
Authorities found 12 pipe bombs inside the family's home after the attacks took place. Both lawyers stressed that while the family had get-togethers at their home, relatives never saw any evidence of bomb-making materials.
Bowdich, the FBI agent, added that it was "certainly a possibility" the two were planning another attack. But no other suspects are currently under arrest in relation to the shooting, he said.
The couple attempted to destroy a large volume of physical and digital evidence, he said.
"It is early, we are still working very hard to understand," Comey said. "There is a lot of evidence in this case that doesn't quite make sense."
The FBI didn't previously have information in its holdings about the two suspects, he added.
Earlier on Friday, some media organizations streamed live footage of reporters looking around inside the suspects' home. At the press conference, reporters asked Bowdich how members of the press gained access to the residence.
"Once we turn that location back over to the occupants of that residence...anyone who goes in, that's got nothing to do with us," he said. After officials execute a lawful search warrant, they have to leave behind a list of all the items seized for the owner, he said.
San Bernardino Police Department Chief Jarrod Burguan said his officers, who are working around the clock, will continue to be part of the investigation, but he has officially turned over the investigation to the FBI.
Authorities believe Malik is from Pakistan and had lived in Saudi Arabia, and that Farook was born in the United States. The two suspects came to the U.S. together in July 2014, officials told reporters Thursday. They had a 6-month-old child whom they reportedly left with a grandmother before the shooting on Wednesday morning.
Malik was in the United States on a K-1 visa, Burguan said Thursday. She had recently visited Pakistan. She was described as "very conservative" by Chesley. "She was a caring housewife," Chesley said.
Malik wore a burqa and was "totally covered," Abuershaid said.
Speaking with NBC News earlier Friday, Khan expressed his anger that the couple left behind their baby daughter. He said he has begun the legal process to adopt the child.
"The FBI has been willing to release [the child] to one of the family members," Abuershaid said. The child is currently in protective services and the lawyers hope they will be able to reunite the baby with relatives next week.
President Barack Obama has been receiving regular updates from the FBI about the investigation, White House Press Secretary Josh Earnest said during his daily briefing on Friday afternoon.
"What the White House is focused on is making sure that our investigators get to the bottom of what exactly transpired," he added, "frankly to learn what we can do to try to prevent something like this from ever happening again."
Earnest also expressed the White House's disappointment that Republicans in the Senate on Thursday blocked two gun-control measures from being adopted in the wake of the shooting.
Comey urged Americans to call the agency with any tips that could help with the investigation, and not to let fear cripple their lives.
This story has been updated to include information from Friday and to include Saturday's claim by ISIS that the attackers were followers of the militant group.