Family Says Removal From Flight Was Due to Son With Autism Not Being Able to Wear Mask
A teenage boy with autism and his parents disembarked from their return flight home in St. Louis before taking off on Sunday and were later booked on a new flight following a controversy surrounding the boy's mask use.
The boy's mother, LaShaunda Jethro, alerted the St. Louis-based KMOV-TV about the incident, which started when a flight attendant said her 17-year-old son could not board their flight without wearing a mask.
Jethro, who identified herself as a nurse and said her family of three is vaccinated against COVID-19, told the station she had a doctor's note prepared for her son, who she said is nonverbal, and proof of his vaccination. She said her family members hadn't encountered any problems flying into the St. Louis Lambert International Airport and were assisted by airport employees as they made their way to the boarding area for their Sunday morning Southwest Airlines return flight home to Long Beach, California.
"He will not keep a mask on his face," Jethro said of her son during a video interview with the station. "We have tried and tried. He just won't do it."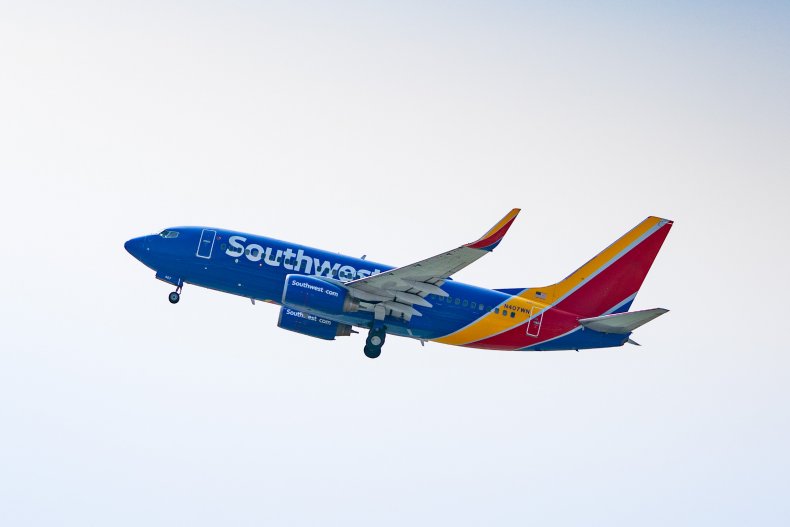 Jethro told the station she, her husband and her son were ultimately allowed to board the plane, but she was shortly thereafter asked to disembark.
Jethro was asked to get off the plane because she was unmasked during one of her conversations with flight attendants, an airline spokesperson told the station.
The airline also provided the station with a statement about the incident, which said it all started with "concerns" about the documentation Jethro provided to exempt her son from the airline's mask policy.
"Our Ground Operations Team and Flight Crew worked out a solution to allow the family to travel," the Southwest statement said. "However, once onboard, one of the members of the family was asked to deplane following a conversation with our Flight Attendants and for not complying with the federal mask mandate."
The Jethro family was later booked on a new flight home, the statement concluded.
Jethro told the station that while her mask is not perfectly fitted, she was wearing and adjusting it during her conversations with Southwest flight attendants.
Newsweek reached out to Southwest for comment and will update this article with any response.
Debates surrounding mask use onboard flights have been common throughout the coronavirus pandemic. Though vaccination efforts throughout the U.S. have led federal and state government leaders to relax mask requirements, confrontations onboard airplanes triggered by questions about mask rule enforcements have continued to occur frequently.
Airlines like Southwest have mask use rules available for customers who intend to board their planes. Southwest does allow passengers with disabilities to apply for mask exemptions.
Passengers who intend to do so are required to submit their request to the airline at least seven days prior to their travel date with a letter signed by the individual's doctor confirming the individual "has a recognized medical condition precluding the wearing or safe wearing of a mask because of their disability," according to the airline's mask exemption requirements. The passenger also must provide proof of a negative COVID-19 test prior to traveling, the rules state.