Family Shocked to Find a Body They Didn't Recognize in Their Loved One's Casket
A family in Columbus, Ohio, received a terrible shock after finding an unknown body inside their loved one's casket during a viewing.
The family of Sonya White arrived at the Marlan Gary Funeral Home on Monday afternoon to see her remains. This included extended family members, as well as White's two daughters.
White had passed away unexpectedly at the age of 51, said her daughter Kourtney White.
However, upon examining the contents of the casket, the family was stunned to see that the body laying inside was not White. Not only was the deceased not their loved one, but the body had also been dressed up in White's clothes.
Once the mistake was realized, the family was reportedly asked to return to the funeral home two hours later so that the proper remains could be placed in the casket.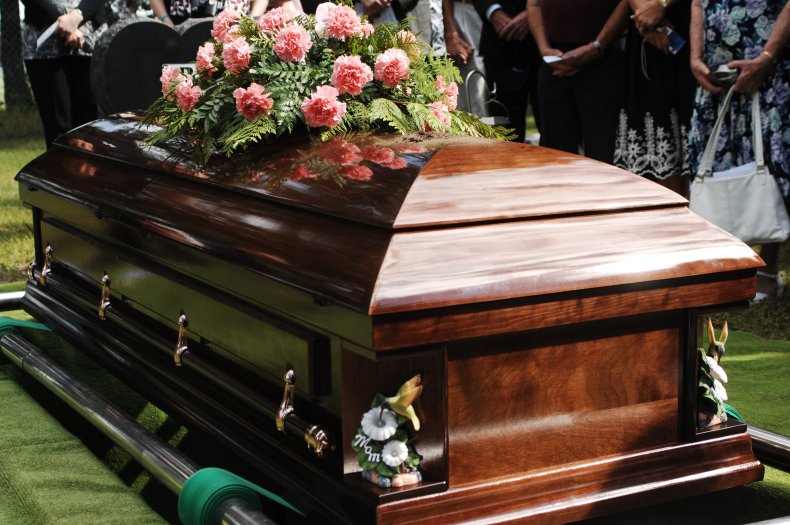 White's cousin, Lisa Harden, described the event to WSYX-TV, calling it "traumatic."
"When we walked in there, it was a different body in her casket. With her clothes on, her undergarments, her [Ohio State] Buckeye earrings, and her wig," Harden said. "We were very devastated. We was all crying. We (were) very upset because we already were having a hard time."
"I'm like 'that lady is too light, that's not my niece,'" another family member told WSYX-TV.
White had reportedly been a massive Ohio State fan, thus the choice to bury her with Buckeye earrings. Her casket was even a scarlet red in tribute to the university's colors, said White's sister, Kisha Givens.
"Everything we picked for my sister, we picked with love," Givens said. "We picked exactly what we thought she would have liked."
"You expect your loved one, when they pass, to be handled with care, and to be that careless with someone's family member, it's inexcusable," Givens added.
The family then began to ask questions as to how such a mix-up could occur.
"Is this like the very first time that this happened, and why us?" asked White's other daughter, Kevina White. "I mean, I don't want to wish it on anyone else, but why do we have to experience that?"
Both daughters also expressed sympathies for the family of the other person who had been mistakenly placed in their mother's casket.
"It's already an awful experience. And then for that to happen just makes it worse," Kourtney White added.
The family stated that the Marlan Gary Funeral Home apologized for the mix-up and offered to cover the cost of White's funeral expenses. However, the family reiterated that this did not justify what had happened, and told WSYX-TV that they were planning to file a complaint with the State of Ohio Board of Embalmers and Funeral Directors.
When asked if covering the cost of the funeral was sufficient to make up for the mistake, another family member stated that "it can't be redone, it can't be, so no, it's not [enough]."
Shockingly, this is not the first time that the funeral home has been under fire for the reported mishandling of remains.
The family say they uncovered evidence that the owner of the funeral home had been in trouble about 10 years ago for a mix-up involving the body of a baby. It is unclear if any other similar incidents have occurred at the home.
Newsweek has reached out to the Marlan Gary Funeral Home for comment.