Five Dead Bodies Found Inside Minnesota Home, Police Investigating
Police in Minnesota believe a family and their pet dog were shot while they slept by a relative suffering from "mental health crisis" who then turned the gun on himself.
Investigators found five bodies and a dead dog when they searched the home in Duluth, Minnesota, just after midday on Wednesday, after being asked to do a welfare check by a worried relative. The victims included two children, aged just 9 and 12.
Suspected killer Brandon Taylor Cole-Skogstad, 29, had posted a chilling message on his Facebook page saying: "I have made the absolutely horrid choice in not only taking my life, but the lives of my aunt, Riana Lou Barry, my uncle Sean Barry, and my two sweet, beyond angelic cousins Sadie Lucille Barry and Shiway Elizabeth Barry."
The post, which remained active on Thursday, but has now been removed states he had been suffering from mental illness for many years, and that he wished he could go back and make better choices in life. Returning to the murders, he asked God for forgiveness and said he was sorry.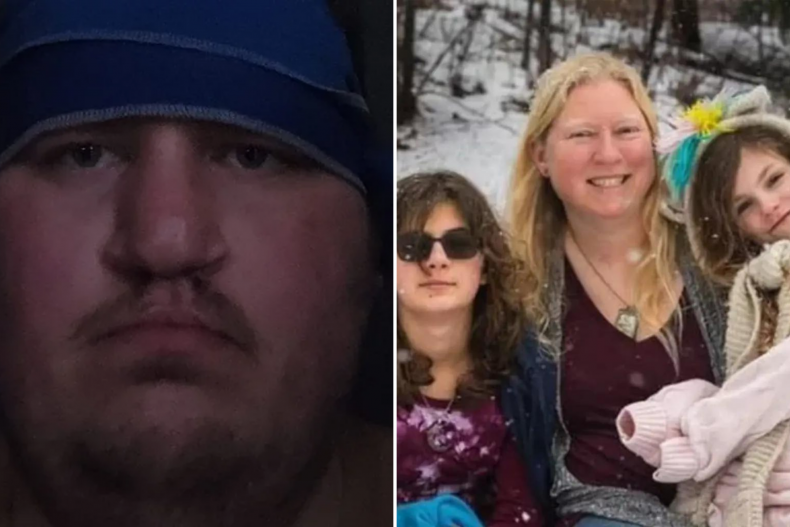 Shortly before 11.20 a.m., the Duluth Police Department received a call about someone "experiencing a mental health crisis" in Hermantown. Police were unable to find Cole-Skogstad, but were then informed by a family member they had received a worrying message from him—the same message that he later posted on his social media page. The officers alerted Duluth Police who rushed to the home of Cole-Skogstad's aunt and uncle in the 700 block of East 12th Street.
Police officers knocked on the door shortly before 12.30 p.m. and heard what they thought to be a gunshot. They retreated immediately and requested back up from the Superior Police Department and the St. Louis County Sheriff's Office.
Robots and drones were sent in at around 3 p.m. to search the house and members of the Duluth Police Department Tactical Team then entered the home, where they found a total of five bodies, including the suspect, and the dead dog.
A statement released by Duluth Police on Facebook states: "After a preliminary investigation, Duluth Police believe that the suspect is responsible for the death of four victims and the family canine. The cause of death is from apparent gunshot wounds while the victims were sleeping. Officers believe that this incident is a murder–suicide. A single weapon was found in close proximity to the suspect."
It added the victims were Riana Lou Barry, 44, Sean Christopher Barry, 47, and their young daughters Shiway Elizabeth Barry, 12, and Sadie Lucille Barry, aged 9.
Duluth Police Chief Mike Tusken said: "The entire Duluth Police Department would like to offer our heartfelt condolences to the Barry family, to those who knew them, and the East Hillside neighborhood. Incidents like these shake our sense of safety as a community and the region as a whole. In my 30 years of policing, I have never seen anything like this.
"Sometimes people forget that the officers and investigators responding to the scene have families too. This is devastating for them to respond to, to see, and to process afterwards. I cannot thank the members of our team enough for their service, and for their care for this community."
Mayor Emily Larson described the incident as "deeply painful for our community."
She added: "Thank you to neighbors for taking good care of one another and for knowing the beautiful parts of the Barry family. Thank you to DPD for answering the call of public safety. I'm sorry for what you experienced, which is deeply traumatic.
"As a parent and member of a family, it is wrenching to consider what the Barry family might be feeling. There is only loss to every part of this story. To the Barry family: our community mourns with you and we share in your pain. Because your loss is our community's loss."
Police say their investigation continues.
Friends of the Barry family have launched a verified GoFundMe page, as part of a fundraising drive.
Sonja Winder-Marifke and Nolita Christensen wrote: "They were a truly special family who impacted the lives of so many of those around them. They leave behind their mothers, fathers, sisters, brothers, nieces, nephews and many, many friends. Family are not prepared for this horrible tragedy.
"They will need to pay for the cost of funeral services, burial, memorial, expenses of travel and lodging in Duluth and dealing with other costs due to the aftermath of the situation. If you can help to support the survivors, please join us with a financial contribution, words of encouragement and all the love and care you can send."
By Friday, some $15,000 of the $50,000 target had been raised.
If you have thoughts of suicide, confidential help is available for free at the National Suicide Prevention Lifeline. Call 1-800-273-8255. The line is available 24 hours every day.