Family Taken Off Cruise, Forced to Quarantine in Puerto Rico After Positive COVID Test
An Ohio family's holiday plans on a cruise were ruined after they tested positive for coronavirus aboard the ship, forcing them to quarantine in Puerto Rico.
The Moyer family planned the cruise vacation to celebrate Christmas with their daughter, who is studying to become a veterinarian in St. Kitts, Cleveland news station WJW-TV reported.
"We found this cruise out of San Juan, Puerto Rico with Royal Caribbean and the itinerary would have us at St. Kitts on Christmas Day," Don Moyer, the student's father, told the news station.
But while at dinner on the boat, his other daughter began feeling ill. She—as well as Moyer and his wife—eventually tested positive for COVID-19. Royal Caribbean immediately placed the entire party on a quarantine deck.
"So, from the 22nd on, I haven't seen my wife or my other daughter. We were quarantined through Christmas. We were served through room service," Moyer said.
On Monday, his family left the ship, and the cruise line checked them into different rooms at a nearby hotel in Puerto Rico to continue their quarantine. Moyer claimed that they were supposed to get paperwork on the date of quarantine and date of positive testing, but never received it.
He said the entire family had been vaccinated and boosted.
"I guess you run the risk but all of us are very careful," he told the news station. They are expected to return home on January 1. The cruise line will pay for their return.
At the start of the pandemic, cruise ships were the sites of several coronavirus outbreaks. They were forced to shutter for months and were allowed to reopen earlier in 2021. But as coronavirus cases increase across the globe due to the Omicron variant, many cruise ships have again reported outbreaks.
On Thursday, the Centers for Disease Control and Prevention (CDC) advised U.S. citizens to avoid going on cruise ships regardless of their vaccination status. The CDC said the virus spreads easily between people aboard cruise ships and that the chance of being infected while on a cruise is "very high," even for those who have been vaccinated.
The advisory sparked backlash from the cruise industry.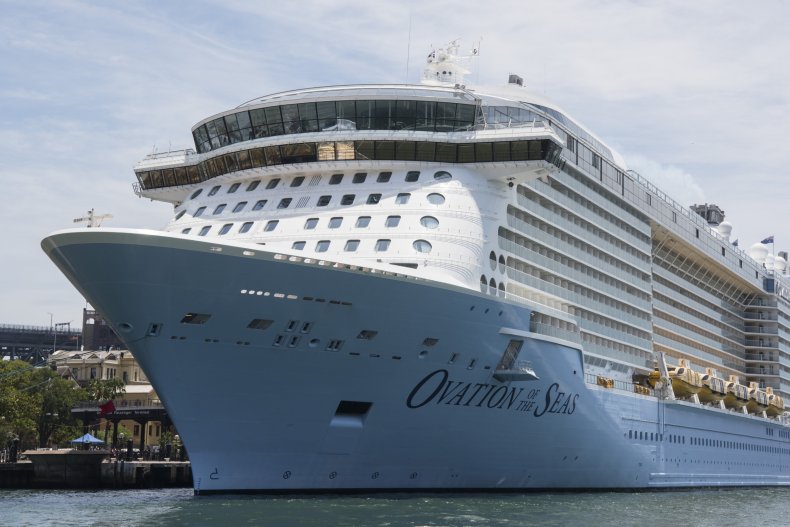 A Cruise Lines International Association spokesperson previously told Newsweek the decision was "perplexing considering that cases identified on cruise ships consistently make up a very slim minority of the total population onboard."
Meanwhile, cruise lines argued their voyages are safe for passengers. Royal Caribbean Group release a statement saying that since they began offering cruises again, they welcomed more than 1.1 million passengers. A total of 1,745 people tested positive for the virus—just under 0.16 percent.
Newsweek reached out to Royal Caribbean for comment.