Family of Ukrainian Plane Victims Says Iranian Air Force Commander's Apology 'Not Enough'
Navaz Ebrahim, whose sister and brother-in-law were among the 176 who died after Ukrainian International Airlines flight 752 was mistakenly shot down by Iran's military, said Monday that the apology from the Iranian Air Force commander was "not enough."
Speaking to CNN, Ebrahim outlined the sequence of events and how she realized that her family members had died along with all the other passengers on the plane. "We were all screaming and screaming," she said. "That was a tragic night, a tragic night."
The Ukrainian aircraft was targeted by Iran's Islamic Revolutionary Guard Corps (IRGC) minutes after departing from Iran last Wednesday. Hours earlier, the Iranian military had fired missiles targeting bases in Iraq housing U.S. troops, and the IRGC has said the plane was mistaken for a retaliatory missile. However, the Iranian government initially denied that the plane had been shot down, attempting to cover up the disaster.
For three days following the plane crash, Iranian officials denied speculation that aircraft had been shot down. But after mounting international pressure and reports from the U.S., the U.K. and Canada stating that intelligence showed that Iran was behind the tragedy, Iranian leaders admitted that they had carried out the strike by mistake.
Amirali Hajizadeh, a commander of the aerospace division, said he wished he had died instead of the passengers and crew when he learned the news. He and other officials, including Iran's President Hassan Rouhani and Iran's Foreign Minister Javad Zarif, publicly apologized, promising accountability and a full investigation. But the response did not satisfy Ebrahim.
"I'm still not sure how sincere that apology was. I hope it was," she said. "If it was, I think that's a starting gesture, but it's not enough."
"I hope as an outcome there will be some preventive measure put in place so this tragedy will never, ever happen to another family ever again," Ebrahim added.
The majority of the passengers aboard the aircraft were Iranians. The 82 were among an additional 63 Canadians, 11 Ukrainians, including crew members—four British citizens, four Afghans and three Germans—who died. Frustrated Iranians in Tehran and other cities across the country staged protests over the weekend, chanting anti-government slogans. They were particularly angered that their government attempted to cover-up and deny that the aircraft was shot down for three days following the crash.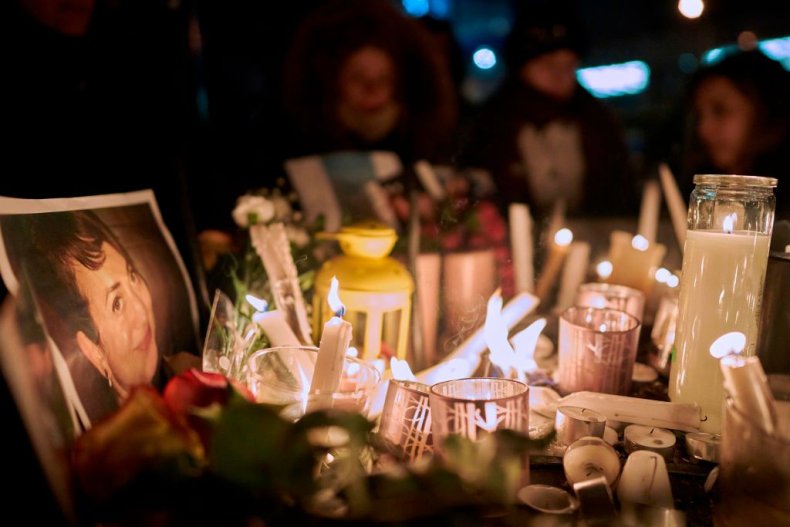 "Death to the dictator," demonstrators shouted Saturday, referring to Iran's Supreme Leader Ayatollah Ali Khamenei. On Sunday, the protests continued, with some chanting: "They are lying that our enemy is America, our enemy is right here."
Gholam-Reza Soleimani, head of Iran's Central Insurance company, said Monday that his agency would fully cooperate with paying for the disaster. He said discussions with Ukraine would resolve how families of passengers and the Ukrainian airline would be compensated, according to Iran's Islamic Republic News Agency (IRNA).
Iran's Judiciary Chief Ebrahim Raisi also promised Monday that "all material and moral rights of the victims and their families will be fully protected," the state news agency reported.