Attorney Ben Crump said Tuesday the legal team representing the family of the 14-year-old girl who was fatally struck during an officer-involved shooting at a Burlington Coat Factory in Los Angeles last week believes there is still footage from the shooting that has not yet been released.
During a press conference held outside the Los Angeles Police Department (LAPD) headquarters on Tuesday morning, attorneys for the family of Valentina Orellana-Peralta said they sent a presentation of evidence letter to the LAPD to ensure all of the footage is preserved.
"We believe that there's video, surveillance video, from the Burlington store itself as well," Crump said. "We want all the documentation. Complete transparency. Not just a perspective that tries to justify things. We want everything released."
On Monday, the LAPD released surveillance video and bodycam footage from the incident, which took place at the store in North Hollywood shortly before noon on December 23.
When asked Tuesday if he believes there is additional footage beyond what the LAPD released Monday, Crump answered simply: "We do."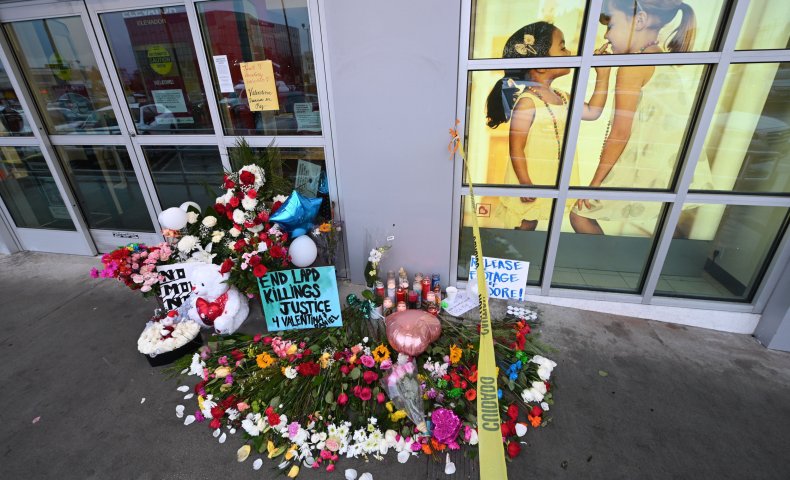 Orellana-Peralta was shopping for Christmas with her mother at Burlington Coat Factory at the time officers received calls about a man who was attacking customers. In surveillance video released Monday by police, the man, later identified as 24-year-old Daniel Elena Lopez, was seen chasing after and grabbing at customers inside the store. One of the women he attacked was beaten with a bicycle lock, according to the LAPD.
Officers entered the store and searched for Elena Lopez, whom they located near the store's dressing rooms. In the confrontation with police that followed, Elena Lopez was struck by a bullet and pronounced deceased at the scene by paramedics.
The LAPD said the body of a 14-year-old who was in a dressing room behind Elena Lopez was later found.
"At this preliminary phase of the investigation, it is believed that [the teenager] was struck by one of the rounds fired by an officer at the suspect," the LAPD said in its Monday release.
LAPD Chief Michel Moore described Orellana-Peralta's death as "tragic and devastating" and said the LAPD would be conducting "a thorough, complete and transparent investigation" into the events at the store.
California Attorney General Rob Bonta's office will independently review the incident, as will the California Department of Justice's Special Prosecutions Section, the LAPD said.
Following the LAPD's Monday release of bodycam footage from the shooting, Crump shared a clip of the footage on social media and described Orellana-Peralta's death as "preventable."
"An LAPD officer recklessly started shooting at a suspect and a stray bullet struck Valentina, who was inside a dressing room," Crump tweeted Tuesday morning. "This careless use of force endangered innocent people and stole Valentina's young life!!"
Crump said during the Tuesday press conference that his legal team is "dedicated to making sure we get justice for Valentina." Crump said details regarding his team's next steps would be shared in the days to come but stressed that Tuesday's press conference was primarily about providing Orellana-Peralta's parents with an opportunity "to come and tell the world" about the person their daughter was.
"They want you to know that Valentina was beautiful, intelligent, and had the whole world ahead of her," Crump said. "She made exceptional grades at an English-speaking school, even though English was not her native tongue."
Crump said Orellana-Peralta's father "wanted people to know about her dreams," which Crump said included becoming an American citizen, studying to become an engineer and attending a Los Angeles Lakers game with her father.
"They came to America from Chile to get away from violence and injustice to have a better life in America," Crump said of Orellana-Peralta's family. He then quoted one of Orellana-Peralta's aunts as saying, "They can't believe this happened in America."
Newsweek reached out to the LAPD for comment.
Updated 12/28/2021 at 3:24 p.m. ET: This story has been updated with additional information and background.