As Famine Threatens the Globe, the U.S. Must Answer the Call | Opinion
For the first time in generations, Americans are looking at their own food supply with concern. Empty shelves at supermarkets, stories of farmers plowing under their crops and higher prices for some foods at checkout have all served to startle us out of complacency.
While our food supply chains have proved mostly nimble in adapting to the closing of restaurants, schools and other institutional buyers, and Congress has stepped up with expanded safety nets for millions of Americans, this isn't the case for many places around the world.
Coming into this year, millions of people in the developing world were staring starvation in the face. Now, many more will join them.
The United Nations World Food Programme (WFP) has warned that the number of people facing crisis levels of hunger could double this year to 265 million because of the impacts of COVID-19. WFP Executive Director and former Governor of South Carolina David Beasley has warned of the potential for "famine of biblical proportions," mainly in the poorest and most vulnerable places on the planet.
Until COVID-19 struck, famine was something that we increasingly talked about in the past tense. Our global food system has grown in sophistication and scale, as has our global humanitarian response. For example, together with an outpouring of support from governments like ours, famine was avoided in Yemen, Somalia and Nigeria in 2017.
But we've never faced a crisis like this.
Millions of children will be among those newly thrust into severe hunger by the virus. They will join millions of newly unemployed workers in the world's vast informal economy, many already living hand-to-mouth. COVID-19 will disrupt local food supply chains, preventing subsistence and small-scale farmers from accessing critical inputs, working in their fields and reaching markets.
The impacts will be hardest felt by food-importing countries (including much of sub-Saharan Africa), landlocked countries and oil-exporting nations. In these places, border closures and the plummeting value of local currencies will make it harder to get much-needed food into their countries.
Even while global food stocks are plentiful and harvest forecasts optimistic, WFP reports that in the first quarter of this year, the costs of a typical "basket" of food had already increased severely (by more than 10 percent) in at least 15 countries. In Libya, for example, food prices have increased by 26 percent compared to March. In Lebanon, a country hosting over a million Syrian refugees, hunger protesters have taken to the street and as much as 75 percent of the country is in need of aid.
What we learned from the 2007-2008 food price crisis—the last major upending of our global food system—is that when people lack access to affordable food, unrest is soon to follow. At least 40 countries around the world at that time saw food price riots and at least one government, Haiti, was toppled.
Having lived and led through crises like the Great Depression, World War II and the global financial crisis, we can say, unequivocally, that COVID-19 is as great a risk to global food security as it is to global health—and the fallout of both will be severe.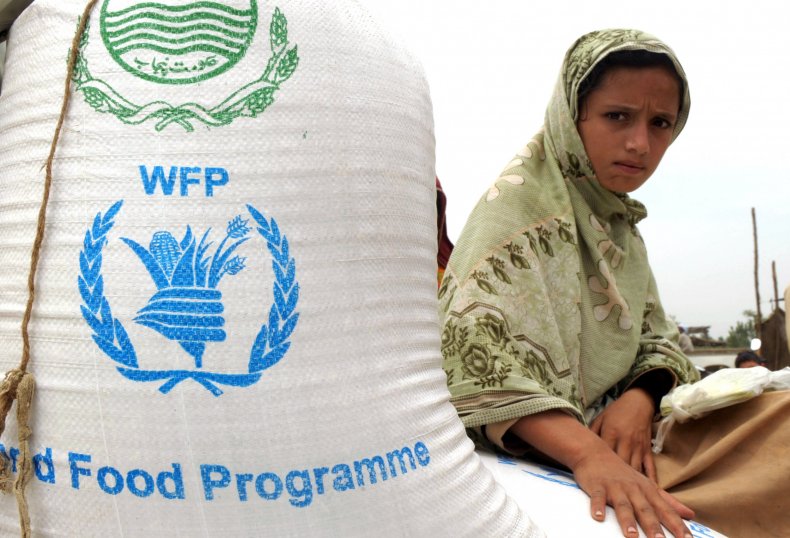 The U.S., like it has so many times in the past, must lean on its humanitarian food assistance programs at USAID and USDA to prevent hunger before it kills or metastasizes into something else. The Trump administration must move swiftly to get funds to our implementing partners to pre-position food ahead of border closures and supply chain breaks. Congress must ensure that there are significant domestic and international resources in subsequent coronavirus relief packages, so that food assistance and food nutrition programs are funded to match the scale of need, both here and abroad.
Representing agricultural states for more than a combined half century in Congress, we've seen firsthand the pride that American farmers feel in knowing their harvests are filling empty stomachs—and making our economy stronger and our country safer, in the process. At a time when surpluses continue to accumulate and farmers are struggling to make ends meets, these programs can do much good, both here at home and abroad.
The issue of hunger has long united the two of us, just as it has many Republicans and Democrats throughout America's history. We took up the mantle of American leadership in fighting global hunger while in office—now is the time for others to do the same. Without investments in global food security, not only will the novel coronavirus return to our shores, but it will bring social and economic unrest with it.
Former U.S. Senators Bob Dole (R-KS) and Tom Daschle (D-SD) are members of the World Food Program USA board of directors.
The views expressed in this article are the writers' own.