What Is Famotidine? Heartburn Medication Being Trialed as COVID-19 Treatment in New York
Researchers in New York are testing a common heartburn drug as a potential treatment for COVID-19.
The substance in question, known as famotidine, is the active compound in the over-the-counter heartburn medication Pepcid, Science magazine reported.
A team with Northwell Health—New York state's largest health care provider—have been administering famotidine intravenously to critical COVID-19 patients since April 7 as part of a clinical trial.
The dose these patients—many of whom are on ventilators—have received is around nine times higher than the usual dose for heartburn treatment.
Northwell Health researchers say that, so far, 187 COVID-19 patients have been enrolled in the trial, and the team hopes to include nearly 1,200 people in total.
This trial—which will be randomized and double-blinded—has been approved by the Food and Drug Administration. Scientists use randomization and blinding—where one or more parties are kept unaware of which treatments patients received—in trials to try and limit the effects of conscious or unconscious bias.
In the trial, famotidine is being given in combination with the much-touted antimalarial drug hydroxychloroquine. According to Kevin Tracey—who leads Northwell's research—hydroxychloroquine was included because otherwise they wouldn't have been able to recruit enough patients.
Planning for the trial was taking place in March when hydroxychloroquine's promise was being widely discussed, despite its potential risks. One group in the study are being administered famotidine and hydroxychloroquine, while another will only receive hydroxychloroquine. These groups will be compared to a control group of COVID-19 patients treated earlier in the pandemic.
High doses of famotidine can cause complications in people with decreased kidney function so COVID-19 patients with kidney problems are excluded from taking part in the study.
Famotidine is normally available as an oral tablet although there is also an injectable form, which is only administered by health care providers. The drug is usually used to relieve the symptoms of acid reflux and heartburn, which it does by reducing the amount of acid in the stomach. It can also be used to treat ulcers in the stomach and parts of the intestine.
Among the common side effects of the drug for adults are headache, dizziness, constipation and diarrhea, although these are only experienced infrequently, according to Healthline. Serious side effects are also rare, but include heart rate and rhythm, muscle, neurological, liver and skin problems.
Currently, it is not clear how effective the drug is for the treatment of COVID-19—despite some encouraging anecdotal evidence—but Kevin Tracey, who leads Northwell's research, told Science that some preliminary data from the trial could be available in "a few weeks."
Computer modeling research has indicated that famotidine may bind to a key enzyme on the novel coronavirus, known as SARS-CoV-2, raising the possibility that it could halt its spread throughout the body.
Tracey decided to conduct the trial after being contacted by a friend, infectious disease expert Michael Callahan from Massachusetts General Hospital in Boston. Callahan was the first researcher to highlight the drug as a potential COVID-19 treatment in the United States.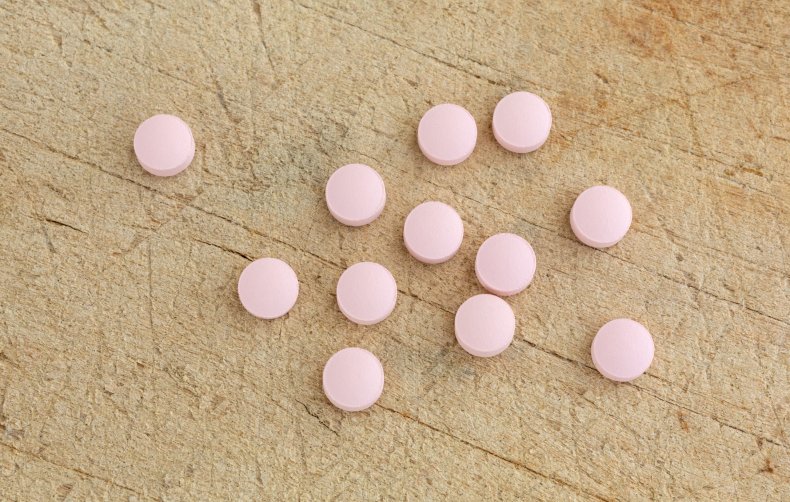 Callahan was in Wuhan, China during the city's outbreak and had been examining medical records of COVID-19 patients when he noticed something unusual. While the disease was killing as many as one in five patients who were older than the age of 80, a significant portion of the survivors tended to be poor.
He then found out that many of these survivors had been suffering from chronic heartburn and were taking famotidine, a cheap alternative to omeprazole (Prilosec) that is commonly used in the United States and by more affluent Chinese people.
According to Callahan, the records of hospitalized COVID-19 patients he examined appeared to show that those who were taking famotidine were dying at a rate of around 14 percent, whereas those who were not on the drug were dying at a rate of roughly 27 percent.
This research has yet to be published and Callahan notes that the results of this preliminary analysis were not statistically significant, but he was sufficiently intrigued to notify public health authorities in the United States when he returned.
Dr. Stuart Ray, a professor of medicine in infectious diseases at Johns Hopkins University, who is not involved in the famotidine trial, said that he was skeptical about the preliminary data from China because it had not gone through the typical review process.
But despite his surprise that famotidine was being used for this purpose, he said that there is some scientific basis for the drug to be used in the treatment of COVID-19, while also noting that it is likely to be safe, even in large doses.
"I think this sort of off-label repurposing is sensible with drugs for which we have a long safety record," Ray told ABC News. "And we really need a win."
Centers for Disease Control and Prevention Advice on Using Face Coverings to Slow Spread of COVID-19
CDC recommends wearing a cloth face covering in public where social distancing measures are difficult to maintain.
A simple cloth face covering can help slow the spread of the virus by those infected and by those who do not exhibit symptoms.
Cloth face coverings can be fashioned from household items. Guides are offered by the CDC. (https://www.cdc.gov/coronavirus/2019-ncov/prevent-getting-sick/diy-cloth-face-coverings.html)
Cloth face coverings should be washed regularly. A washing machine will suffice.
Practice safe removal of face coverings by not touching eyes, nose, and mouth, and wash hands immediately after removing the covering.
World Health Organization advice for avoiding spread of coronavirus disease (COVID-19)
Hygiene advice
Clean hands frequently with soap and water, or alcohol-based hand rub.
Wash hands after coughing or sneezing; when caring for the sick; before, during and after food preparation; before eating; after using the toilet; when hands are visibly dirty; and after handling animals or waste.
Maintain at least 1 meter (3 feet) distance from anyone who is coughing or sneezing.
Avoid touching your hands, nose and mouth. Do not spit in public.
Cover your mouth and nose with a tissue or bent elbow when coughing or sneezing. Discard the tissue immediately and clean your hands.
Medical advice
Avoid close contact with others if you have any symptoms.
Stay at home if you feel unwell, even with mild symptoms such as headache and runny nose, to avoid potential spread of the disease to medical facilities and other people.
If you develop serious symptoms (fever, cough, difficulty breathing) seek medical care early and contact local health authorities in advance.
Note any recent contact with others and travel details to provide to authorities who can trace and prevent spread of the disease.
Stay up to date on COVID-19 developments issued by health authorities and follow their guidance.
Mask and glove usage
Healthy individuals only need to wear a mask if taking care of a sick person.
Wear a mask if you are coughing or sneezing.
Masks are effective when used in combination with frequent hand cleaning.
Do not touch the mask while wearing it. Clean hands if you touch the mask.
Learn how to properly put on, remove and dispose of masks. Clean hands after disposing of the mask.
Do not reuse single-use masks.
Regularly washing bare hands is more effective against catching COVID-19 than wearing rubber gloves.
The COVID-19 virus can still be picked up on rubber gloves and transmitted by touching your face.