Famous Elk Beheaded in Rocky Mountains, Remains To 'Return to the Earth'
An iconic elk in northern Colorado's Rocky Mountain National Park has had its skull and antler removed after dying, according to officials.
The "majestic" bull elk, referred to as "Kahuna," "Bruno" or Big Thirds" was a popular attraction in the national park, with his large, distinctive antlers making him a prized target for photographers.
Good Bull Outdoors, a Colorado-based husband and wife team who share photos and videos of the region's wildlife, including images of Kahuna, said they had found the dead body of the elk in mid-March.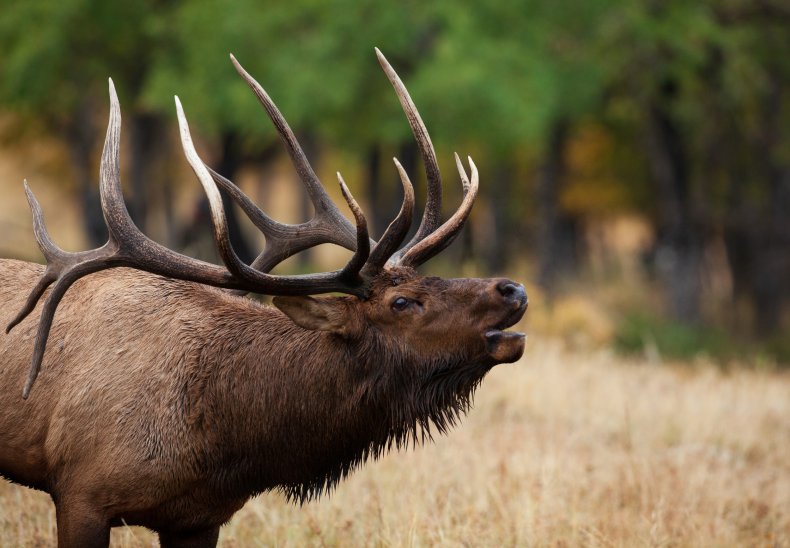 "We're sad to announce the passing of perhaps the most iconic elk in history," Good Bull Outdoors said in a Facebook post published on March 21.
The duo said they had last seen the bull alive on March 7 before a storm rolled in and they lost his location. Subsequently, they made the unfortunate discovery that the animal had passed away.
The husband and wife team said the elk had likely been taken down by a mountain lion, given that there were tracks in the area he was found.
"Being the first to place a hand on his magnificent antler (one had already been shed) was humbling," they said.
Park officials later said that the elk is thought to have died of natural causes. There had been reports the animal had been injured during last year's mating season and he appeared "very underweight" this February.
While officials are not treating the elk's death as suspicious, park rangers are now investigating the illegal removal of Kahuna's skull and antler from his carcass.
According to a statement, the removal of the body parts likely occurred some time between March 20 and March 22.
Officials are urging anyone with information to call the park's tip line at 970-586-1393 or to email them. Anyone providing information does not have to identify themselves and can remain anonymous, park rangers said.
"Rocky Mountain National Park's wildlife is a resource for all to enjoy and protect," park officials said in the statement. "The skull and antlers of this popular elk were cut and illegally removed from Rocky Mountain National Park."
"This elk's remains should be allowed to return to the earth in Rocky Mountain National Park, where he brought much joy to thousands of park visitors over many years. Please help the park protect wildlife by reporting any suspicious activity."
Elk are the second largest member of the deer family, living in a variety of habitats, including forests, meadows and mountains.
Adult males—known as bulls—average around five feet tall at the shoulders when they are fully grown and can weigh anywhere between 700 and 1,100 pounds, according to the United States Forest Service.