Famous Historic Homes in Every State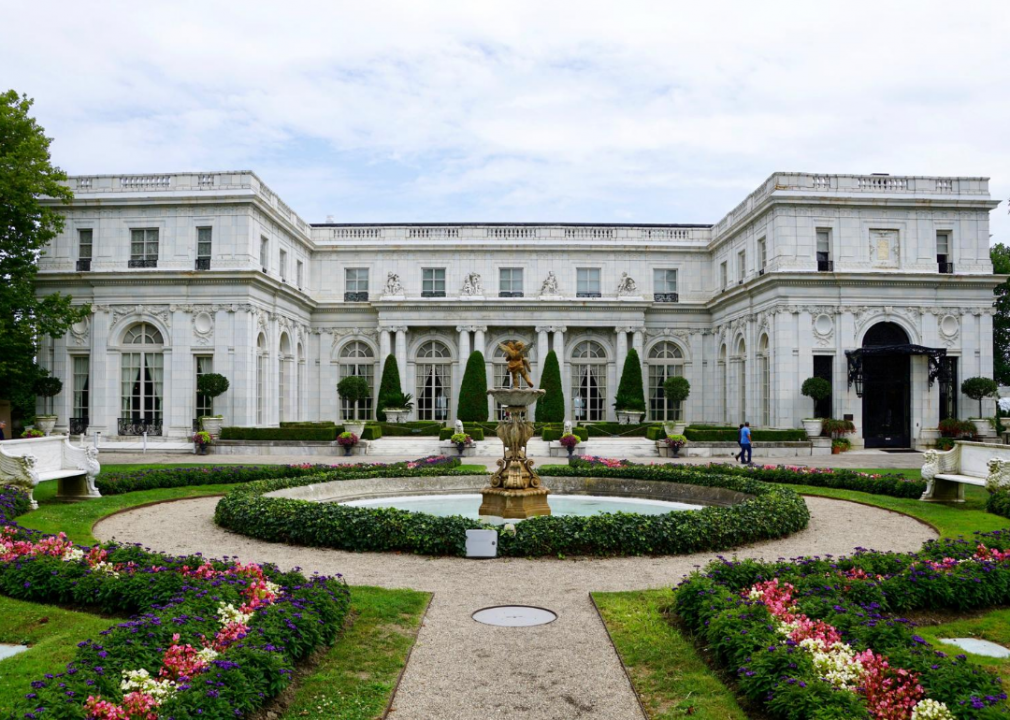 The United States traditionally has been referred to as a "melting pot," a trope that has garnered criticism in recent years for promoting acculturation and failing to celebrate the diversity of the population. Some have suggested "salad bowl" as a more accurate metaphor, and it is one that can equally be applied to the nation's domestic architecture, which is perhaps best characterized by a rugged individualism as opposed to the hybridization of disparate architectural elements. As Maya Angelou perceptively observed, "the ache for home lives in all of us," a phrase that has meant very different things to different people.
Modest or palatial, there is no shortage of noteworthy homes in the U.S. Log cabins constructed by industrious pioneers have dotted the landscape alongside traditional Native American dwellings ever since immigrant Swedes introduced them to the New World in 1638. The unprecedented personal fortunes amassed by the so-called "Robber Barons" at the close of the 19th century gave way to the construction of a staggering number of Gilded Age estates.
The ravages of time spared neither the sumptuous nor the humble. Stately mansions, often prohibitively costly to maintain in the modern era, were frequently neglected; simple structures were forgotten, discarded by their owners, and damaged by natural elements. However, the tireless efforts of architectural preservationists and local historical societies have saved many of these homes from demolition, leading to their inclusion in the National Register of Historic Places and thereby safeguarding them for future generations.
Safety.com created this state-specific list of significant homes from architectural, government, and various news sites. Today, due to COVID-19, many historic house museums are closed to the public. Scroll through the list to visit architect Frank Lloyd Wright's masterwork, newspaper magnate William Randolph Hearst's castle, and one of the last surviving sod homes in the Great Plains—without leaving the comfort of your own home.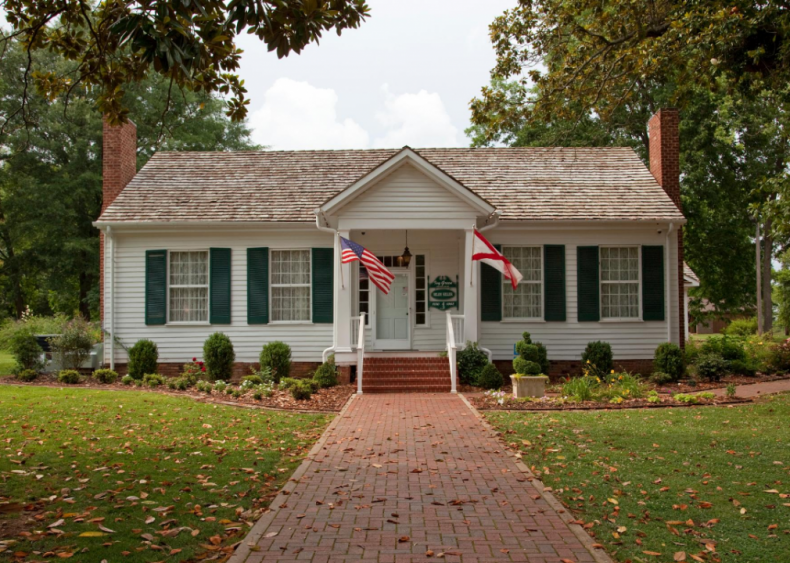 Alabama: Ivy Green, Tuscumbia
Ivy Green, an unassuming white clapboard house built in 1820, was the birthplace and childhood home of disabled rights activist Helen Keller. The iconic water pump, where the deaf and blind Keller first learned to communicate with her devoted teacher, Anne Sullivan, still stands on the site, which was added to the National Register of Historic Places in 1954.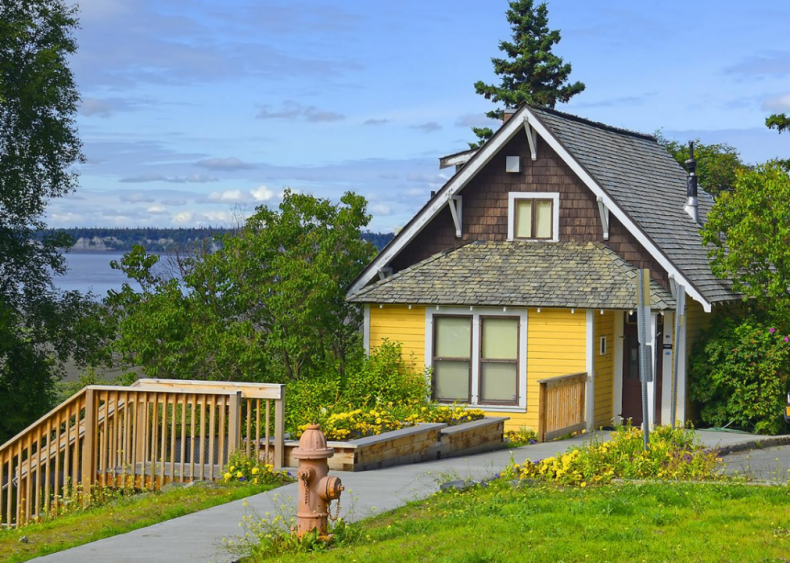 Alaska: Oscar Anderson House, Anchorage
Shortly after his arrival in Anchorage in 1915, entrepreneur and businessman Oscar Anderson constructed this one-and-one-half story bungalow. Surrounded by tents and one-room log cabins in what was then known as Ship Creek, this modest, timber-framed home was the height of luxury. Currently a museum, the Oscar Anderson House was added to the National Register of Historic Places in 1978.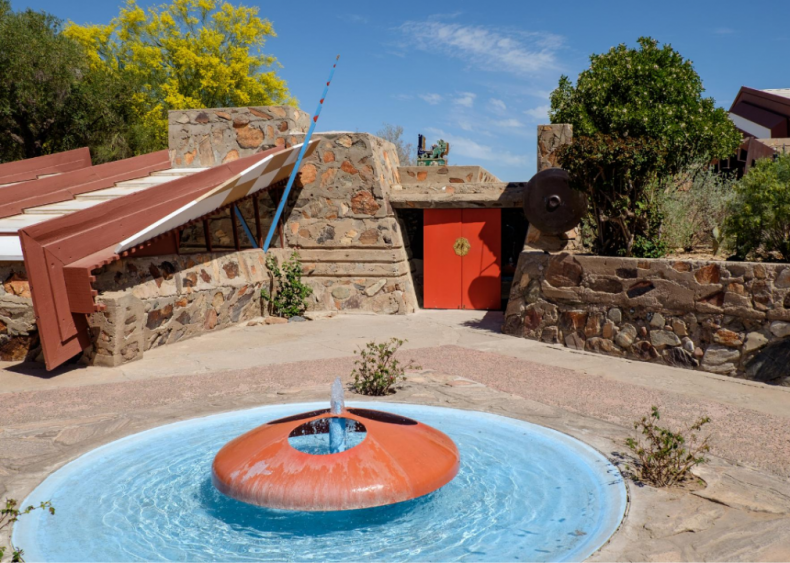 Arizona: Taliesin West, Scottsdale
Legendary architect Frank Lloyd Wright may have cut his teeth in the Midwest, but he was drawn to the dramatic landscape and endless sunshine of the American West in his later years. To escape the brutal cold of winters at his home base of Taliesin in Wisconsin, he migrated his school to Scottsdale during the winter months and called the residence Taliesin West. Built of local stone, redwood, and cement, the compound remains open to the public despite the closing of the School of Architecture earlier this year.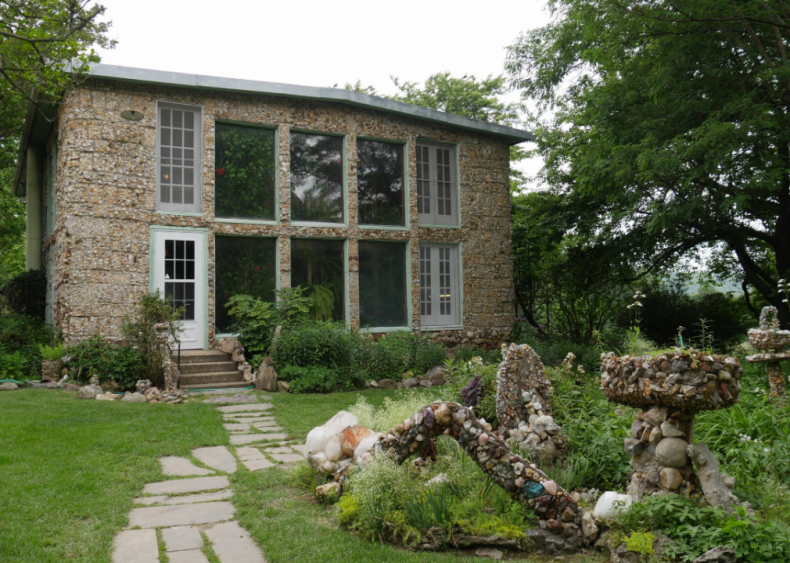 Arkansas: Quigley's Castle
Albert Quigley promised his wife a new house built from the timber felled on their own property. When he failed to deliver, Elise Quigley—with the help of her five children—razed the wooden shack they called home. Construction on the new dwelling, designed by Elise, began in 1943. Encrusted with stones, fossils, crystals, and arrowheads, Quigley's Castle is a popular destination for visitors to the Ozarks.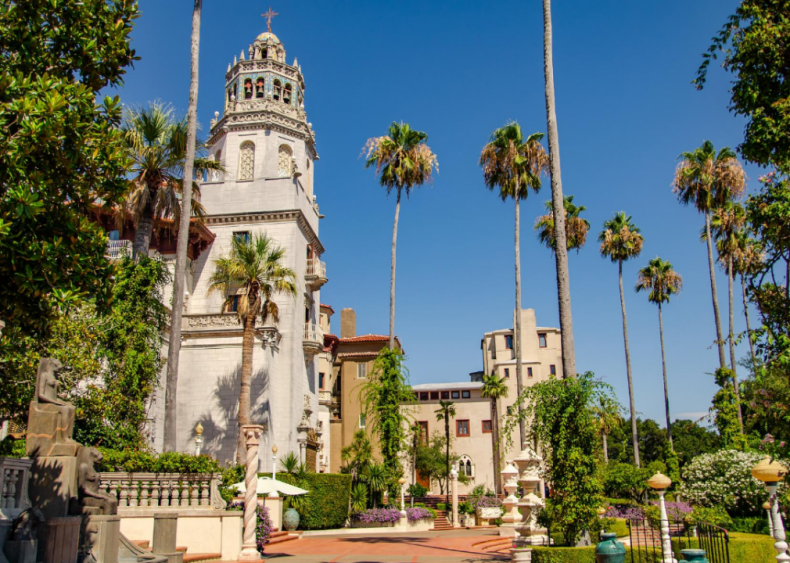 California: Hearst Castle, San Simeon
Designed by Julia Morgan, Hearst Castle was commissioned by newspaper tycoon William Randolph Hearst in 1914. The 60,000 square foot Mediterranean Revival masterpiece hovers on a hilltop a quarter-mile from the Pacific Ocean and boasts 164 luxuriously decorated rooms. Hearst and his long-time mistress, Marion Davies, hosted lavish parties at the estate, attended by Hollywood's glitterati. The house and surrounding grounds are now part of the California State Parks system.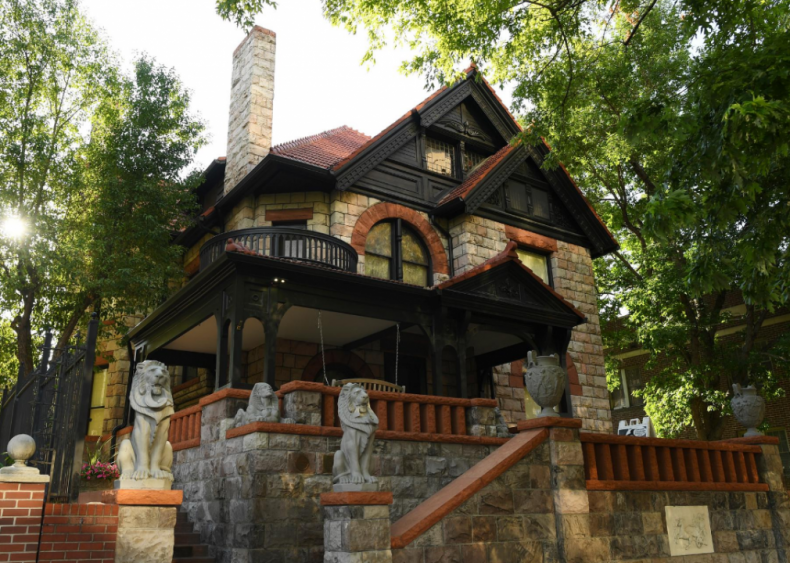 Colorado: Molly Brown House, Denver
Designed by prominent architect William Lang for silver magnate Isaac Large and his wife Mary, this imposing hybrid Queen Anne/Romanesque Revival home was sold to J.J. and Margaret Brown in 1894. Dubbed the "Unsinkable Molly Brown" by the popular press after surviving the Titanic disaster, the socialite's vivid account of the tragedy gripped the nation and catapulted her to national attention. In 1970, a grassroots group known as Historic Denver saved the neglected edifice from the wrecking ball, restoring the home to its original glory.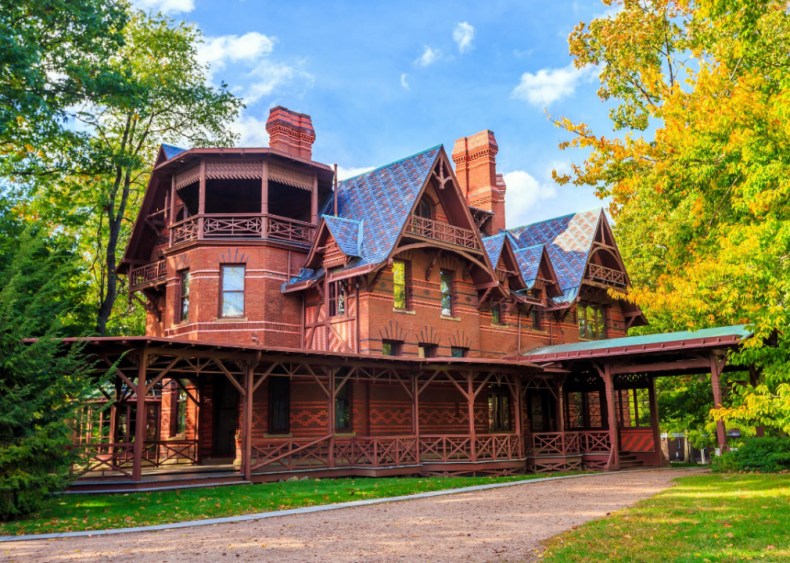 Connecticut: Mark Twain House, Hartford
American satirist Samuel Clemens—better known as Mark Twain—commissioned Edward Tuckerman Potter to design his American High Gothic home in 1873. A masterpiece of the aesthetic movement, the interior surfaces of the home were decorated by Louis Comfort Tiffany. Twain wrote some of his best-known works in the house, including "Tom Sawyer" and "Huckleberry Finn." Sadly, the Clemens family was forced to abandon their happy home due to financial troubles and the premature death of daughter Susy in 1896.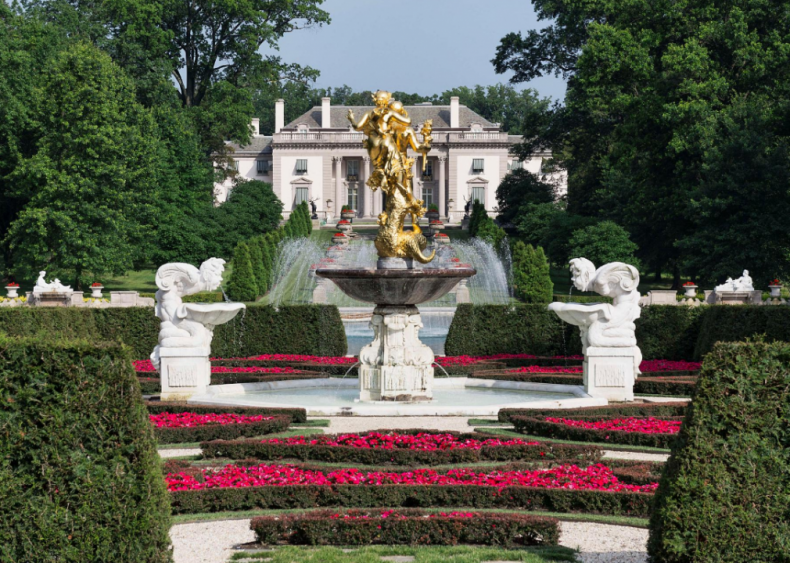 Delaware: Nemours, Wilmington
American industrialist Alfred I. DuPont commissioned Nemours in 1907 as a wedding gift for his second wife, Alicia. Christened Nemours in honor of the DuPont family's ancestral homeland, the magnificent French Neoclassical Revival home boasts 77 rooms set on 300 manicured acres. The estate opened to the public after DuPont's death and received a $39 million facelift in 2005.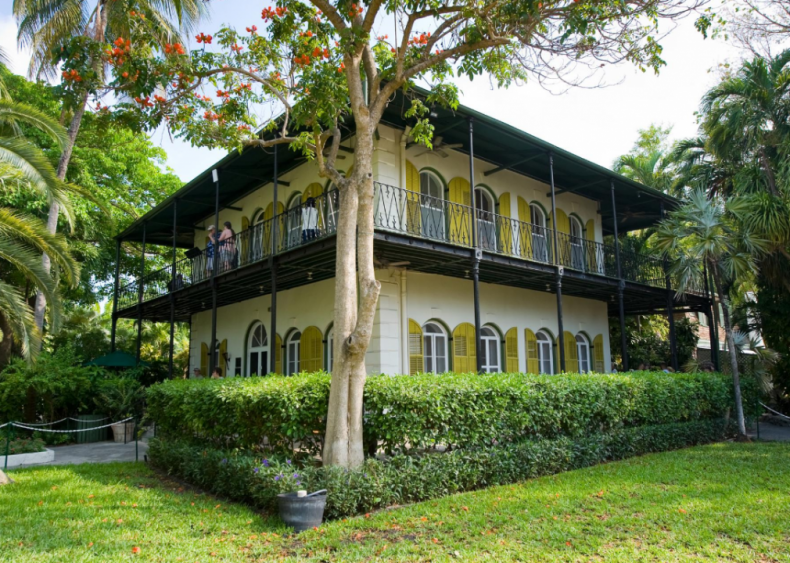 Florida: Ernest Hemingway Home, Old Town Key West
Ernest Hemingway wrote some of his best-known works, including "Death in the Afternoon" and "To Have and Have Not" in the 1851 Spanish Colonial home he shared with his second wife, Pauline Pfeiffer. The couple spent several years restoring the dilapidated house, adding Key West's first in-ground pool in 1937.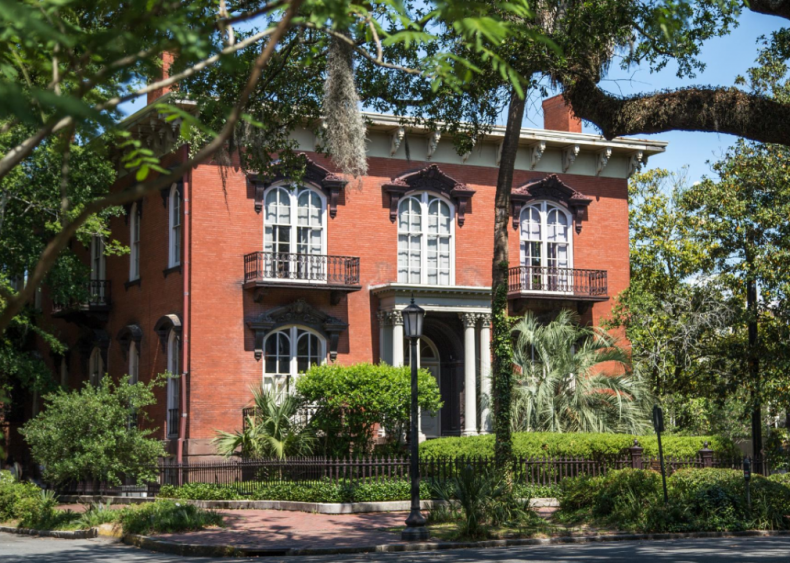 Georgia: Mercer House, Savannah
Originally built for Confederate General Hugh W. Mercer, antique dealer Jim Williams purchased the stately eclectic home at 429 Bull Street in 1969. Twelve years later, Williams was accused of murdering a man in the study. The lurid crime inspired John Berendt's bestselling book, "Midnight in the Garden of Good and Evil," which spawned a film directed by Clint Eastwood and starring Kevin Spacey. A popular tourist spot, Mercer House is currently owned by William's sister and is open for public tours.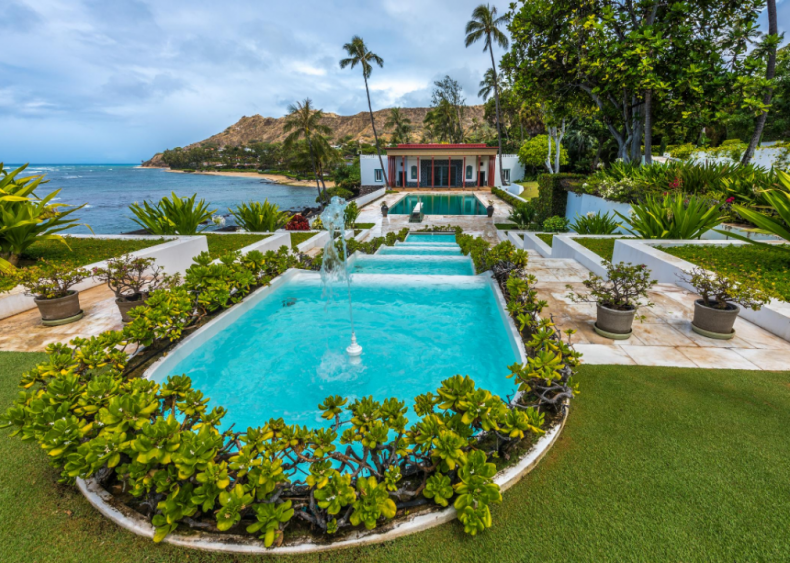 Hawaii: Shangri La, Oahu
Aptly named Shangri La, tobacco heiress Doris Duke broke ground on her Hawaiian estate in 1936, shortly after her marriage to James Cromwell. Modeled in part on the Taj Mahal, Shangri La provided the newlyweds with a welcome refuge from Palm Beach high society. The 14,000 square foot home is now a museum housing Duke's extensive collection of Islamic art.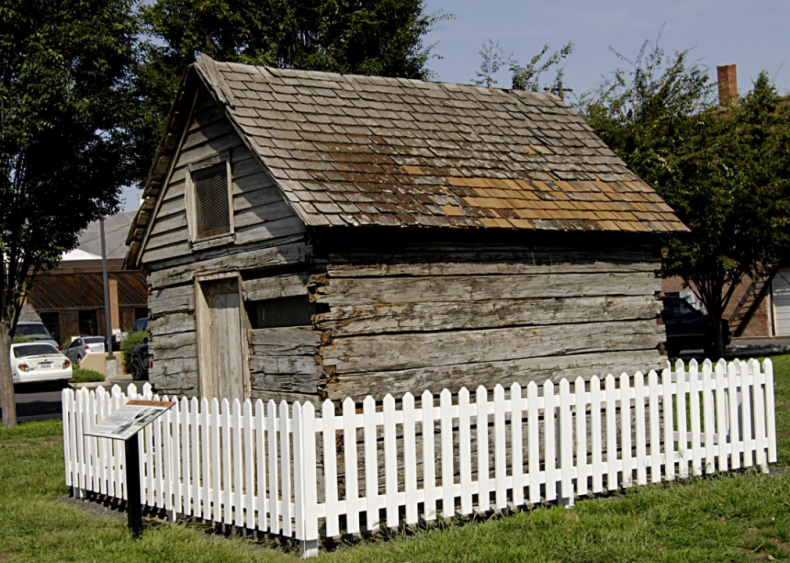 Idaho: Thompson Log Cabin, Lewiston
Thought to have been constructed in the 1860s, this rustic log cabin is one of the oldest private homes in Idaho. It was relocated from its original site in 1937 and moved a second time following extensive restoration and preservation efforts in 2013.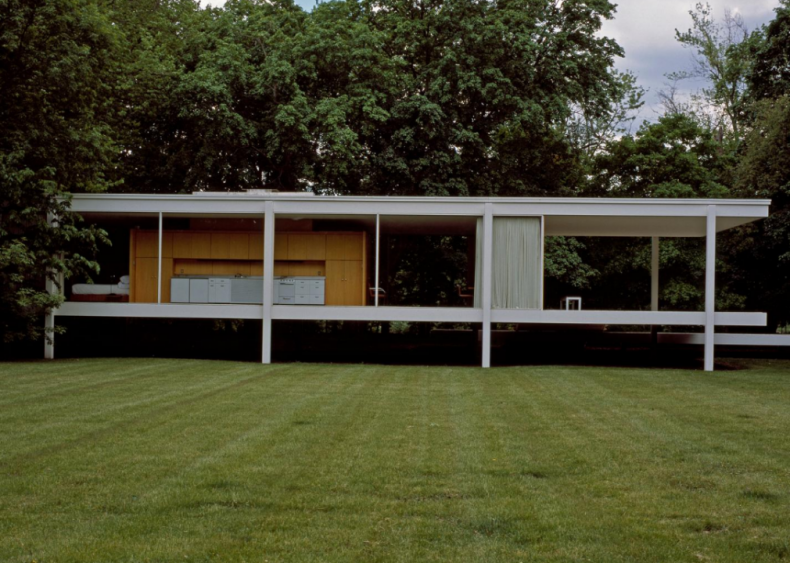 Illinois: Farnsworth House, Plano
Designed by internationally acclaimed architect Mies van der Rohe, the 1400 glass and steel home was commissioned by Chicago nephrologist Edith Farnsworth in 1945. An icon of modern design, Farnsworth House was purchased by the National Trust for Historic Preservation in 2003, opening its doors to the public the following year.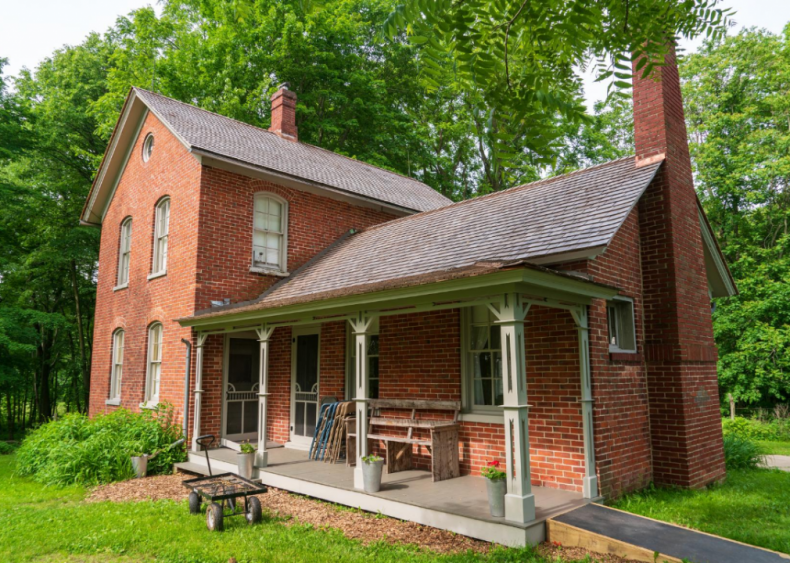 Indiana: Bailly Homestead, Porter
Nestled in Indiana Dunes National Port, the Bailly Homestead was originally the home of French Canadian fur trader Honore Gratien Joseph Bailly de Messein. Composed of several different structures—including several rustic stone and timber buildings built by Swedish immigrants—the Bailly Homestead was named a National Historic Landmark in 1966.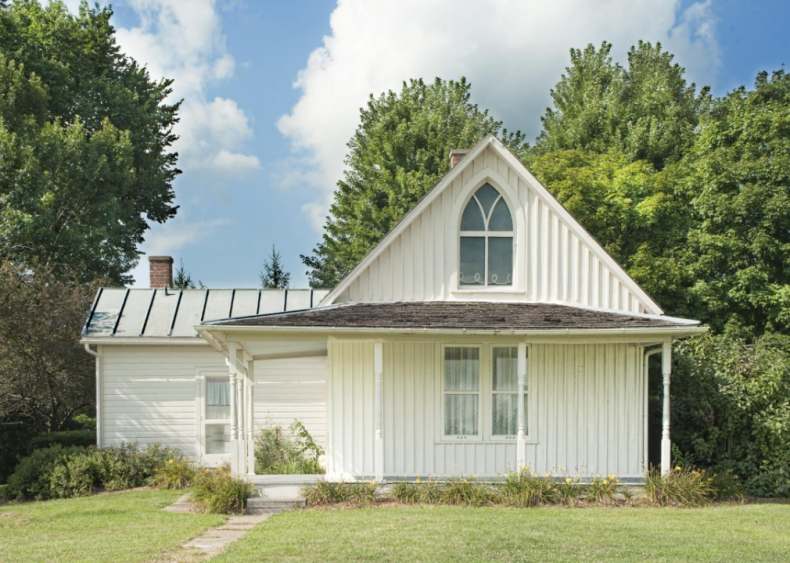 Iowa: Dibble House, Eldon
This simple, whitewashed home inspired Depression-era artist Grant Wood to paint his best-known canvas, "American Gothic." Wood was transfixed by the house, constructed in the Carpenter Gothic vernacular, and the type of people who might have inhabited it: "I imagined American Gothic people with their faces stretched out long to go with this American Gothic house." Listed on the National Register of Historic Places, the house was constructed in the early 1880s by Catherine and George Dibble. The distinctive arched window is thought to have been purchased from the Sears Roebuck catalog.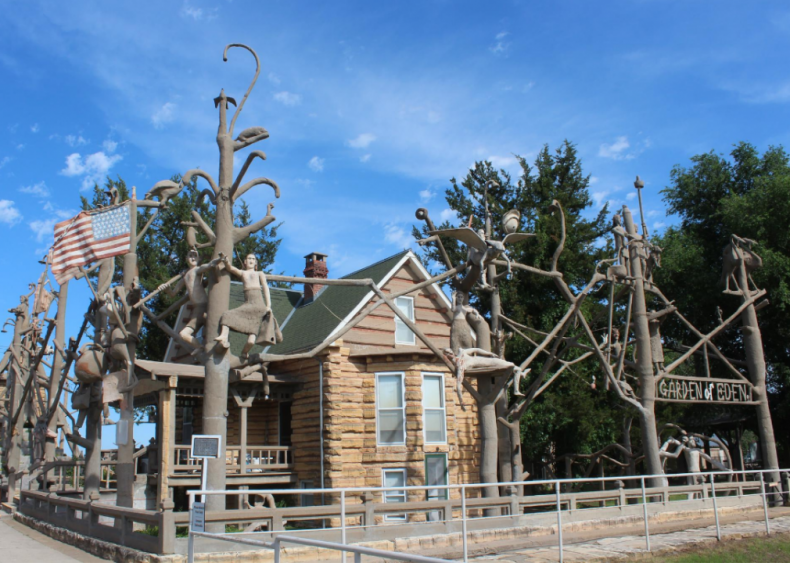 Kansas: Garden of Eden, Lucas
Folk artist S.P. Dinsmoor needed to supplement his meager income after retiring from farming and devoting himself to sculpture full time. His clever solution was the Garden of Eden, a unique home and surrounding property that showcased his primitive works—for a fee—while simultaneously providing a roof over his head. Construction on the quirky home began in 1907 and continued for over 20 years. Although constructed in the manner of a log cabin, Dinsmoor chose to use locally quarried limestone instead of timber. In keeping with the artist's free-spirited approach to life, all the windows and doors in the home are different sizes.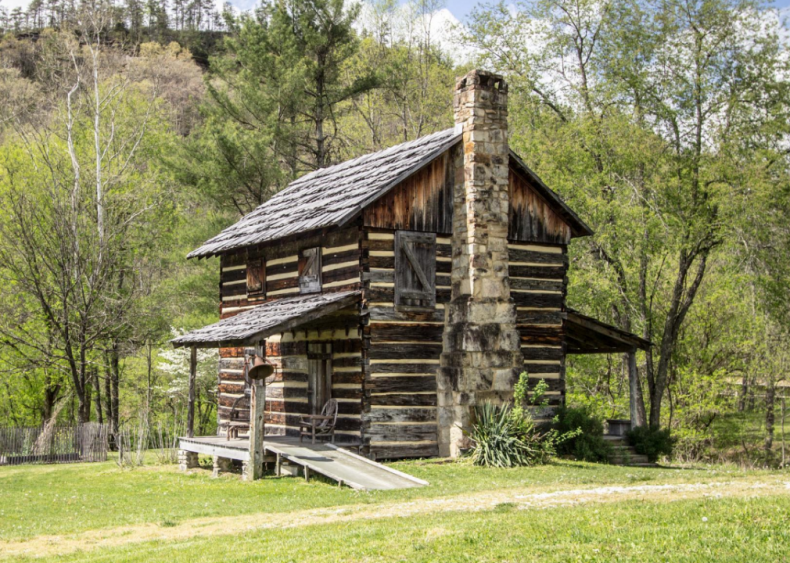 Kentucky: Daniel Boone Cabin, Carlisle
American frontiersman Daniel Boone lived a peripatetic life, settling the territory that eventually became the state of Kentucky. Boone built the diminutive log cabin in 1795 for his wife and 10 children. It was the family's final home in the region and is listed on the National Register of Historic Places.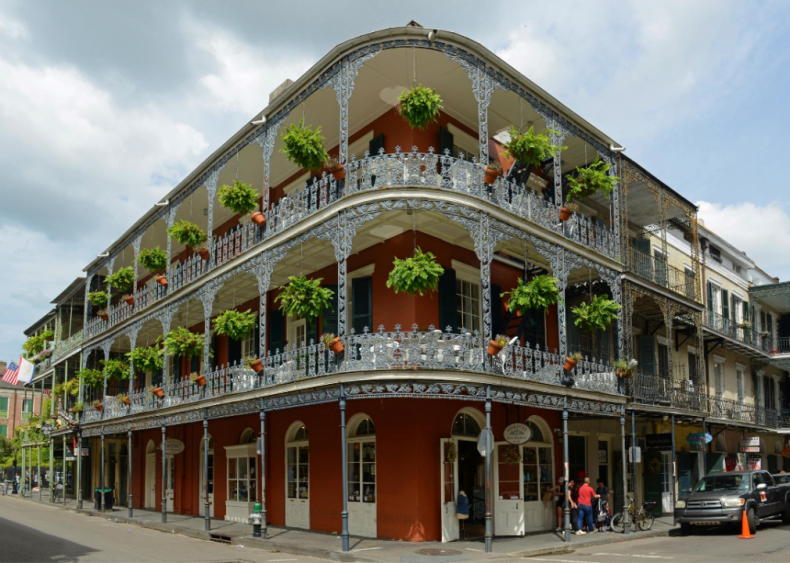 Louisiana: LaBranche House, New Orleans
With its layers of delicate cast-iron balconies, this celebrated French Quarter home is one of the most photographed buildings in New Orleans. The luxurious mansion was built by sugar baron Jean Baptiste LaBranche in the 1830s. Today, the building houses retail shops and smaller apartments and is said to be haunted by the ghost of LaBranche's mistress.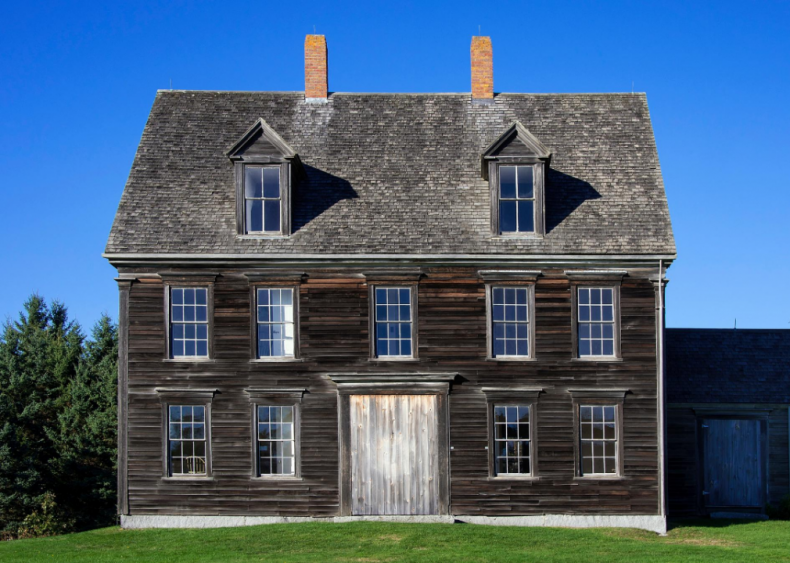 Maine: Olson House, Cushing
Immortalized by American painter Andrew Wyeth, this imposing colonial appears in several works by the artist, including his celebrated 1948 canvas "Christina's World." The original home was built by the seafaring Hathorne family in the late 1700s. Christina Olson, the granddaughter of Samuel Hawthorne IV, remodeled the home in 1871.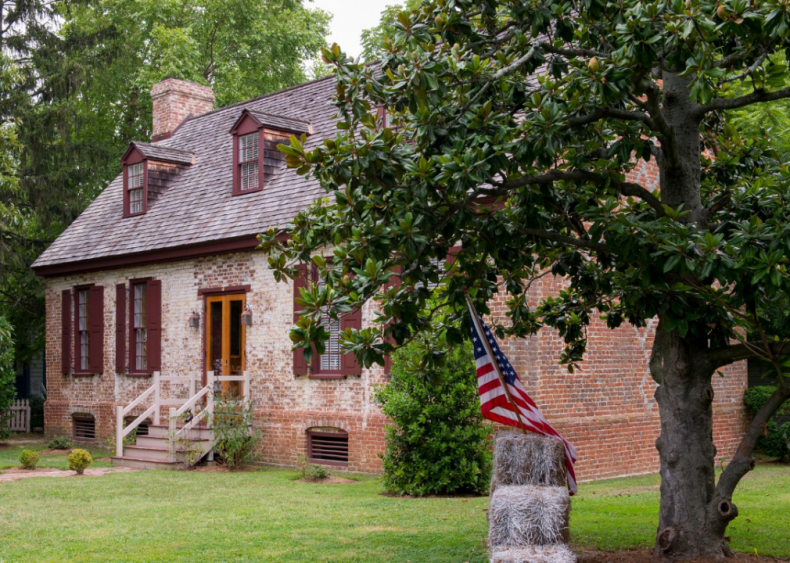 Maryland: Wickersham, St. Michaels
Wickersham, characterized by distinctive Flemish Bond brickwork, is situated on Locust Street in the charming seaport town of St. Michaels. Inscribed bricks indicate that the home was built in 1750. Wickersham didn't always occupy its picturesque spot overlooking the Miles River, however. In 2004 the house was moved, brick by brick, from its original location in Easton, Maryland.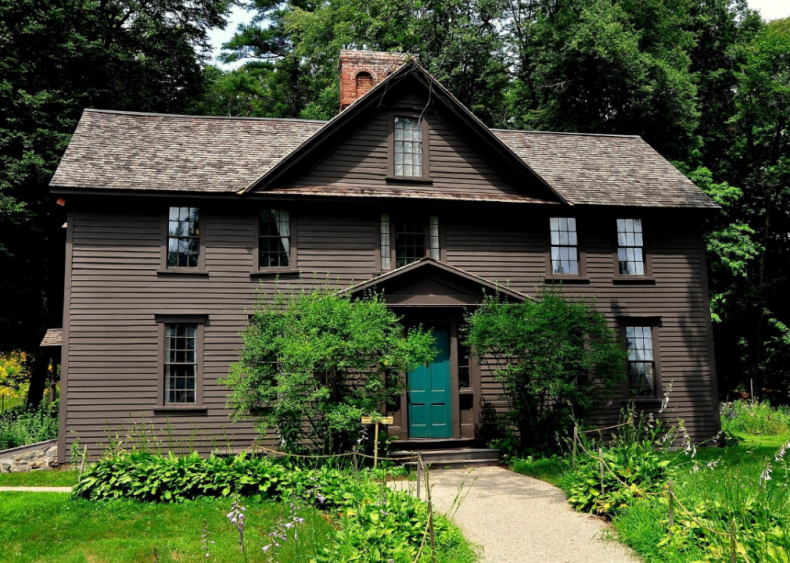 Massachusetts: Orchard House, Concord
Purchased by her father in 1857, Orchard House was the childhood home of celebrated author Louisa May Alcott and her precocious sisters—the inspiration for her most famous work, "Little Women." It's currently a museum celebrating all things Alcott. The location of the 17th-century farmhouse was deemed unsuitable for the filming of director Greta Gerwig's 2019 adaptation of Alcott's beloved novel. Not to be deterred, Gerwig had a replica of the home created on a nearby lot.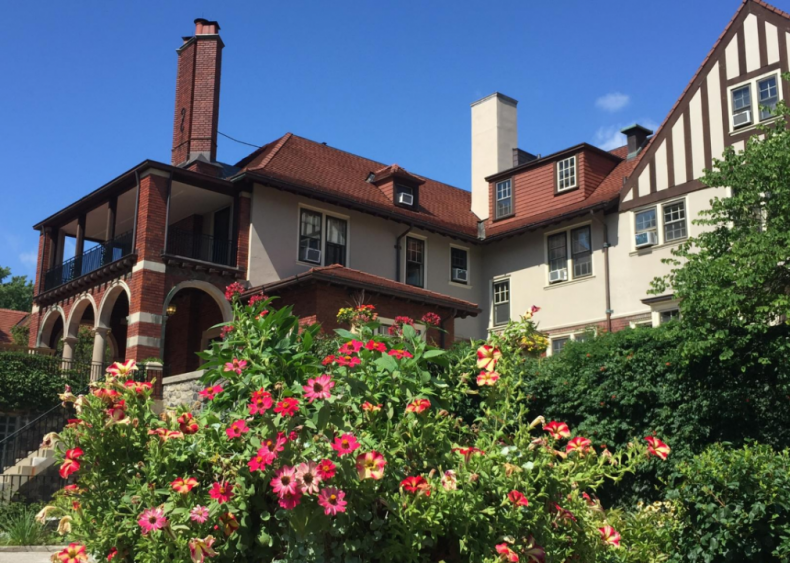 Michigan: Cranbrook House, Bloomfield Hills
In 1904, Scripps publishing tycoons George and Ellen Booth purchased a derelict farm in Bloomfield Hills and proceeded to transform it into a sprawling estate, christened Cranbrook in honor of the Booth family ancestral homeland in the English countryside. The focal point of the property was the house designed by architect Albert Kahn—a rare example of the English Arts and Crafts tradition in the United States.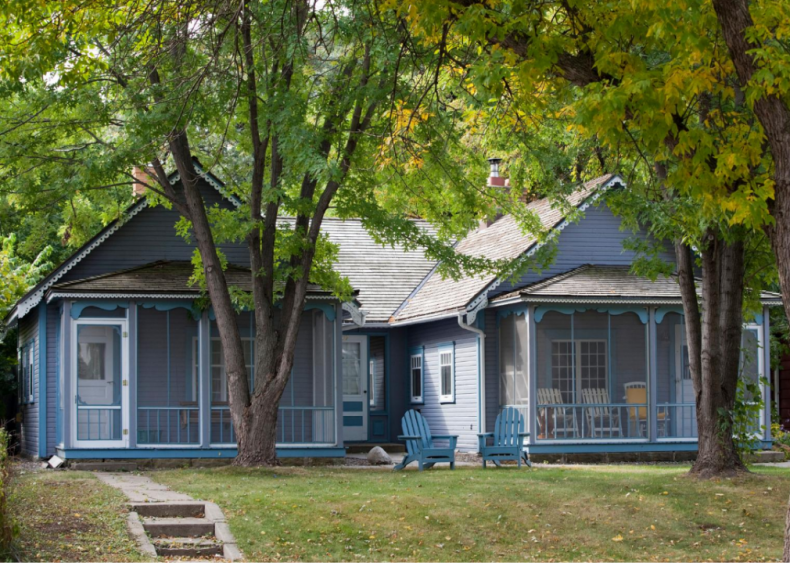 Minnesota: Loren Chadwick Cottages, Minneapolis
Loren L. Chadwick built this pair of charming summer cottages in Minneapolis's Lake District in 1902. In the early 1970s, the two tiny homes—just 480 square feet each—were joined to form a single home. Noteworthy for their Carpenter Gothic scalloped detail, the cottages were added to the National Register for Historic Places in 1984.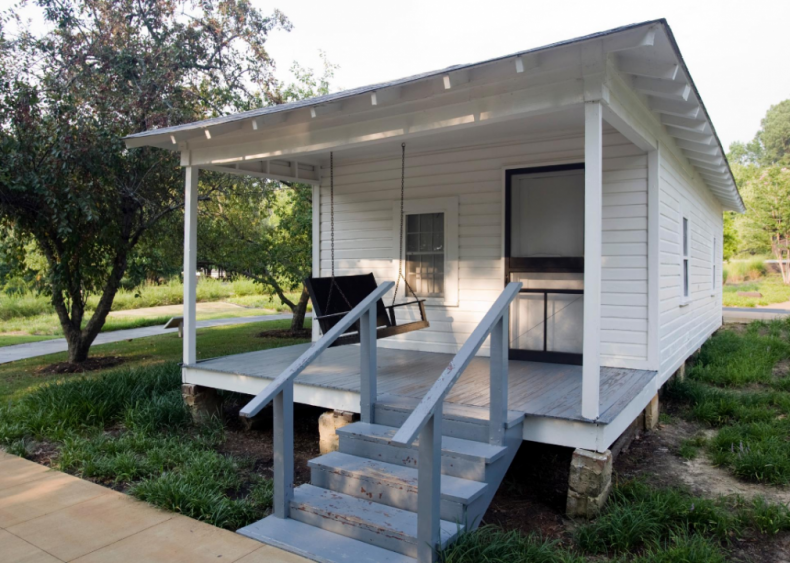 Mississippi: Elvis Presley Birthplace, Tupelo
A far cry from Graceland, legendary king of rock 'n' roll Elvis Presley was born in this tiny, two-room cottage in 1935. Built by Elvis's father, Vernon, the house was financed by a $180 loan. Just a few years later, financial hardship would force the Presleys to abandon the home. The house is both a Mississippi State Historic Site as well as a stop on the Mississippi Blues Trail.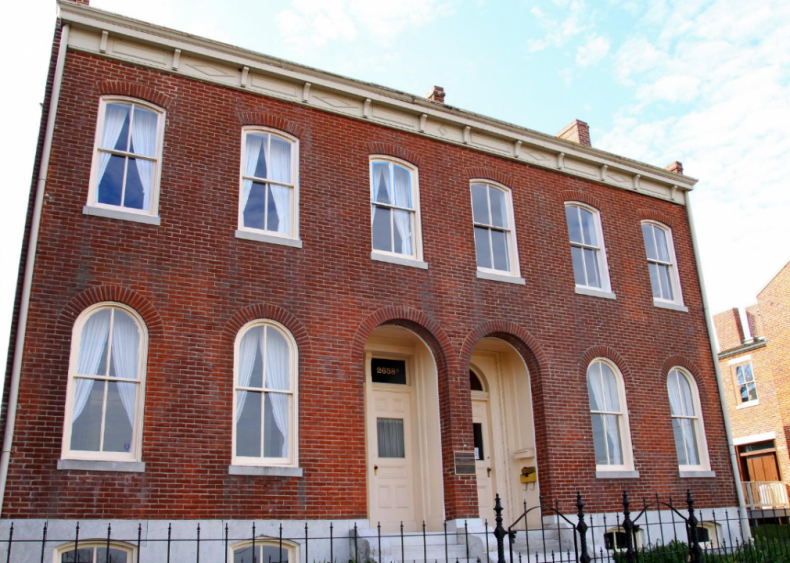 Missouri: Scott Joplin House, St. Louis
King of Ragtime Scott Joplin composed "The Entertainer" in 1902 while residing in this modest brick row house with his wife, Bella. Saved from the destruction by a local neighborhood organization, the house is the only surviving structure associated with the legendary pianist. It was added to the National Register of Historic Places in 1976.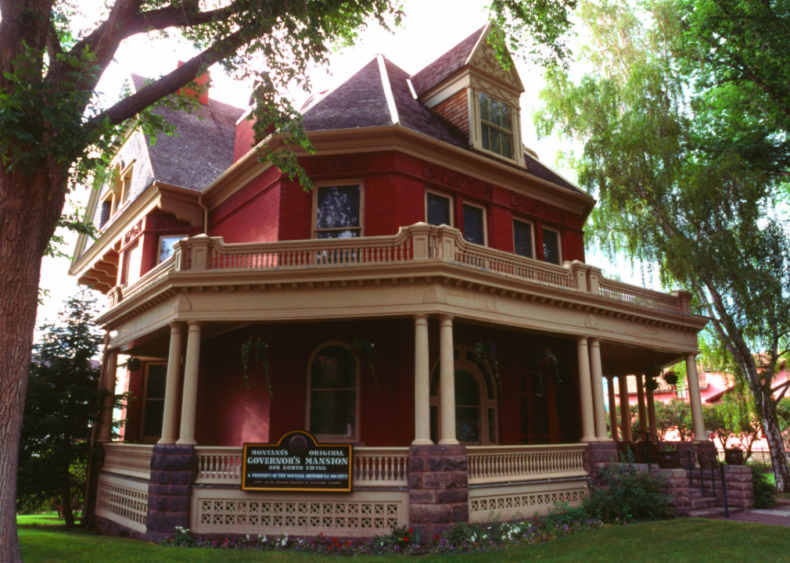 Montana: Original Governor's Mansion, Helena
In 1888, thanks to the Montana Gold Rush, Helena boasted more millionaires per capita than anywhere else in the entire world. William Chessman struck it rich in the local mines and erected this impressive Queen Anne home on North Ewing Street. Less than a dozen years later, Chessman's finances fizzled, and the house was purchased by the state, serving as the Governor's Mansion until 1959.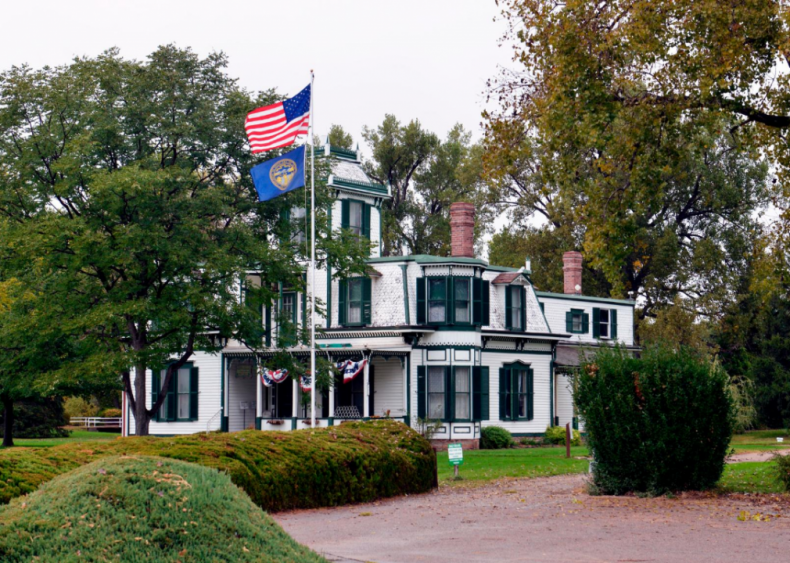 Nebraska: Buffalo Bill Ranch, North Platte
Built by popular Wild West showman William F. "Buffalo Bill" Cody in the 1880s, this impressive Second Empire style home was dubbed "the Mansion on the Prairie" by locals. The property was acquired by Nebraska in 1965 and is currently a state park.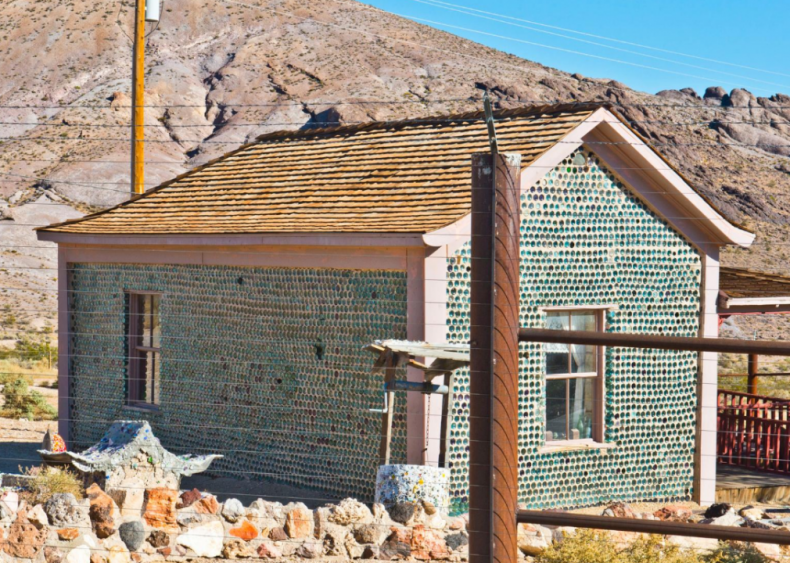 Nevada: Tom Kelly's Bottle House, Rhyolite
Before Rhyolite became a ghost town, it was the heart of Nevada's bustling gold mining district. One resident, Tom Kelly, eschewing the local Joshua trees, opted instead to build a home from over 50,000 bottles embedded in mortar—the majority being Busch beer bottles donated by local saloons. Kelly never actually lived in the house, raffling it off for $5 per ticket shortly after it was completed in 1906.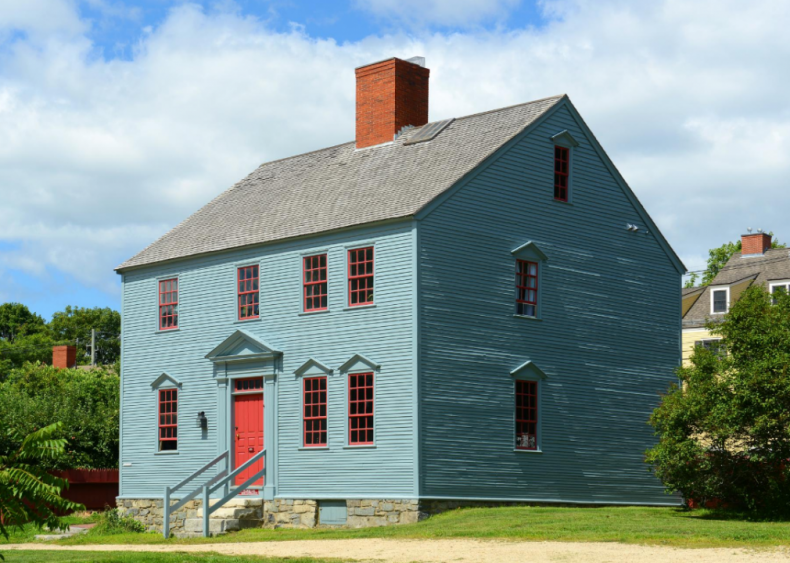 New Hampshire: Wheelwright House, Portsmouth
Built in the 1770s, Wheelwright House is a middle-class home with patrician airs. Built for local mariner John Wheelwright, the modest saltbox is embellished with Georgian architectural elements. It is one of 37 historic structures that make up the Portsmouth Strawbery Banke Museum.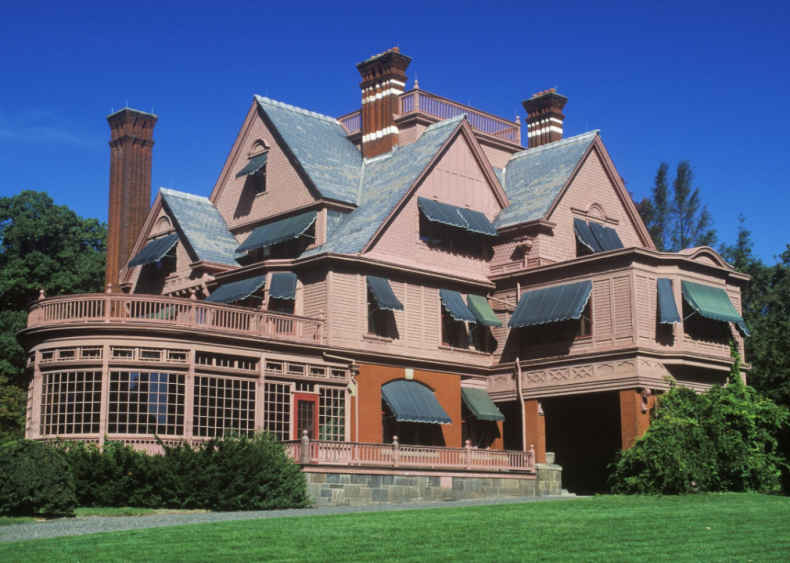 New Jersey: Glenmont, West Orange
Now part of the Thomas Edison National Historical Park, Glenmont was commissioned by the Wizard of Menlo Park for his new wife, Mina, in 1886. Henry Hudson Holly designed both the Queen Anne house and neighboring laboratory, where Edison invented both the phonograph and the alkaline storage battery.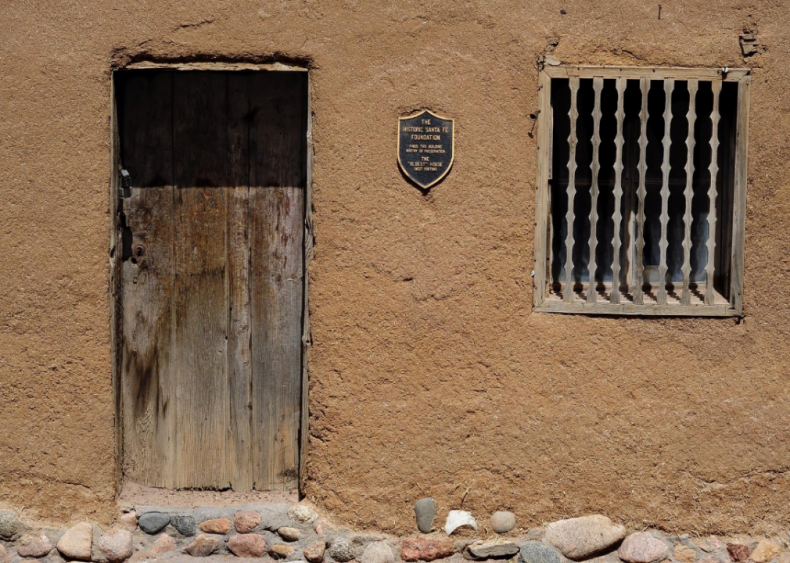 New Mexico: "Oldest House," Sante Fe
Reputed to be the oldest house in New Mexico, this unassuming adobe structure is a hybrid of Native American and 17th century Spanish Colonial building traditions. The west side of the house rests on a 13th-century pueblo foundation and retains its original low ceilings and dirt floors.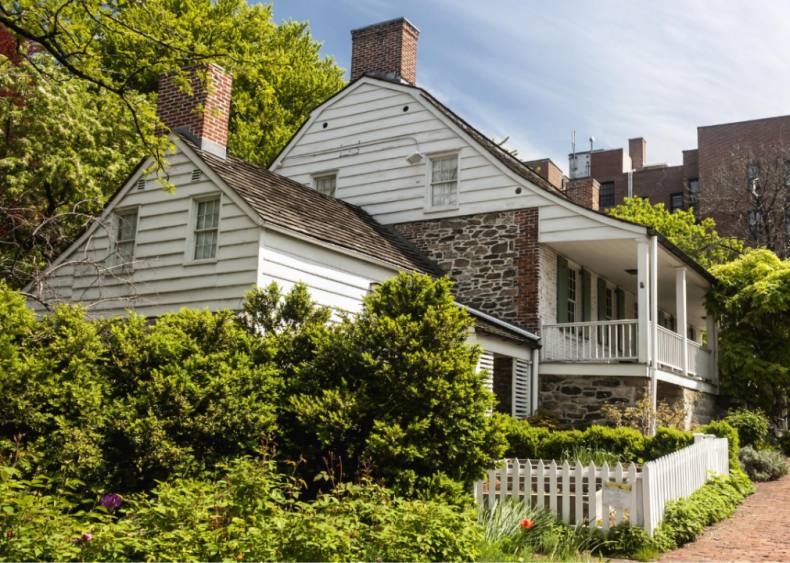 New York: Dyckman Farmhouse, New York City
Before New York City morphed into a modern metropolis it is today, it was knitted together by family farms, many of which were established by descendants of 17th-century Dutch immigrants. Built in the 1780s, the brick, timber, and fieldstone house boasts the low pitched gambrel roof typical of Dutch Colonial architecture and is the only surviving Dutch farmhouse in the borough of Manhattan.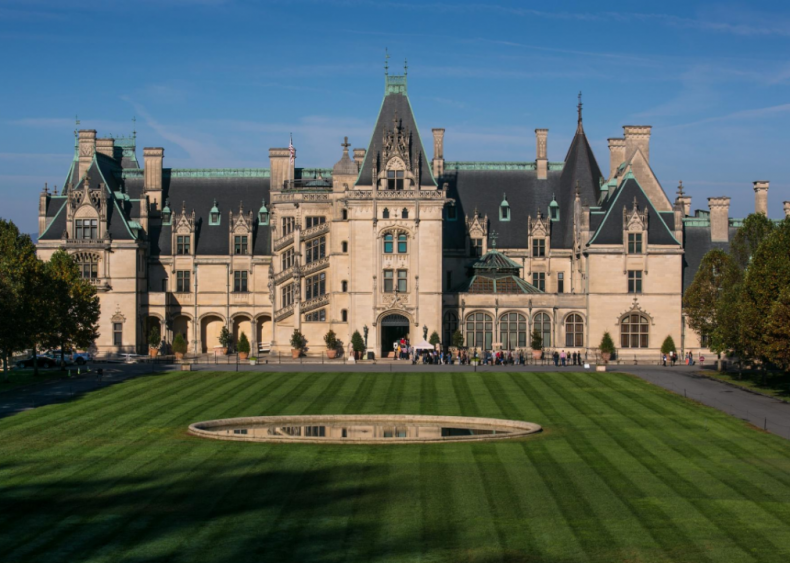 North Carolina: Biltmore Estate, Ashville
Set on 8,000 spectacular acres in the Blue Ridge Mountains, Biltmore was the vision of George Washington Vanderbilt. Designed by architect Richard Morris Hunt, the sprawling home was inspired by a limestone chateau in the Loire Valley. After six years of construction, the 250 room mansion was revealed to family and friends in 1895 with a lavish Christmas Eve celebration.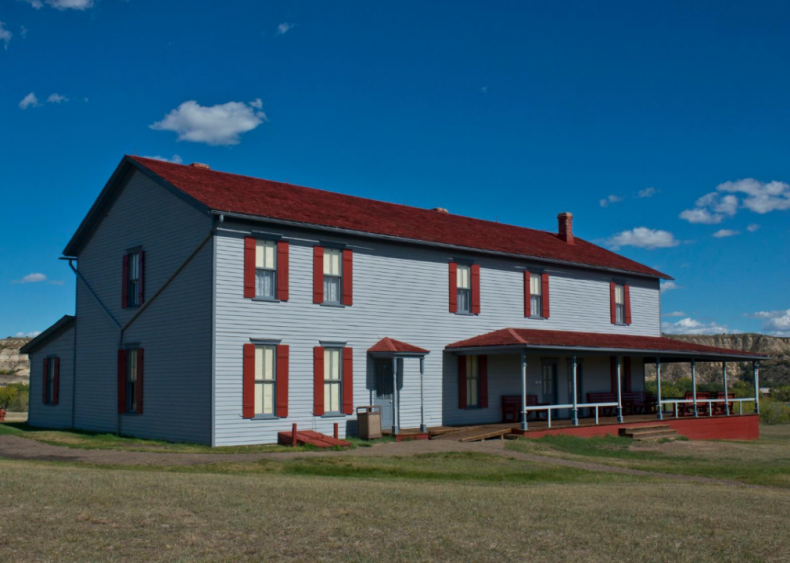 North Dakota: Chateau de Mores, Medora
A native of France, Antoine de Vallombrosa, better known as the Marquis de Morès, looked to the American West to seek his fortune, establishing a meatpacking plant and stagecoach company in the Badlands of North Dakota. Constructed as a summer home and hunting lodge for the Marquis's family in the late 19th century, the 26 room, timber-frame home featuring a large wrap-around porch was palatial compared to the more neighboring sod structures and log cabins.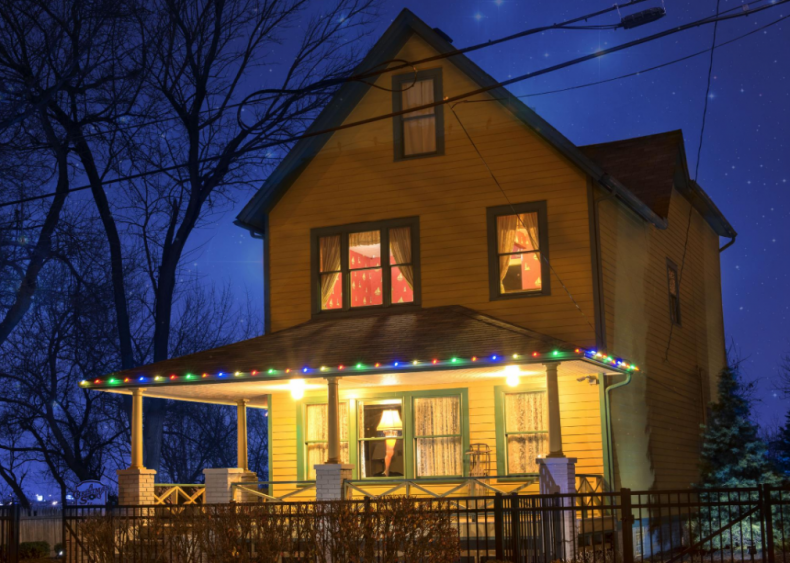 Ohio: A Christmas Story House, Cleveland
This modest Victorian in an unassuming Cleveland neighborhood is instantly recognizable as the home of young Ralphie Parker by aficionados of the 1983 holiday classic "A Christmas Story," based on semi-autobiographical accounts by humorist Jean Shepherd. In 2004, San Diego entrepreneur Brian Jones purchased the home on eBay for $150,000. Fans of the film can tour the house as well as book an overnight stay.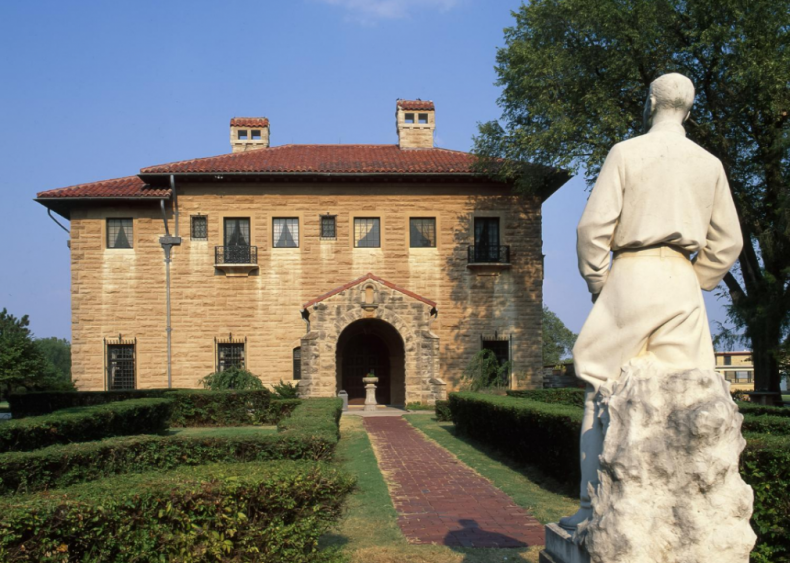 Oklahoma: Marland Mansion, Ponca City
Dubbed "The Palace on the Prairie," oil baron E. W. Marland hired architect John Duncan Forsyth to design the extravagant Italianate mansion after a trip to the continent. European craftsmen were imported to create gilded coffered ceilings and crystal chandeliers for the 55 room mansion, which was completed in 1928 at the cost of over $5 million.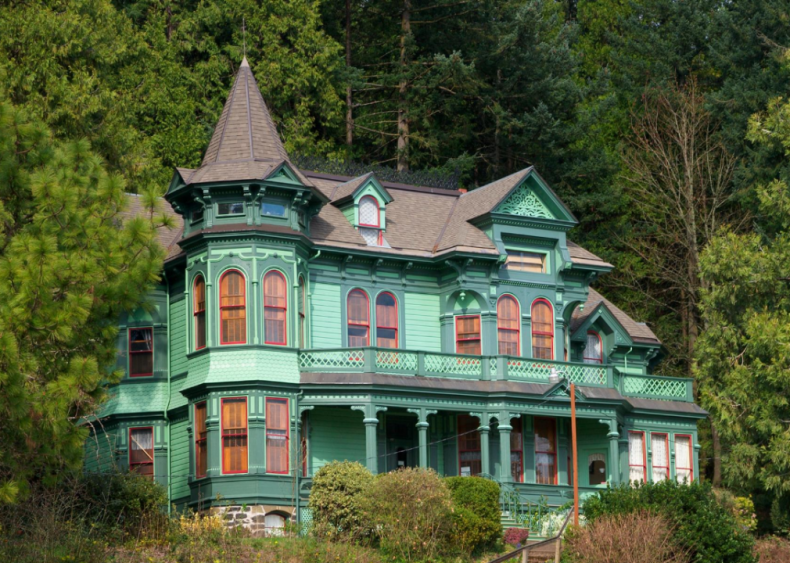 Oregon: Shelton McMurphey Johnson House, Eugene
Dr. Shelton McMurphey and his wife Adah hired architect Walter Pugh to design a lavish family home situated on a bluff overlooking downtown Eugene. It was completed in 1887 but was destroyed by fire before the McMurphey family settled in. The ornate late Victorian/Queen Anne Revival home currently on the site was erected the following year.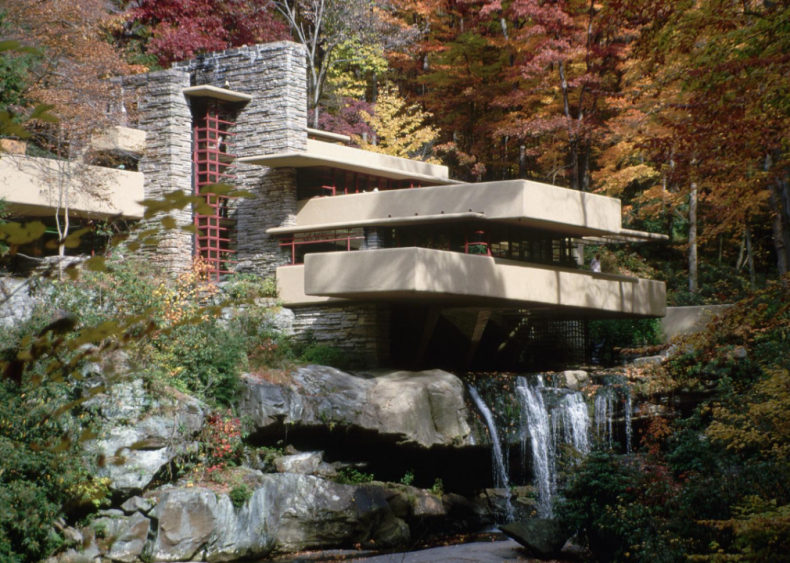 Pennsylvania: Fallingwater, Mill Run
Commissioned in 1935 as a summer home for prominent Pittsburgh couple Edgar and Liliane Kaufmann, Fallingwater is regarded by many as renowned architect Frank Lloyd Wright's masterwork. Perched dramatically above a natural waterfall, Wright affixed the cantilevered concrete terraces to the existing rock, integrating the home into the natural landscape. However, engineering appears to have taken a back seat to aesthetics; a massive renovation was required in 2001 to prevent the home from collapsing.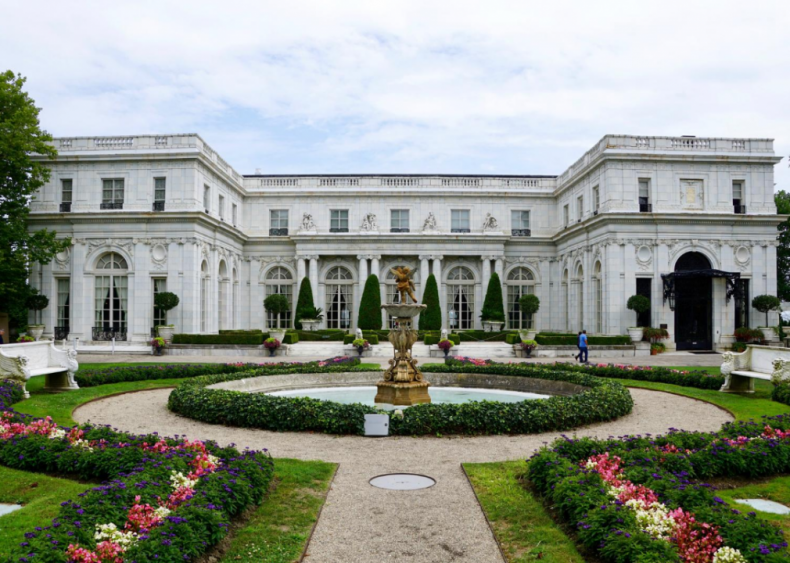 Rhode Island: Rosecliff, Newport
A favorite destination for robber barons and their families looking to beat the heat, Newport epitomized Gilded Age excess. In 1902, silver heiress Theresa Fair Oelrichs added Rosecliff to the collection of grandiose "summer cottages" overlooking the Atlantic Ocean. Celebrated architect Stanford White modeled Rosecliff on the Baroque Grand Trianon at Versailles; Frederick Law Olmsted, the genius behind New York's Central Park, designed the surrounding gardens.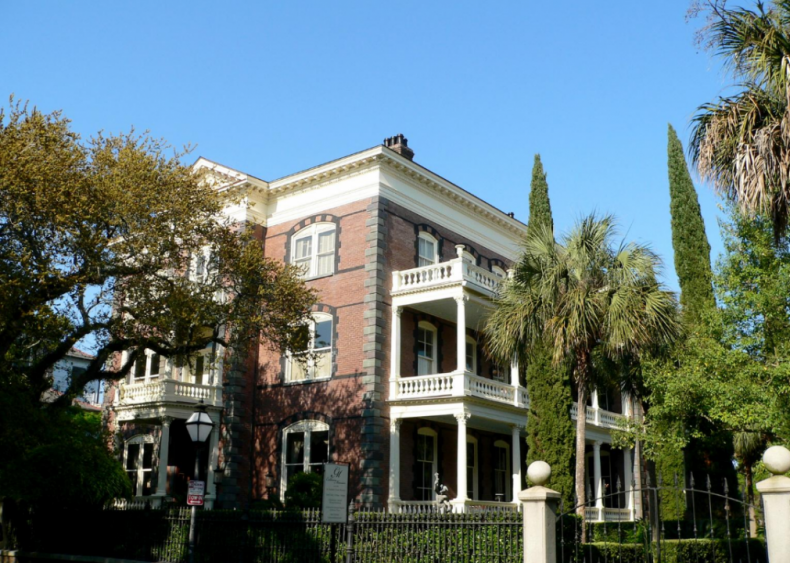 South Carolina: Calhoun Mansion, Charleston
Eager to restore Charleston to its pre-Civil war grandeur, George Walton Williams commissioned architect William P. Russel to design the impressive brick mansion. Completed in 1876, the project provided employment for hundreds of jobless local residents. In 1972, a local resident purchased the home, which had fallen into a serious state of disrepair, and spent 25 years restoring it at the cost of $5 million.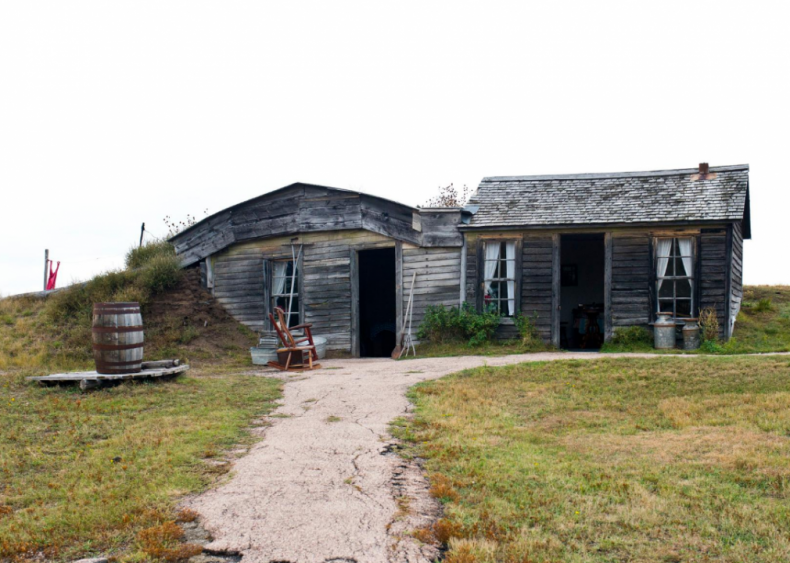 South Dakota: Edgar and Alice Brown House, Philip
Homesteaders Edgar and Alice Brown settled in South Dakota's Badlands in 1909. Trees were scarce on the Great Plains, forcing pioneers such as the Browns to construct homes from blocks made of buffalo-grass sod. Most of these sod homes have disappeared, lost to heavy rains and general neglect. The Brown house is one of just a handful that survives.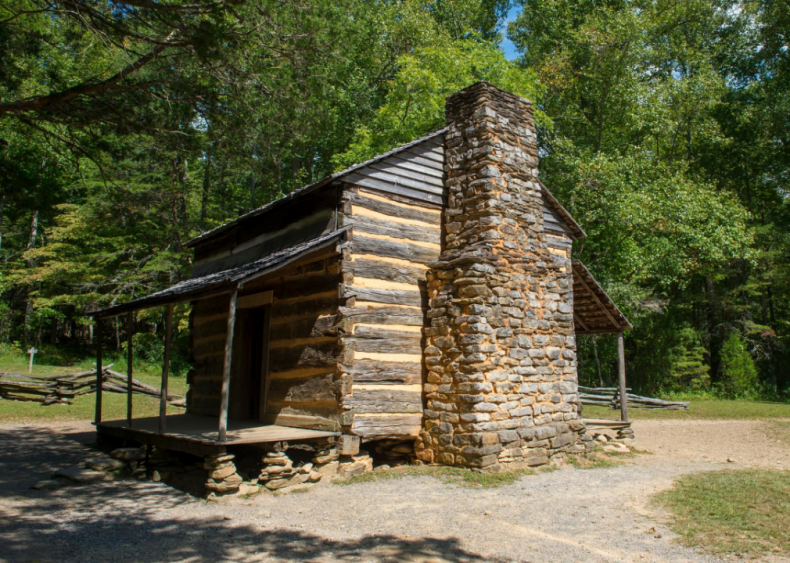 Tennessee: John Oliver Cabin, Cades Cove
John and Lucretia Oliver were among the earliest settlers of Cades Cove, arriving in 1818. This rustic log cabin, nestled in the Smoky Mountains, dates to the 1850s and was built as a future home for their son. Inhabited by the Oliver family for a century, the National Park Service eventually acquired the home.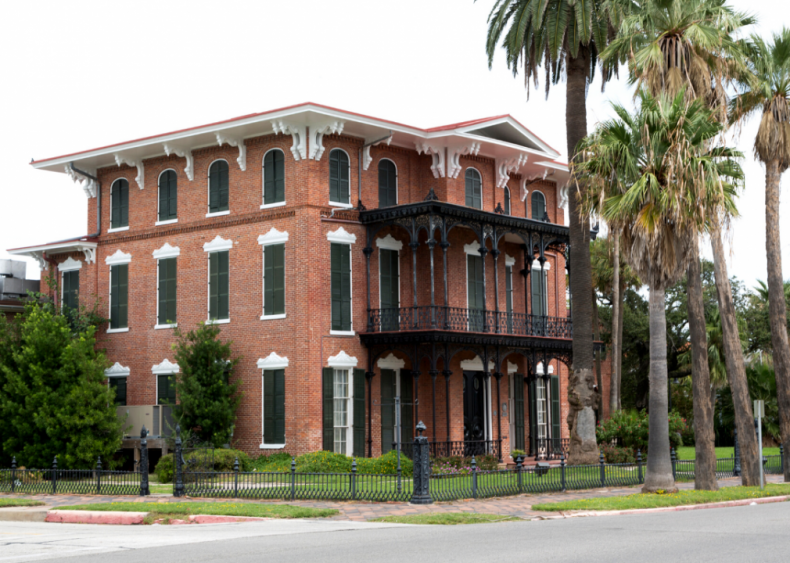 Texas: Ashton Villa, Galveston
One of the earliest brick structures in Texas, Ashton Villa was built by hardware magnate James Moreau Brown in 1859. Christened Ashton Villa by his wife, Rebecca Ashton Brown, the Victorian Italianate mansion survived the infamous Galveston Hurricane of 1900 with minimal damage. By 1968, the home had fallen into a serious state of disrepair but was rescued by the Galveston Historical Foundation.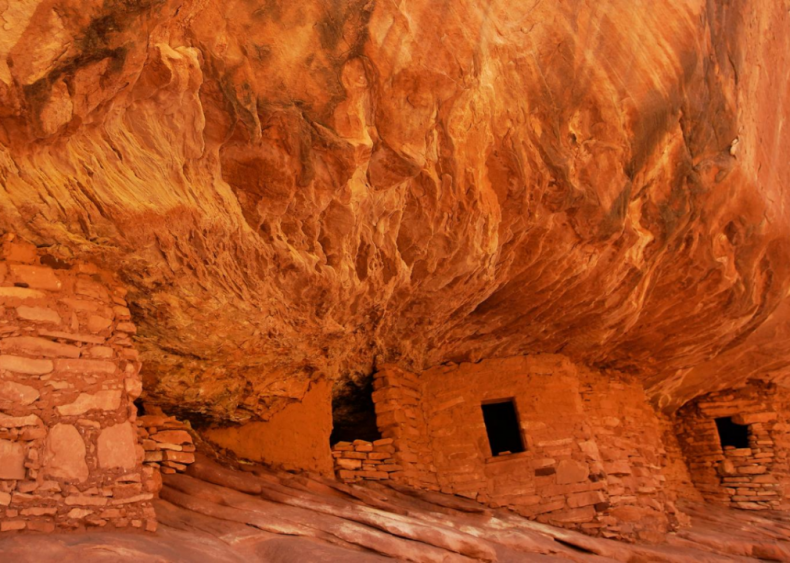 Utah: House on Fire, Blanding
Flame-like rock formations appear to engulf the ruins of this ancient cliff dwelling located in Cedar Mesa's Mule Canyon in Bears Ears National Park. The Pueblo built cliff communities throughout the American Southwest during the 13th century, later abandoning them due to an unknown cataclysmic event.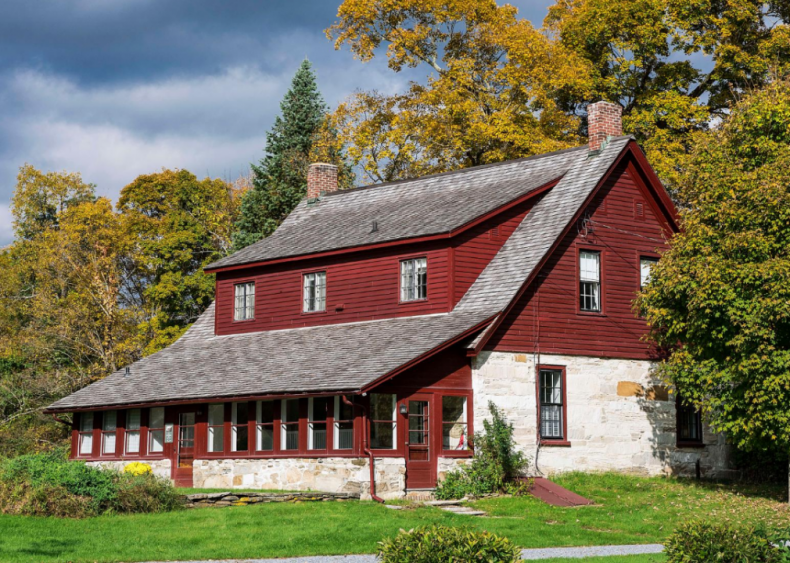 Vermont: Robert Frost Farmhouse, Shaftsbury
Vermont poet laureate Robert Frost lived in this Dutch Colonial farmhouse from 1920 to 1929 and wrote some of his most memorable verses here, including "Stopping by Woods on a Snowy Evening." The stone and timber house dates to 1769 and is currently owned and operated as a museum by Bennington College.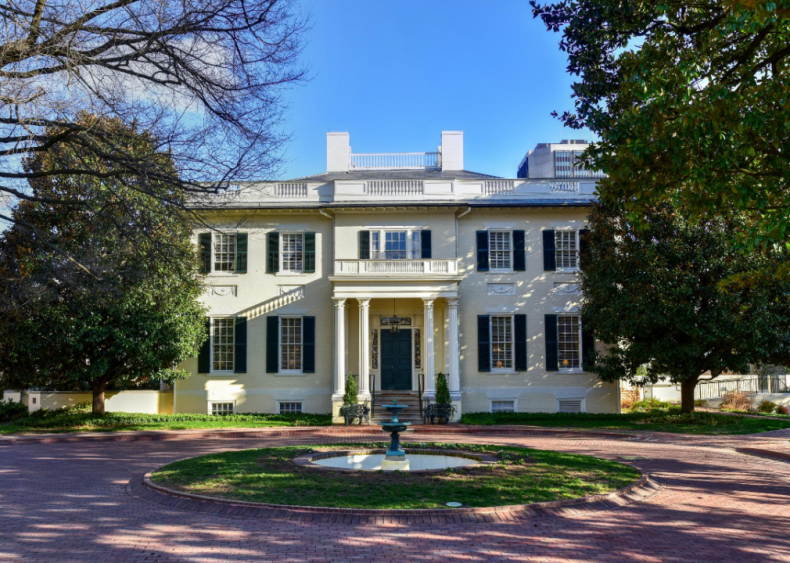 Virginia: Executive Mansion, Richmond
The official residence of the governor of Virginia, Richmond's Executive Mansion is the oldest, continuously occupied governor's mansion in the United States. Designed by Alexander Parris, the Federal-style structure replaced a more modest timber-frame house that housed Virginia governors and their families.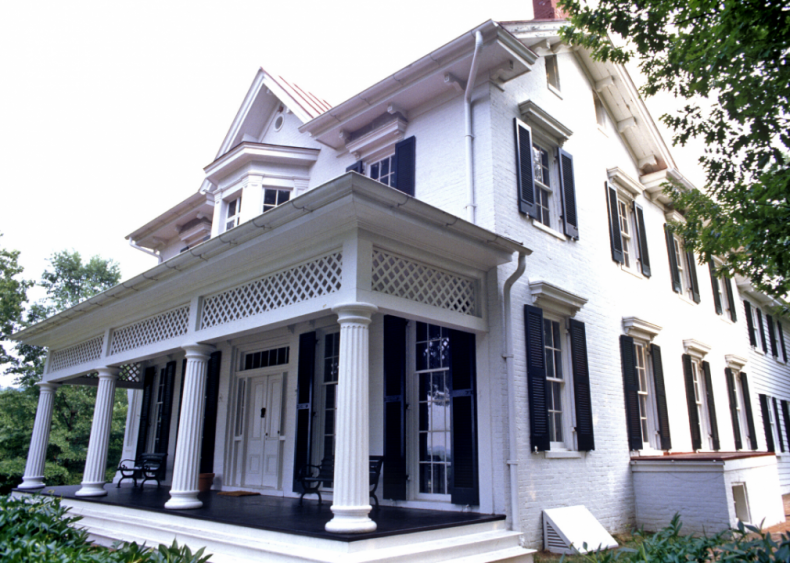 Washington D.C.: Cedar Hill
Born enslaved, Frederick Douglass escaped to the north and established himself as a leading abolitionist, orator, and statesman. His final years were spent in Washington D.C., serving as United States Marshal for the District of Columbia. During this period, Douglass and his family left their home in the bustling Capitol Hill neighborhood and purchased Cedar Hill, a tranquil 19th-century estate designed by Philadelphia architect John Welsh Van Hook.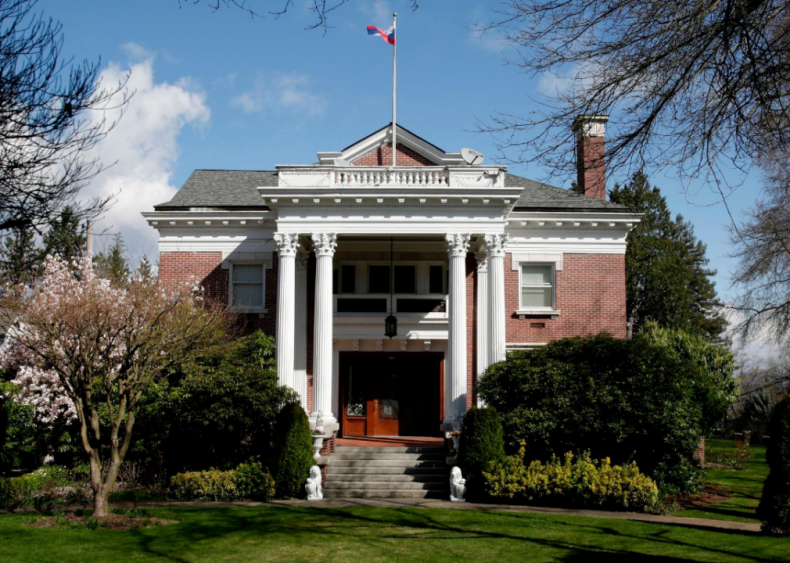 Washington: Samuel Hyde House, Seattle
Originally built for British-born liquor tycoon Samuel Hyde in 1910, this elegant brick house was home to the Russian consul-general from 1994 until evicted by the U.S. State Department in 2018. Listed on the National Register of Historic Places and situated on land owned by the U.S. government, the building itself continues to be owned by the Russian Federation.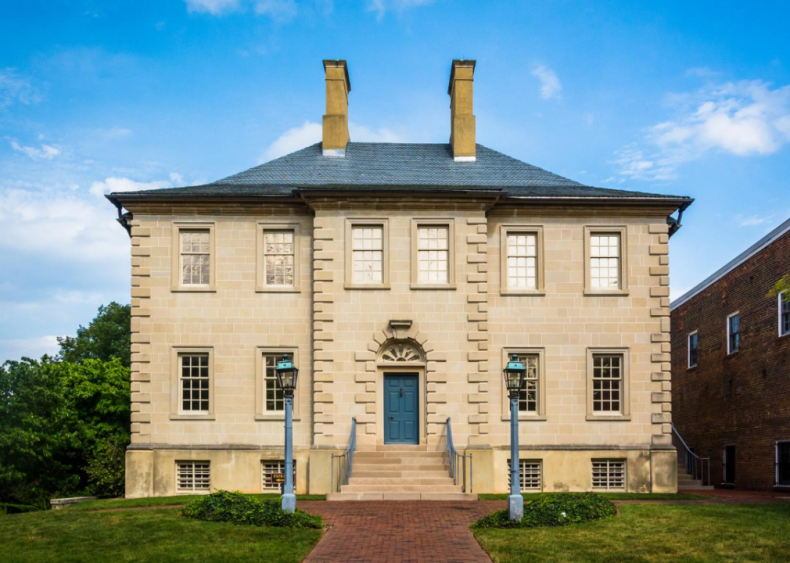 West Virginia: Carlyle House, Alexandria
A social and political hub for prominent locals, this stone Georgian manor was commissioned by Scottish merchant John Carlyle and his wife, Sarah, the daughter of a distinguished Colonial family. The couple's initials are inscribed in the keystone over the front door, along with the date of construction—1752.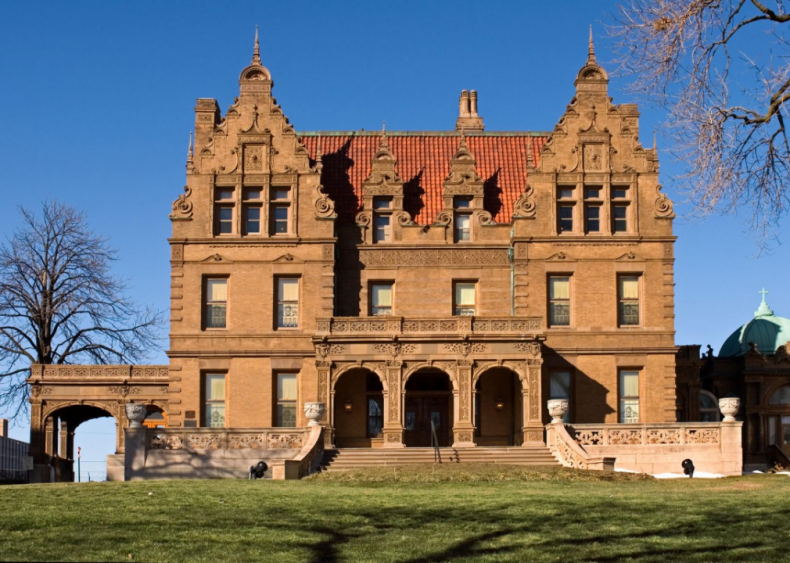 Wisconsin: Pabst Mansion, Milwaukee
Beer baron Frederick Pabst and his wife Maria commissioned this magnificent Flemish Renaissance Revival home situated on Milwaukee's Grand Avenue in 1890. Designed by architects George Bowman Ferry and Alfred Charles Clas, the mansion remained in the Pabst family until 1908. Threatened with demolition in the 1970s, local residents campaigned tirelessly to preserve the historic home. Their efforts were rewarded when the Pabst Mansion finally opened to the public, restored to its former glory thanks to a series of preservation campaigns.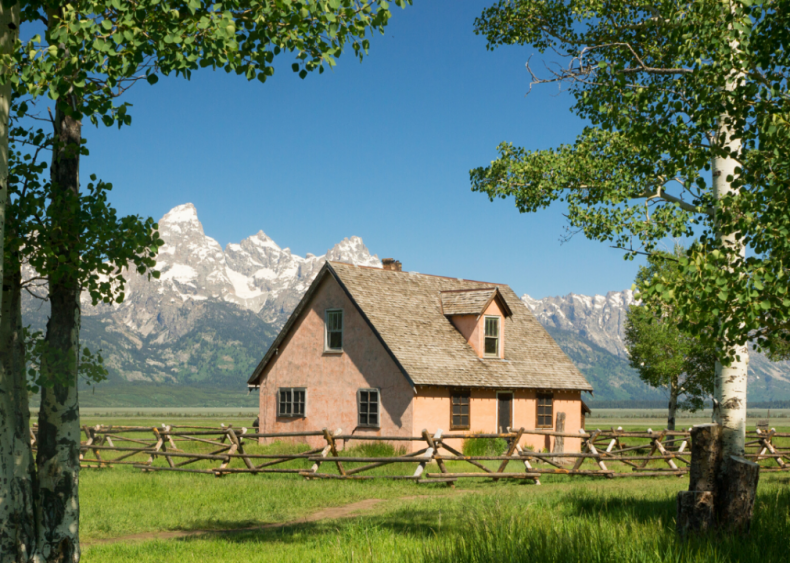 Wyoming: John Moulton House, Jackson Hole
Situated in the southeast corner of Grand Teton National Park, the quaint John Moulton House is part of a complex known as the Mormon Row Historic District. Morman homesteaders arrived in 1890 by way of Idaho, establishing a community of 27 homes known as Grovont near the Gros Ventre River.