Travis Tritt and Other Famous Fans Mourn the Passing of Country Music Great Billy Joe Shaver
Billy Joe Shaver, the country music star once called "the greatest living songwriter" by Willie Nelson, passed away today at the age of 81. A famous singer in his own right, his songs were recorded by the likes of such legendary artists as Johnny Cash, Elvis Presley, Bob Dylan, Kris Kristofferson, and Jerry Lee Lewis.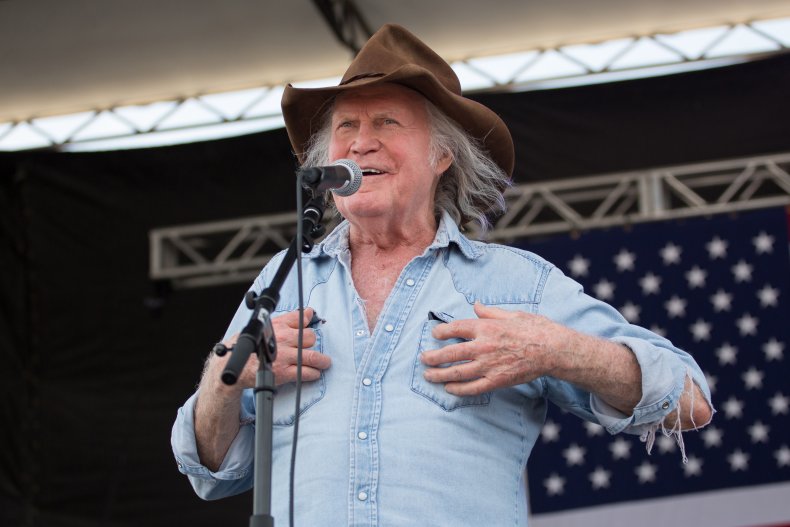 Soon after his 1973 debut album, he became known for being a key part of the "outlaw country" movement of the 1970s, along with Nelson, Kristofferson, and Waylon Jennings. His life often mirrored the outlaw themes he wrote and sang about. He lost the top of three fingers during childhood in a sawmill accident; his son died of a heroin overdose on New Year's Eve in 2000; he suffered a heart attack on stage in 2001; and he was acquitted on self-defense after shooting a man in the face outside a bar in 2007.
Famous fans and friends wasted no time expressing their grief on Twitter. Travis Tritt was among the first. The fellow country star wrote: "I'm saddened to learn that Billy Joe Shaver has passed away. Billy Joe opened for me on one of my early tours and was always amazing. His stories were captivating. He will be sorely missed. My condolences go out to his family, friends and fans."
Americana star Jason Isbell shared: "Billy Joe Shaver might've been the only true outlaw who ever made his living writing about the inner workings of his heart. The realest of them all."
A fellow famous Texan, Dan Rather, paid his respects: "Another great Texas music icon is gone. Billy Joe Shaver was a bona fide, certified, Lone Star original - a throwback to a far different time. This was echoed in the music he wrote and performed over a long and very adventurous life."
A younger demographic may recognize Shaver's voice during the theme for Cartoon Networks' Adult Swim hit Squidbillies. The show's Twitter account posted: "One of the original outlaws of country music, Billy Joe Shaver recorded the Squidbillies theme for us in a church outside of Austin. He was a genius songwriter, had a great sense of humor and gave our show instant credibility. RIP Billy Joe Shaver."
"Little Stevie" Van Zandt, guitarist in Bruce Springsteen's E Street Band is always one for sage words. He offered: "RIP Billy Joe Shaver. Big loss. Legend in Outlaw Country. Start with 'Shaver' which he did with his killer guitar player son Eddy and then Waylon Jennings' 'Honky Tonk Heroes' album which Billy Joe wrote. Travel well my friend."
Shaver's famous fans aren't restricted to the country music scene or Texas. Take, for instance, Long Island native and WWE Hall of Fame wrestler Mick Foley: "I lost one of my heroes today - Billy Joe Shaver was one of the finest songwriters of all time. He told a friend of mine he wasn't worried about being famous; that he'd be famous when he was gone. #RIPBillyJoeShaver- you're going to live forever now."
Singer/songwriter Kyle Park shared a cool anecdote: "One time I saw Billy Joe get paid before the show in a manila envelope. He stuck the envelope in his boot, shook hands w the owner, and went on stage. I never got to see him do that again, but I've heard that's what he usually did."
Larry The Cable Guy, the self-professed redneck comedian, also professed his love for the Outlaw singer: "Oh no! Man BJS was so good. I have Like 15 play lists and he's in 10 of em. Looks like his song "live forever" has come true."
Here are a couple of songs to remember him by, including the one so many are evoking today, "Live Forever."
"Old Five and Dimers Like Me" was the title track from his 1973 debut album.
"Honky Tonk Heroes" was a big hit when Shaver's close friend Waylon Jennings covered it, but he naturally also sang the song he penned many times over the years.
As noted earlier, Shaver sang the themes to the animated show, Squidbillies. The opening themes, collectively called "Warrior Man," are only a stanza long and end with a spoken word portion. Here's a compilation of the themes:
Shaver was inducted into the Texas Country Music Hall of Fame; the Nashville Songwriters Hall of Fame; and the Americana Music Association gave him a lifetime achievement award for songwriting.