Celebrities We Lost in 2018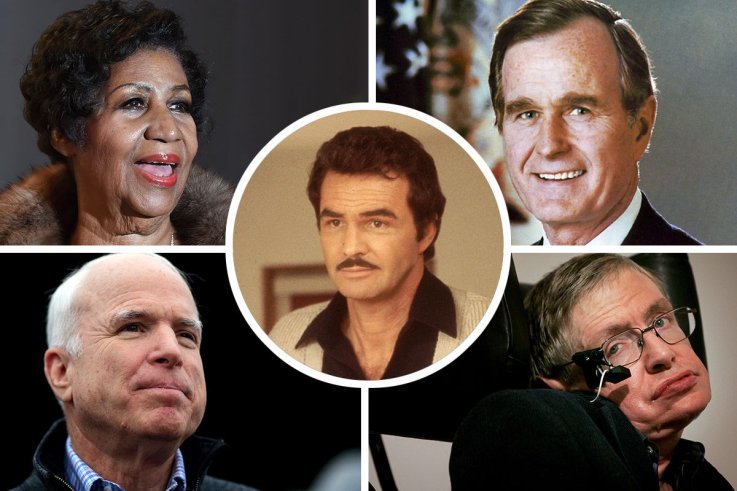 The world lost a number of notable figures over the last year; Stephen Hawking, John McCain, George H.W. Bush and Stan Lee were among the people remembered for their extraordinary lives and contributions.
The music world lost its spiritual soul in August with the death of Aretha Franklin. One of the all-time great divas, her legacy looms over the world of pop to this day, although no imitator has managed to recapture the vital spark of her musicianship.
The death of rapper Mac Miller shocked the world in September. Miller was just 26 years old, and tributes poured in from across the music industry from people wanting to remember the talented, but troubled, artist. Similarly tragic was the death in April of DJ Avicii, who died by suicide aged 28 after a long struggle with alcohol abuse and depression.
While some celebrities lives were celebrated with loving tributes, other left a more troubling, mixed legacy to parse. The murder of 20-year-old rapper XXXTentacion was seen as a sudden end to a legacy that included violent domestic abuse as well as music that touched many listeners.
Similarly, Winnie Madikizela-Mandela's legacy spanned from brave anti-apartheid activism to alleged murder. In contrast, Linda Brown, once the schoolgirl at the heart of the landmark Brown vs. The Board of Education case, was remembered for her quiet, unwavering dedication to furthering education and civil rights throughout her life.
The film world lost a number of directorial giants: Milos Forman, Nicolas Roeg and Bernardo Bertolucci all passed away in 2018. Actors Tab Hunter, John Mahoney and Verne Troyer will also be missed by audiences.
From Jerry Van Dyke to George H.W. Bush, these are some of the people the world lost in 2018.