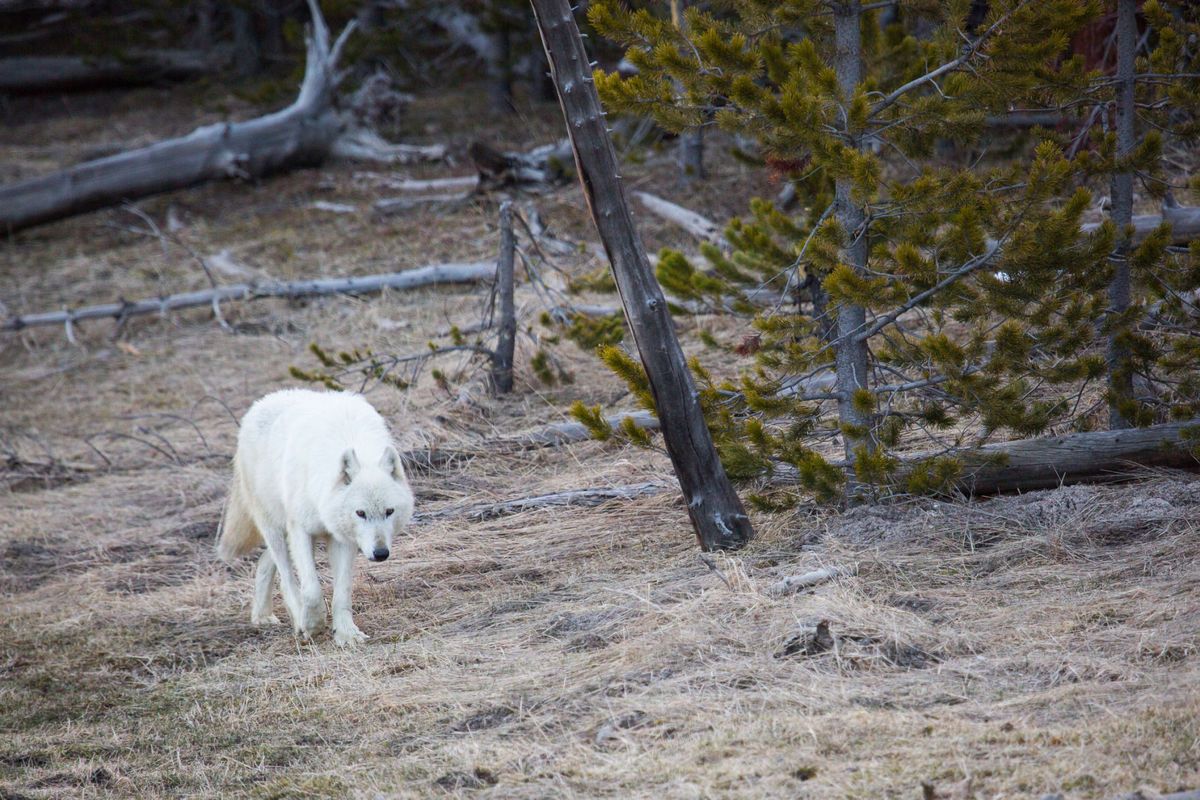 A preliminary necropsy shows that a famous white wolf that lived in Yellowstone National Park was illegally shot and killed. The animal was found mortally injured April 11 by hikers on the north side of the park, near Gardiner, Montana. Park staff responded but could not save the animal's life, and she was euthanized.
The park sent the wolf to the U.S. Fish & Wildlife Service Forensics Laboratory in Ashland, Oregon for a necropsy, and the preliminary results were announced late May 11 in a statement from the park.
"Due to the serious nature of this incident, a reward of up to $5,000 is offered for information leading to the arrest and conviction of the individual(s) responsible for this criminal act," said Yellowstone National Park Superintendent Dan Wenk in the statement. The park is currently investigating the incident.
The female wolf was one of three white wolves in the park. At the time of her death, she was 12 years old, twice the average age of other wolves in Yellowstone. She had a productive life, siring 20 pups, 14 of which survived to one year of age. "She was one of the most recognizable wolves and sought after by visitors to view and photograph," the park said in the statement. Wolves naturally vary in color, ranging from black to white to brown to gray.
Though guns are permitted in Yellowstone National Park, they cannot be shot, and shooting wildlife is strictly forbidden, says Erin Edge, with the environmental group Defenders of Wildlife. Wolves were extirpated from most of the continental United States by the 20th century due to widespread persecution. In 1995, officials reintroduced a small number of wolves in Yellowstone National Park. Since then, wolf numbers have increased in Wyoming, Montana and Idaho, and they have been removed from Endangered Species Act protections in all three states. It's currently legal to shoot wolves with a permit in Montana from September to April, but obviously not within park territory.
As of 2014, there were at least 104 wolves in 11 packs within Yellowstone. This wolf as an alpha female, meaning she was the dominant in her group, and mated with the same alpha male for more than nine years, according to the park.
The shooting is likely to intensify debate about how to best manage wolves in the Yellowstone area. As it is, park wolves can be legally shot when they wander outside of the park. At least one group, the Native American advocacy organization Protect the Wolves, has proposed establishing a 31-mile "buffer zone" outside of the park where wolves cannot be shot.
"It's always sad to hear about a loss like this," Edge says, noting how important wolves are to the environment and to the park itself, being a huge draw for tourists around the world.
The park noted that if anybody has a tip about who might be responsible, they should contact the National Park Service Investigative Services Branch.